Office hours can sometimes be long when you have to prepare for business meetings, prepare for conference calls and so on. At that point, a comfortable office chair is the first preference. In such cases, if you are using the wrong office chair and do not have proper back support, it can be a serious health issue. Using regular chairs for long working hours isn't a good option when you are facing back pain for a long time. To give proper support to the body, you can choose an ergonomic chair. These chairs are specially designed for office works. They help in improving your body posture, reduce back pain and enhance productivity level.
As compared to traditional chairs, ergonomics chairs are far better in use. However, these types of chairs offer complete relaxation during office hectic days. There are various benefits of having ergonomic chairs for your workspace. If you are still confused between regular chairs and ergonomic chairs, then read this blog. This blog will tell you how ergonomics chairs are beneficial. You will find an appropriate reason to buy these chairs for your employers and you.
What are Ergonomic Chairs?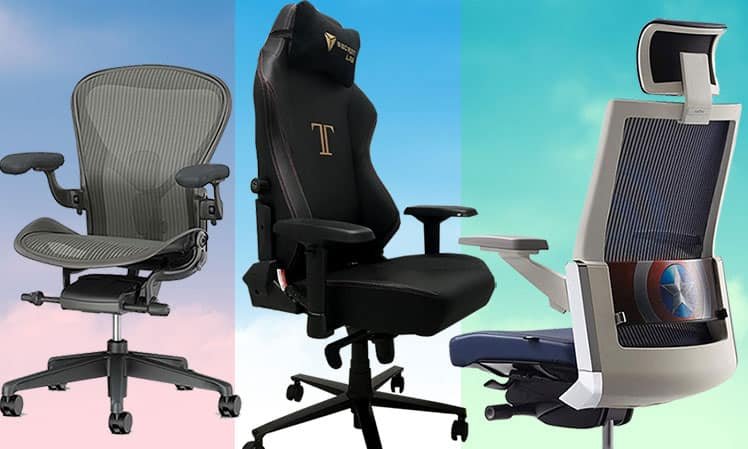 The ergonomic Chair's structure and cushioning make it different from regular chairs. Usually, an ergonomic chair is used for office work. It is a suitable option for your workspace. These chairs come with an adjustable feature and allow you to work comfortably without any interruption. Apart from this, they help you to maintain accurate body posture during office hours. The unique quality of this chair, it gives proper support to the back and reduces stress. Therefore, ergonomic chairs boost energy levels and level up your working productivity.
Why is an Ergonomic Chair Useful?
Now, we discuss why an ergonomic chair is important for office workers. Here is a complete list of certain reasons that clearly shows the proper use of ergonomic chairs. Let's quickly have a look:
1. Flexibility
A workspace should be equipped with flexible furniture where you can move easily. A long working hour shift makes the body stiff and unbending. For being focused on work, it is necessary to have a wide range of furniture in the workspace. Because employer's body shapes and sizes are varying from each other. On that point, an adjustable chair is the best alternative which offers relaxation in further investment. Before buying, be ensuring the office task chairs will comprise seat depth, height, back recline, adjustable armrests and comfortable cushioning.
2. Maintain Body Posture
The prominent factor of using an ergonomic chair is that it maintains body posture in a good manner. As age increase, body posture will be changed because of improper sitting. That is why a good body posture must important for all ages. Traditional chairs do not have a feature of adjustability and accurate back height. In such a case, you likely noticed that you have a habit of leaning onward. An appropriate posture causes backache, improper sitting habits and many other muscle issues. On the other hand, ergonomic chairs support your back, offer natural posture and give relief while you are sitting on them.
3. Work Excitement
The office chair you choose needs to offer gentle comfort and relief. According to the experts, ergonomically designed furniture can help keep everyone happy and healthy. The right office chairs can significantly impact the lives of your workers. Whereas, a regular chair reduce working productivity and excitement level of working. The fact that ergonomic chairs can uplifts productivity and maintain the body fit for a long duration.
4. Eliminate Body Pain
Office workers face some of the common body pain like neck pain and lower back pain. That is because the design of the regular chairs doesn't allow you to sit properly for long working hours. It doesn't support the correct body posture. On the other hand, ergonomic chairs reduced body and pains and promises a better working experience. This chair supports your body posture and gives better relaxation.
5. Diminishes Hips Pressure
Your hips and legs are two main parts of the body that holds the whole weight of the body. When it comes to holding down the weight in your body, your hips tolerate the complete weight. Whenever using regular chairs you should have noticed that regular chairs causing hip pains. While an ergonomic chair provides a comfortable seat depth option for supporting the hip completely. That means, your hip gets proper sitting support.
6. Highly durable
An ergonomic is thoughtfully designed for long-term office use, so you need not worry about its usage and replacement. If for some reason it glitches, you can go for the option that comes with a warranty card.
7. Improves Blood Circulation
According to the experts, regular use of traditional chairs may increase the risk of heart disease, poor blood circulation, depression risk and several back pain issues. Whatever you choose, but make sure the chairs should be ensuring long-term health benefits and eliminate diseases and illness. As the blood circulation improves, your body will start getting better and chances of having heart health related issues reduced in many ways.
8. Suitable for all
Ergonomics chairs are an ideal option for every generation including grandparents, parents and children. Long expert studies explain, a good body posture decreases your stress and enhance your working capacity. The point is that the ergonomic chairs completely helps to reduce stress by providing cushioning seat, adjustable option, head support and back support. Even people with any serious problem with their back will find an ergonomic chair highly reliable due to the use of orthopaedic form.
Final Words
Now, it's your turn to change your sitting posture by using an ergonomic chair. As mentioned, these chairs are much better than regular chairs in terms of comfort, durability and cost. Overall verdict to the use of an ergonomic chair is positive and most people love it due to the extra versatility. It might require you to spend few extra bucks, but the level of comfort is unbeatable.