Veena Malik is a well known model and actress in Pakistan, who made it big in India after she participated in the popular television reality show called "Bigg Boss". Veena has been in news for the wrong reasons but bad publicity is better than no publicity!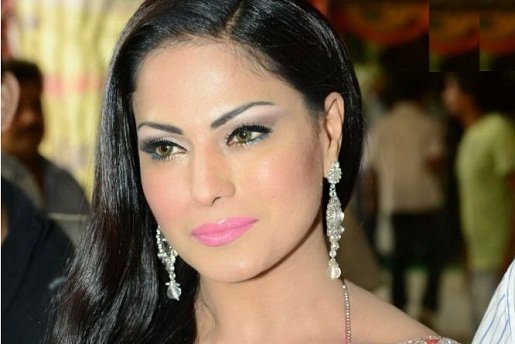 Net Worth: $ 5 million
Income Sources: Veena Malik has acted in a number of Pakistani films and has also done some modeling and television shows there. She has now entered Bollywood and has also been a part of some television shows in India including "Bigg Boss", which took her to the heights of popularity. She has also done a large number of brand endorsements in Pakistan.
Born: 26th February, 1984 (31 years old)
Marital Status: Married to Asad Bashir Khan Khattak since 2013. She has a son called Abram Khan Khattak, who was born in 2014.
Height: 5 feet 6 inches
Personal Background
Veena Malik was born in Rawalpindi in Pakistan and hails from a Shia Islam family. She has a graduate degree in Persian, Sociology and Psychology, which makes her quite an educated actress. Besides her film career, Veena is also known for working for philanthropic causes, such as working for World Health Organization and also for a Pakistan based NGO called SOS Children's Village, which raiuses funds for orphaned children. Veena has recently come into news for being convicted along with her husband for showing a blasphemous television program on a Pakistan TV Channel. The religious anti terrorism court sentenced the couple for a period of 26 years.
Career Graph
Veena Malik, who is considered as one of the most promising and talented actresses in Pakistan, began her film career in 2000 with a film called "Tere Pyar Mein". Gradually, she impressed everyone with excellent performances in films like "Sassi Punno", "Koi Tujh Sa Kahan", "Yeh Dil Aapka Hua", "Ishq Be Parwaf", "Kabhi Pyar Na Karna" and "Kyun Tum Se Itna Pyar Hai", to name just a few. Veena reached the heights of popularity in India after her participation in "Bigg Boss Season 4", where she had a controversial affair with actor Ashmit Patel. Another TV show in which she was slated to participate was "Veena Ka Vivaah" on NDTV Imagine, but the show was not carried ahead due to some reasons. She entered the Indian film industry in 2012 with a comedy movie called "Daal Mein Kuch Kaala Hai". She was also a part of the Kannada venture "Dirty Picture: Silk Sakkath Maga", which was based on the Hindi blockbuster "The Dirty Picture". Like the original movie, the Kannada version was a hit too. Her other Bollywood movies include "Super Model" and "Mumbai 125 km 3D". Veena has several credits in her career, including being on number 26 in FHM 100 Sexiest Women in India in 2012. She also has the Guinness Book of World Record for the getting the maximum number of kisses on her birthday in just one minute, a record previously held by Salman Khan. Veena is an actress whose popularity has transcended borders and reached India too.