Are you looking to wear something in college or in office? Going out with friends or on a college trip and not sure what to wear? Well, we have some suggestions for you.
Kurtas are known to be one of an essential part of a woman's wardrobe. However, they have always been known to be a traditional wear and are not considered appropriate while you party or go out with your friends. But the recent trends have seen much evolutions in the kurtas and today they are available in a number of designs which not only make them look elegant but also give them a western touch.
Here are a few examples: 
1. A-Line Kurti
This is perhaps the most basic type of kurta that is today available on the market and most of the girls prefer this type for the sheer comfort that it has to offer. You can wear it either with a churidar or even a legging.
2. Anarkali
Well, if you are looking for adding elegance to your Indian avatar, Anarkali is the perfect type of kurta that will suit you. There are numerous occasions in which you can wear this style. It is versatile and can be worn in various festivals, parties, formal wear in the office, and even in weddings.
3. Angrakha Kurti
When you look at these, you get the royal feeling as these will remind you of the type of formal wear the musicians in the court of various kings used to wear. These days many Bollywood celebrities will be found adorning the particular look and style.
4. Indo-Western Style Kurti
Many women find the normal kurtas very boring. Hence, in order to add to the versatility of the wardrobe, the Indo-Western style kurtas are a great choice. These are available in multiple cuts and styles and can easily be paired with different accessories.
5. Gown Style Kurti
This is another type of kurti that you should be aware of. If you love evening gowns but are looking for a more Indian look, you should know about this style of kurtis which reaches out to the floor. You need not even wear a bottom while wearing this style.
6. Printed Kurti
These days the printed kurtis are very much in vogue. There are various types of prints in which the kurtis are found. These include blocks, polka dots, digital prints, amongst several others.
7. Reversible Kurtas
Reversible kurtas are one amongst the newest trends available in the market as far as the Indian wear is concerned. You can create two different looks by wearing the kurta from two different sides.
8. High-Low Kurtis
This is very much in fashion now. This kurtis are mostly characterized by having a front part that is short and the back part is longer. Well, not everybody can carry this style. However, if you are a fashionista and are able to carry it off, it makes a great style statement. Besides, this can be worn more casually too.
9. Pakistani Kurti
These are described as the kurtis which are essentially long, and are often loosely fitted. These make for very good summer wear. These go very well with different types of footwear including wedges, kolhapuris, amongst others.
10. Shirt Style Kurti
Well, are you looking forward to revamping your office wardrobe? A shirt-style kurti is a must for you in such a case. This is essentially an outfit that is a fusion between a shirt and an Indian kurta. You can wear it formally as well as in casual occasions. These are available in various lengths such as knee-length, calf-length, ankle length, etc.
11. Kaftan Style Kurti
The Afghan inspired kurti is very much in fashion today and has a place in every women's wardrobe who love Indian clothes. It makes you look both glamorous and stylish at the same time.This loose-fitting attire is also a sought-after wear for you in summers. You can easily wear it on different occasions such as a beach party, casual wear, office wear, get-together, and various other occasions.
12. Asymmetric Kurti
Bored of the kurtis with all the normal cuts? Well, here is something new for you. The asymmetric kurtis make a great fashion sense when you are wearing an Indian attire. Besides, if you are someone who is short, you would also want to go for this type of kurti as it helps you look taller. You can pair this type of kurti with any type of bottom wear that you like.
13. Dhoti Style Kurti
Another recent trend that you might have noticed in the Indian wear is the dhoti style kurtis. It not only makes you feel comfortable, but you tend to look quite glamorous and fashionable if you can carry it off well. These days, you can also find a belt attached in this kurtis which makes it look even trendier.
14. Slit Kurtas
If you want to look fashionable and sensuous while wearing something traditional, go for the slit kurtas. There is a slit either in the middle or on the sides which adds glamor to your entire look.
15. Color Block Kurti
Another recent trend when it comes to the kurtis and Indian wear is the color block. In this style, there are blocks of colors which are defined in the kurti. There could be contrasting color combinations and as such, it is imperative thatyou choose the color combinations that best suit you and your style. avoid wearing them with printed bottoms though.
16. Princess Cut Kurti
These are essentially what we call the shaped seams and are mostly worn to highlight the curves of a female's body. Most of these kurtas have three-fourth sleeves and a collar neck. These can look elegant and fashionable at the same time.
17. C-Cut Kurta
Another trend in kurtas which most of the women do not know is the c-cut kurta. This generally suits someone who has a good height. It makes you look slimmer too.
18. Overlay Kurti
In this type of kurta, you have a slight overlay of fabric which usually starts from the waist and extends to the end of the kurta.
19. Double-Layered Kurta
These types of kurtas have a fashionable double layer which makes you stand apart from the crowd. The second layer of the kurta can be both attachable or detachable.
20. Kurtis with Jacket
This one is my personal favorite! In this, you can wear kurtis along with jackets of different colors. By adorning them, you can look extremely fashionable and elegant at the same time. You can wear it in different functions which include a wedding, a trip, parties, college, office wear, etc.
21. Empire Waist Kurti
If you want to look fashionable, you can do so even with the Indian wear and traditional kurtis. These days you have the empire waist kurtis that will help you look both fashionable and trendy. The taper starts from the chest and then the cloth just flows through the entire length making you look so beautiful.
22. Tulip Kurti
If you are looking for something trendy in your traditional wear, you can opt for the tulip kurti. Herein, you have a tulip design cut at the bottom of the cloth towards the hem, making you look fashionable yet traditional.
23. Pintuck Kurti
The pleats in the fabric add the extra amount of elegance to this type of kurti while adding versatility to what you wear. Pintucks are really in vogue these days so much so that you can notice the models walking the ramp adorning these.
24. Cold Shoulder Kurti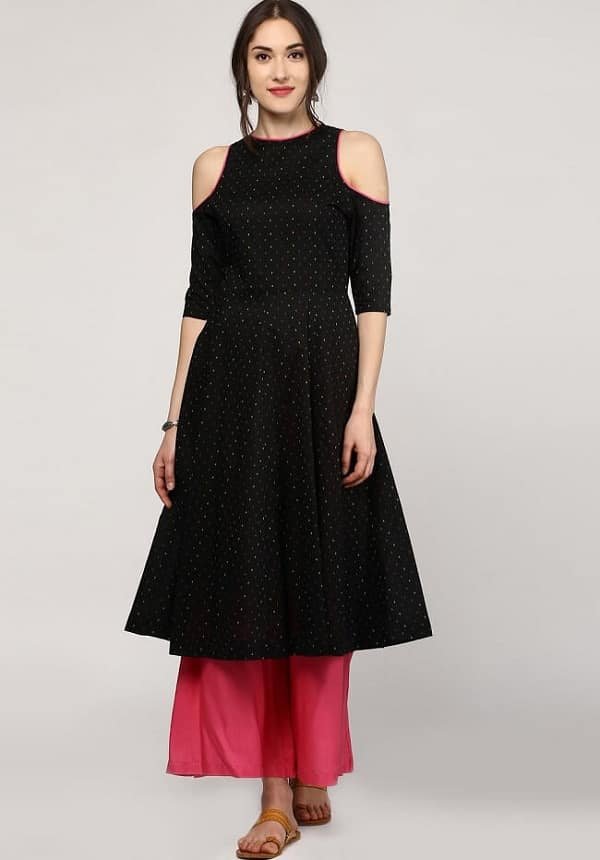 Well, the recent most trend in the Indian wear is the cold-shouldered kurti. It looks immensely fashionable and trendy. It looks cool too while adding a western touch to your attire. This is a must-have in your wardrobe
25. Frock Style Kurti
Last but not the least is the frock style kurti which will help you showcase the naughtier and the more girly side of you while looking fashionable at the same time. There is a flare towards the end of the kurti and the same looks really trendy.The knee length and the thigh length ones are preferable trends in this type of kurti.
Kurtis has always been and will always be in trend and fashion. With the wide array of choices at your disposal, you can add so many varieties, designs, and colors to your wardrobe!