Asia's heaven on earth, the Kashmir is the 19th largest state in India with the largest Muslim-majority population. Kashmir is the essence of natural beauty and a fresh environment, and for this, it is famous across the world. You can witness many parks, hill stations, lakes and valleys, making it the most tourist attracted destination. A perfect destination for vacation, summer vacations, and honeymoons, Kashmir is also rich in premium crops like saffron and walnuts.
Speaking of food & desserts eaten in Kashmir, the food is divided into two parts: Jammu cuisine and Kashmir cuisine. Unlike Jammu cuisine and traditional food, people living in Kashmir rely on non-veg dishes. It serves up a rich non-vegetarian platter of Palak nadir, Methi Maaz, tabakh maaz, seekh kabab, Kashmiri pulao, and rogan josh. Kashmiri food is rich in flavour and mild in taste with the maximum use of hot spices like cloves, cardamom, fennel, ginger and saffron. Let's take a look at some of the traditional food of Kashmir:
List of Traditional food of Kashmir that absolutely can't be ignored:
1. Modhur Pulav
Modhur Pulao, simply sweet Kashmiri rice is cooked with various foods like ghee, milk, a little saffron, sugar, chopped, crushed nuts like cinnamon, cashew nuts, green cardamom, and almonds. This traditional dish of Kashmir is sweet and healthy as the main ingredients give it a colourful look and taste. Although saffron is cultivated only in Kashmir, which means the saffron used in the pulao is pure and fresh. Unlike regular pulao, Modhur Pulav is completely different in taste and cooking process.
2. Dum Olav
While most Kashmiri recipes are inspired by the Mughal kitchen and rely mainly on non-vegetarian dishes, Dum Olav has something unique with pureed vegetables and potatoes. One of the popular vegetarian Kashmiri recipes, Dum Olav or Dum Aaloo is prepared with fennel, ginger powder, yoghurt, and a few Indian spices to give it aroma and flavours. You can serve it with Naan or Roti at any mealtime.
3. Rogan Josh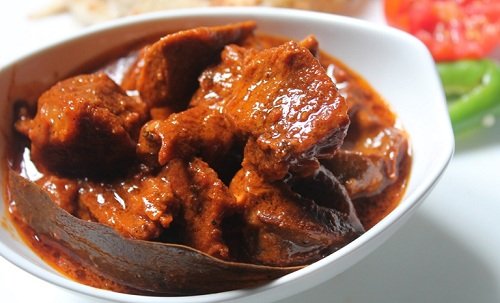 If you are fond of meat cuisines then rogan josh is one you must try. This aromatic lamb dish is one of the popular traditional dishes of Kashmir. Inspired by the Mughals kitchen, rogan josh is high in flavours of browned onions, yoghurt, and other spices. It is considered to be a low-fat dish that is good for health. You can have it with naan or rice.
4. Matschgand
To indulge your taste buds, the list of Kashmir traditional food includes one of the most aromatic dishes called Matschgand. Another non-veg dish for meat lovers is prepared from minced meatballs. Then, they are cooked in spicy red gravy.
5. Lyodur Tschaman
There is good news for the purely vegetarian tourists if they visit Kashmir, another pure veg dish. This dish is popular among vegetarians and locals. This paneer-based dish is prepared in creamy turmeric gravy. Due to the most prominent and healthy dishes, lyodur tschman is cooked regularly in Kashmiri households.
6. Aab Gosht
Kashmiri food is liked by meat and mutton lovers. Mutton is another major ingredient used in the regular cooking of Kashmiri households. One such delicious mutton dish includes aab meat. It can be prepared in two different ways either Iranian or Kashmiri. In Kashmir, this dish is prepared using milk and several strong spices, including black pepper and cardamom.
7. Kashmiri Gaad
Kashmiri Gad is mainly served on occasions and festivals, especially during December. It is prepared using fish along with nadur and radish. This traditional food of Kashmir is a perfect blend of vegetarian and non-vegetarian ingredients as lotus stem and fish are included to enhance its flavour, while herbs and strong spices include to give it the right aroma and taste.
8. Yoghurt Lamb Curry
Yoghurt Lamb Curry, better known as yakhni is authentic Kashmiri cuisine. This dish requires lamb that is cooked in yoghurt-based gravy. It is further flavoured with black & green cardamoms, mawal flowers, dry mint leaves, onion paste, and aromatic fennel seeds. You can serve it with steamed rice.
9. Kashmiri baingan
Brinjal is cooked in the style of Kashmiri people called Kashmiri Baingan. The spices in the chopped pieces of brinjal enhance its taste to a great extent. It can be made in a different way, and is perfect as a side dish that will entice you alike when eating a full Kashmiri thali.
10. Kashmiri Saag
You will fall in love with this unique Kashmiri Saag. This is a different recipe to give you some warmth during the cold season.
11. Sheermal
The list of traditional food of Kashmir is incomplete without Sheermal. Sheermal is often served in Kashmir along with a side dish or gravy-based dish. The sweet yet crunchy dish is forced to melt in your mouth after having a bite.
Wrap Up!
These are some of the delicious vegetarian and non-vegetarian traditional dishes that cannot be ignored while travelling to Kashmir.