What is the first thing comes to your mind when you hear about Punjab? Perhaps, the agricultural land, the greenery all around, the electrifying dance, the spicy cuisine, the rich culture, the historical places, the cheerful people, and of course, the colourful attire hold a significance that cannot be expressed in words.
Suppose walking into a fair and being greeted with smiling faces dressed in traditional attire full of vibrant colours like green, pink, and purple, although each colour has its own story. Does it sound mesmerizing? Of course, yes. The precise design and workmanship in each piece of clothing are truly a sight to behold.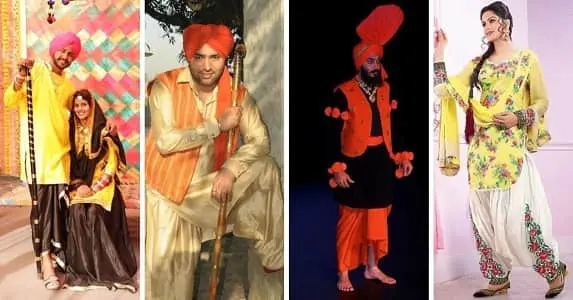 Are you excited to become the witness of a colourful clothing world where distinctive designs and vibrant colours will leave you captivated? Let's check them out:
Traditional Dress of Punjab for Men
Tehmat, sometimes called Tamba is a unique style of Lungi worn especially in Punjab. It has folds at the front and is styled by Bhangra dancers with Kurta to complement the look. This is usually called the dance attires of Punjab.
The kurta and pyjama combination is another famous traditional outfit that has always been and still remains in trend. This elegant and simple outfit also works as a casual day outfit. If you are a fan of Punjabi culture, then it would hardly happen that you would not have heard about the turban.
 Also called Pugg or Pagri, Sikh men carry it as a headgear styled up using a long piece of cloth. The best part is that there is a wide variety of colour options available these days so that men can buy them according to different occasions.
If you have ever noticed that men who belong to Punjab prefer to wear pencil pants and kurtas, this gives an effortless touch to their personality. It can be styled with a touch of modernity by wearing a jacket over the kurta and wearing mojaris (a different type of footwear for men) on the feet.
Traditional Dress of Punjab for Women
Probably everyone knows about phulkari, a flower craft, on a piece of cloth to be used as a dupatta over a suit. This type of traditional dress has been formed in the culture of Punjab. Bright colours embroidered in a certain pattern clearly show how much effort and skill require preparing it. Due to being available in multiple colours, it can be styled with lehengas and kurtas. Specifically, it can be woven on kurtas, shawls, lehengas, and dupattas with an exquisite blend of intricate patterns.
The pleated and baggy trouser, which has become a style statement among women, is a major part of the traditional attire of Punjabi women worn daily. It is traditionally called Patiala, mainly worn by men but later became a part of women's dress.
Chunni and Kurti are the two major pieces of clothing that together will make up the complete outfit. Available in several modern designs, it still keeps in touch with tradition. In fact, it is one of the most comfortable and easy-to-wear outfits worn by women who belong to Punjab with unmatched style and grace.
Last but not least, the traditional dress which has been modernized is the ghagra, specially made in Punjab and its other parts. It consists of four pieces now worn in Himachal Pradesh and Haryana. The famous folk dance called Gidda is incomplete with this dress. Twirl around by wearing colourful ghagras while singing traditional songs reflects the real culture of Punjab.
Western Influence on Punjab's Traditional Dresses
With the culture of modernization, the people of Punjab also changed their dressing style, but their traditions remain in their roots. With changing times, the state is now full of youth who are attracted towards modern culture, especially western wear like shirts, jeans etc. Do you think the trend of wearing traditional clothes will be here for a long time? Think about it.
Conclusion
Not only in India, but colourful costume designed in Punjab also greatly impacts people living all over the world. As a witness to modernisation, the traditional dress of Punjab for both men and women has marked an evolving trend. With core principles of flared blouses, phulkari (scarf), tunics and more, the element of diversification comes through in the form of a truly delightful multicultural touch.