Assam is one of the seven North-Eastern states of India, located in the South Eastern Himalayas along the Barak and Brahmaputra river valleys. It is the home of all commercial and cultural activities in the northeast. Assam is said to be an incredible place because of its culture, tradition, local cuisine, language, and mesmerizing natural beauty. It is home to various tribes, including Miri, Bodo, Rabha, Kachari, and Kabi.
The local people of Assam take pride in adorning themselves with traditional accessories and exotic rich clothes worn by them. The traditional dresses are designed delicately to make people look good & simple. Let's discuss the bountifully elegant and glamorous attires of Assam.
1. The Boho Tribe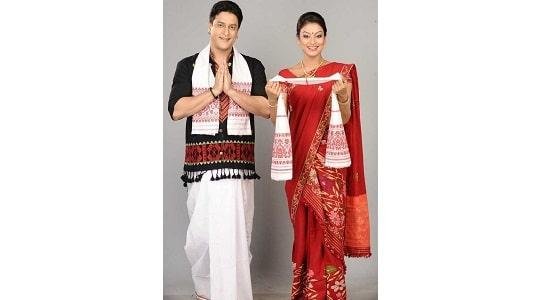 Men – Boho tribe men traditionally wear Gomasa to wrap the lower body while the upper body is covered with regular shirts. They also wear unique footwear made from a wood called Khorom.
Women – Women belonging boho tribe wear Dokhna, a piece of cloth that is wrapped around the whole body. It is designed to be wrapped around the body and tied around the waist. This traditional dress is crafted of varieties of patterns, Agor, and bright colours.
2. The Rabha Tribe
The people of this certain tribe have unique dressing styles and traditions. Let's have a look at the Rabha tribe's traditional dresses of both men & women.
Men – Men here dressed in white dhoti with long Gomasa.
Women – The women of the Rabha tribe wear a skirt, which is a fabric with splendid tribal designs and patterns. The local people called him Koum Kontong. This traditional dress is worn with a kambang to cover the upper body. To fix it in place, they wear a belt or waistband made of shells and beads called lobok which gives them a subtle look.
3. The Missing Tribe
Men – The men generally wear a dhoti named Gonru Ugon. They wear a shirt called Mibu Galuk to cover their upper body. The dress complements by carrying Gamosa Dumer.
Women – The women of this tribe wear clothes to look simple and beautiful. They wear mekhela chadar locally called yakan ez gasa, which is black. Their attire is colourful, the blouses are vibrant mostly worn during weddings and events.
4. The Dimasa Tribe
Men – Men belonging Dimasa tribe usually wear Phagri, which is a symbol of pride. The white-coloured Sgaopha with red thread worn the grooms. It is also available in green or yellow colour. They also carry Ringdo, a type of little muffler. Gainthao and Risha, a kind of cloth also worn but differs in length.
Women – On the other hand, the traditional dress for women is very artistic and beautiful. Rigu, a long piece of cloth is also worn by women here. They also dress Bathormi, which is very similar to Rigu. It has a single design all over the dress, especially worn during summers. Young women of the Dimasa tribe wear Rijamphain, a white piece of cloth. Their dressing style is quite simple and elegant.
5. Others 
The Mekhela Chador is one of the common traditional dresses of Assam for females. Women wear a two-piece cloth, which is quite similar to a saree. The lower piece they dress is called the Mekhala while the upper piece is the Chador. It is fully decorated by the beautiful ladies of the Assam and looks very splendid with it. The Mekhela Chador is unique attire worn by women of this state.
Dhoti is a long fabric not only dressed by locals of Assam but also by people living across the country. Dhoti is worn to wrap around the lower body. Besides, men carry Gamosa also. It is a piece of cloth that is very common in this state. It is embroidered on both ends and is white. In Assam, men wear is to show gratitude and respect towards their culture.
Conclusion:
Assam is the land of multiple tribes and communities having different traditions, dressing styles, and cultures. The traditional costumes and dressing style make the culture of Assam iconic and different. The traditional dress of Assam is of great importance in reflecting the cumulative and distinctive fusion of several tribes and races.