Top 10 Tallest (Highest) Bridges In The World
5. Baluarte Bridge
The Baluarte Bridge is officially being referred to as the Baluarte Bicentennial Bridge, and it is a cable-stayed bridge that can be found in the beautiful country of Mexico. It is crossing the Baluarte River, and it is connecting the two municipalities in Mexico namely the Pueblo Nuevo and the Concordia. The bridge's total height is 1,280 feet or 390 meters.
4. Hegigio Gorge Pipeline Bridge
The Hegigio Gorge Pipeline Bridge was known to be the tallest bridge in the world way back in the year 2005 up to 2009. It is a suspension kind of bridge that is crossing the Hegigio River. This bridge is primarily made from steel materials. It is exactly located in the Southern Highlands Province in the magnificent country of Papua New Guinea. It has a height of 1,289 feet or 393 meters.
3. Qingshui River Bridge
This bridge can be found in the Weng'an County in the Chinese province of Guizhou. It is crossing the famous Qingshui River. Aside from being one of the tallest bridges the world has to offer, this one is also among the longest ones. Its height is around 1,332 feet or 406 meters.
2. Puli Bridge
Puli Bridge is a suspension bridge that is located in the city of Xuanwei in the beautiful country of China. It is part of the G56 Hangzhou–Ruili Expressway in which a number of vehicles and people are passing by everyday. Its height is around 1,591 feet or 485 meters.
1.

Sidu River Bridge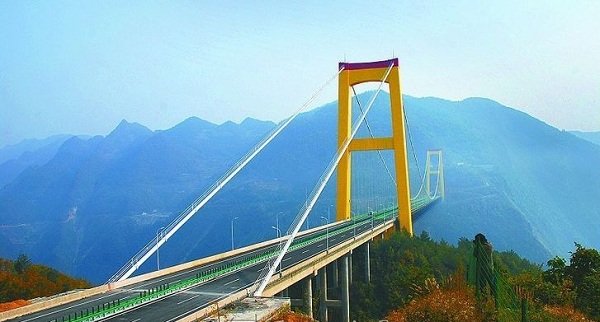 As its name suggests, the Sidu River Bridge is crossing the Sidu River that is located in the Yesanguan in the Badong County of the Chinese province of Hubei. The exact height measurement of the bridge is 1,627 feet or 496 meters.
These are the top 10 tallest bridges in the world. Without a doubt, their heights will surprise you when you see them in person.
Save