Temples have been the integral part of various cultures since ancient times. Various religions such as Taoism, Hinduism, Buddhism, and Sikhism have believed in these houses of worship. Each temple has its its own history and amazing architecture.
Here are the ten most mysterious temples around the world.
10. Taktsang Palphug Monastery
The Paro Taktsang or the Taktsang Palphug Monastery is located on a cliff in Bhutan. This is a sacred Buddhist site and temple. It was built in 1962 and is located 10 kilometers to the north of Paro. It hangs precariously on a 3,120 meter high cliff and approximately 900 meters above the Paro valley.
9. Wat Rong Khun
Wat Rong Khun is best known as the White Temple. The temple is an all white building surrounded with fragments of mirrored glasses that are embedded into the exterior of the temple. Located in Thailand, the structure is unique because of its color and amazing architecture. The White Temple compound consists of nine buildings which include the main Ubosot building, a meditation hall, a hall of relics, an art gallery, and even living quarters for monks.
8. Prambanan Temple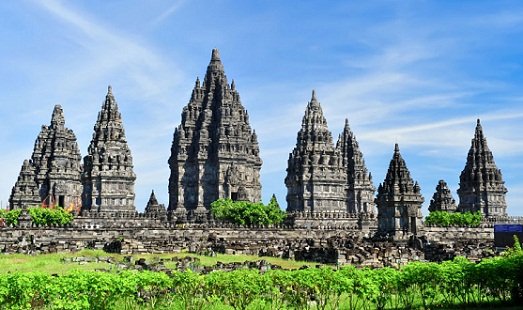 The Prambanan Temple is one of the oldest Hindu temples located in Indonesia. It is said to have been built in the 9th century. The temple is dedicated to Brahma, Vishnu, and Shiva, commonly known as Trimurti. The Prambanan Temple compound is one of the largest in the world, spreading across an astonishing 17 kilometers. It is a UNESCO World Heritage Site and is one of the largest Hindu temples in Southeast Asia.
7. Shwedagon Pagoda
The Shwedagon Pagoda is commonly known as the Great Dagon Pagoda and even the Golden Pagoda. It is located in Myanmar on Singuttara Hills. It is a sacred Buddhist pagoda and contains relics of four previous Buddhas of the Kalpa. Some of these relics include the water filter of Konagamana, the staff of Kakusandha, eight strands of hair from Gautama's head, and a piece of Kassapa's robe. The Pagoda was built in the 9th Century and is the oldest Buddhist Stupa in the world. The unique thing of this Pagoda is the base that is made of bricks and covered in pure gold plates. The crown atop the Pagoda is studded with 5,448 diamonds and 2,317 rubies.
6. Chion-in Temple
The Chion-in temple is the headquarters for Jodu-shu and located in Kyoto, Japan. The temple was built by Genchi in 1234 and was named after his master Chion-in. The unique part of the Chion-in temple is that all roof beams are carved with the Tokugawa family crest and another thing is an umbrella that is stashed in the rafters outside the temple. One of the architects who built the temple placed the umbrella there to bring rain and prevent fire.