Globally, there are several large waste sites and trash dumps with garbage piles which span hundreds or even thousands of acres. These heaps are also high enough to attract a global attention. You might be shocked with the likes of Xinfeng, Guangzhou in China, which is on a 227 acre land, but that is before you read about Apex landfills in Las Vegas, Nevada USA which is on a 2,200 acres. Read on..
Top 10 trash Dumps in the world
10. Xinfeng, Guangzhou, China, 227 Acres
Guangzhou is China's largest city with a population of 14 million people. On a daily basis, the city generates 8,000 tons of waste; 3,800 tons coming from households while 4,200 tons come from institutions. Out of the 8,000 tons, 7,000 tons dump at Xinfeng landfill.
9. New West Territories, Hong Kong, 272 Acres
13,000 tons are generated daily from the municipal solid wastes which come from businesses, households, and industries. This has happened since 2007. From 2013, the waste generated rose up to over 14,000 tons daily with most of it ending at West New Territories (WENT). It is one of the largest landfill, which serves Hong Kong with at least 7,200 tons being disposed here on a daily basis. It is operated by Suez Environment, a French Company.
8. Deonar Located in Mumbai, India, 326 Acres
On an annual basis, India generates about 59 million tons of waste with 2.7 million being generated in Mumbai City. The Deonar is on the Eastern Mumbai suburb and it is one of the oldest dumping sites in India, which was set up by the Britons in 1927. On a daily basis, Mumbai city generates between 7,000 and 8,000 tons of waste, with 5,500 tons of the waste being dumped at Deonar, which has a daily capacity of 2,000 tons. Due to the overflow, the waste reached a height of 30 meters. A 2016 study revealed that, there is an availability of 12.7 million tons of methane, which is combustible at the landfill.
7. Delhi Landfills Located in New Delhi, India, 500 Acres
New Delhi city generates about 9,000 to 9,200 tons of the municipal waste. The wastes are deposited in Narela Bawana, Okhla, Ghazipur, and Bhalswa which combined are on an acreage of 316. Narela is the newest with the others already exhausted. Bhalswa was closed when the garbage reached 22 meters high, but it continues operating and is at 41 meters high. An extra 500 acres were added in 2013 for a new dump site.
6. Sudokwon Located in Incheon, South Korea, 570 acres
It was constructed in 1992 and since then, it receives between 18,000 and 20,000 tons waste daily from Seoul. The city has a population of 22 million people and harbors this landfill, which is the largest in the country. It produces 50 megawatts of power from the methane gas found in it. It has a facility for desalination and recycling water, with the water being used for irrigation and other purposes. Over 700,000 trees are built around the landfill and it creates 200 jobs yearly for the youth.
5. Puente Hills Located in Los Angeles,USA 630 Acres
It was closed on October 31st, 2013 but before its closure, it had waste amounting to over 100 million tons from the Los Angeles waste that comes from the municipality. It was the largest landfill. It was first opened in 1957 as a private landfill. On January 20th, 2015, it was reopened in 12 to 24 months and it can receive up to 13,200 tons of waste in a day. It produces methane gas, which converted to turn a turbine that generates 50 megawatts to run 70,000 homes in southern California.
4. Malagrotta Located in Rome, Italy 680 Acres
This landfill can hold up to 60 million tons of waste. It became a legal dumping site in 1984 and receives between 4500 and 5000 tons of waste daily, making it one of the biggest solid waste facility of the municipalities in Europe.
3. Laogang, Shanghai, China 892 Acres
It is piled up to 20 meters high, making it one of the largest landfill in Asia. It receives up to 10,000 tons of waste on a daily basis, which is a half of the city's total waste.
2. Bordo Poniente Located inMexico, 927 Acres
It was closed in December 2011, but before then, it used to receive between 12,000 and 15,000 tons of waste daily. It used to be the largest landfill in Latin America.
1. Apex Land Fill Regional Located in Las Vegas, USA, 2,200 Acres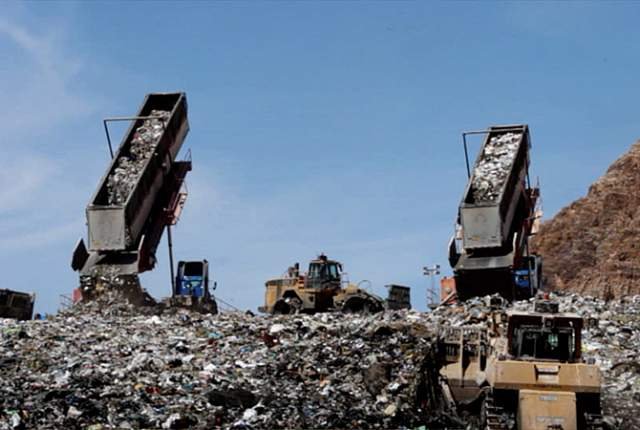 It gets approximately9,000 tons of solid waste daily though it can handle up to 15,000 tons daily. It opened in 1993 and it is the largest landfill in the US. It is projected to last for 250 years and to hold 50 million tons of waste.
Am sure no.1 has shocked you, don't be mean, share the information with your friends on social platforms to let them be enlightened too.