Top 10 Best Whisky in India with Price 2018
The trend of drinking liquors has been in the human genes right from the start of civilization. The buck continues till date where one can lay hands on multiple varieties of drinks.
Liquors have a generous history of serving the human palate throughout. A glass in the hands is often seen as a gesture of human bonding in between the gatherings. As such we gave a run for the money to these whiskies, a much-preferred variant of liquor in our blog today.
Read on about the top 10 best whiskeys available in India with price 2016.
10) 8 PM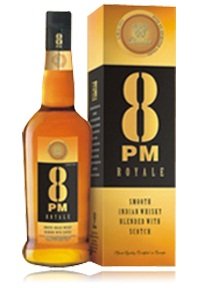 A definite fine piece of whiskey, this one belongs to the famed Radico-Khaitan group.
The whiskey is famous in non-metro and rural areas for its high-quality content within a budget range.
However, the company has been in a decline for the past two years where it saw its sales drop by 2%.
Here's the price
| | |
| --- | --- |
| Size (ml) | Retail Price |
|  375 | 155 |
|  750 | 310 |
9) Director's Special

Director's Special, an offering of United Spirits Limited is a fine whiskey to try on.
The brand originated in 1988 and made its mark as a trustworthy for designated class.
It was even named in the world's top 50 whiskies, a colossal feat to achieve.
Let's have a look at the pricing of it-
| | |
| --- | --- |
| Size (ml) | Retail Price |
|  375 | 175 |
|  750 | 350 |
8) Blenders Pride

Blender's Pride remains one of the most traded whiskey in the past year with sales increasing by 15%.
Blender's Pride is owned by Pernord Richard and was launched back in 1995.
Here's what the price meter says about it-
| | |
| --- | --- |
| Size (ml) | Retail Price |
| 375 | 385 |
| 750 | 760 |
7) Bagpiper
Previously termed as the flagship module of United Spirits this one has been in constant derail over the years.
The brand has a decrease in sell of about 15% in the past year.
Here's how its price in current date-
| | |
| --- | --- |
| Size (ml) | Retail Price |
|  375 | 151 |
|  750 | 301 |
6) Haywards Fine
Another one of United Spirits premium offerings, this one has been on the incline for the past few years.
The whisky sold more than one million cases in the past year, a whole 14% increase from the past year.
Let's check out the pricing of this one-
| | |
| --- | --- |
| Size (ml) | Retail Price |
| 375 | 110 |
| 750 | 220 |