We all crave for those delicious fries, for those deep fried chicken, potato chips and more. But in a time when the health routines are striving up a notch, there's hardly any leeway for oil fried and junk foods. But does that mean you cannot have your way. Nobody's saying you to just a dump in the oil, infect you can stay far away from the oil and yet enjoy the fried foods with all the healthy measures. You must be thinking how can that be possible? Well, simply put, Air fryer.
Air fryer are one of the best kitchen appliances to have ever been invented. They not only helps reduce the oil intake and offers you to enjoy all the delicacies of your life without the need to sacrifice the taste but also keeps you on the healthy side. Air fryer uses a technology best known as the Rapid Air technology where hot air rather than the oil helps fry the foods. What is does is once you keep the food to be fried on the basket of the air fryer, the hot air circulates around the food placed in the basket and fries it.
There are plenty of air fryers available in the market these days. And it's something that has been selling like hot cakes too. Air fryers come at different price levels depending on the performance and capacity. We here take a look at the best of the lot and rank them out for you as part of our series. Read along as we present to you the best ten air fryer in India.
Best Buy Air Fryers Online In India
1. Philips Viva Collection HD9220 Air Fryer with Rapid Air Technology (Black)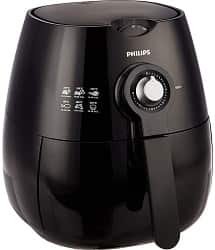 When it comes to air fryer not many can compete with the levels set by Philips. Philips remains one of the breakthrough companies in the air fryer industry and their products have come along as the best one. This one uses a rapid air technology so that you get healthier fried foods.
It has a unique design that allows for delicious cooking with low-oil cooking. You can fry, grill, and even roast and bake with this one. It comes with adjustable time and temperature control which allows you to decide the time up to 30 minutes. The performance metrics for this one is quite superb and comes with a high performance with faster cooking
It has a capacity of 2.2 liters and runs on a power of 1425 watts. Philips offers a recipe book along with this air fryer. It is easy to clean it off and smells less than the other normal fryers.
What we liked
Rapid air technology
Low oil cooking
Adjustable time and temperature
High performance cooking
What we don't like
2. American Micronic- AMI-AF1-35CLDx- 3.5 Liters 1500 Watts Imported Air Fryer (Black/Silver)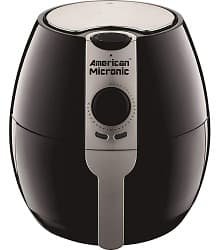 The second one in our list comes in from American Micronic with its impressive air fryer. It comes with a set of features that is unmatched for and is certainly something that should be on the top of the pile for the buyers. It comes with a 30 minutes timer and features adjustable temperature control which allows for perfect air fried answer.
It has a turbo tunnel fresh air technology and comes with a non-stick frying basket. It has a 50 percent bigger size than the normal fryer and has a 38 percent faster performance. It also comes with 27 percent more energy than its own first generation series. It comes with a 3.5 liter capacity and features 2 years of warranty from manufacturer. It runs on a power of 1500 watts and comes with the perfect option for frying, baking and roasting the best of your foods. It also comes with after sales service that is pretty notch much than the other ones.
What we liked
Turbo tunnel fresh air technology
Adjustable temperature setting
Superb after sales service
2 years of warranty
What we don't like
3. Kenstar Aster 1500-Watt Oxy Fryer (Cherry Red)
The third place is homage to the Kenstar with its Aster series air fryer. Kenstar is one of the best companies when it comes to electrical appliances in India and they surely rank well when it comes to performance. This air fryer has an impressive design and functionality with a perfect cooking option.
It comes with multiple cooking features like frying, grilling, roasting and baking whilst offering a capacity of 3 liters. It comes with a 1200mm long power cord. It has an easy removable bracket which can be removed as per your convenience. It has a hidden handle and comes with LED indicators for helping you determine the status of it. It also features timer and temperature control which allows for frying up to 30 minutes.
It has an air out went for removing the bad smell and keep the food fresh and intact. It features a recipe book with the package.
What we liked
Multiple cooking feature
Hidden handle for easy convenience
LED indicator
Adjustable temperature control
What we don't like
Priced quite high compared to others
4. Inalsa Air Fryer 2.9L Fry Light with 1400-Watt and Smart Rapid Air Technology (Black/Grey)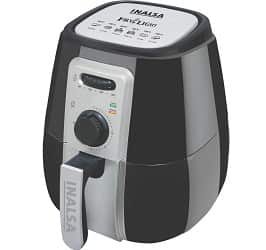 Placed at fourth in our list is the one from Inalsa with its 2.9l Fry Light series. This one comes with a smart rapid air technology and features quite an impressive performance. It is quite safe to use for and comes with loads of features which makes it certainly a worthy investment.
It has a capacity of 2.9 liter food basket and a 4.2 liter cooking pan based capacity. It has a food grade non stick based food basket and helps to cook healthy foods with ease. It is quite safe to use as there's an automatic power off option as soon as you remove the basket. It has an adjustable temperature along with a time control option.
It comes with power LED indicator light along with the heating indicator light. There's cool touch handle on this one along with a basket release button. It runs on a power of 1400 watts and has a manufacturer's warranty of 2 years. The package comes with the air fryer, warranty card and the user manual.
What we liked
Smart rapid air technology
Non stick based food basket
LED indicator
Adjustable temperature control
What we don't like
5. Prestige PAF 4.0 2.2-Litre Air Fryer (Black)
Prestige remains one of the top brands in India when it comes to home and kitchen appliance. And when the talk comes up for the air fryer, Prestige certainly won't want to be left behind. So here they came with a high quality performance based air fryer.
This one comes with a perfect companion for your weight loss program. It helps along in taking the best alternative route to the fried foods by offering this air frying technology. It comes with a hot air frying technology and has a grill and a fan that blasts the hot air all over so that the food gets cooked quickly. It comes with a power usage of 1400 watts.
The air fryer comes with options to grill, bake, roast and fry the food. It has a temperature and timer control and has specially designed food basket along with a safety button. It has a capacity of 2.2 liters. It has a pretty easy maintenance.
What we liked
High quality performance
Temperature and time control feature
Specially designed food basket
Safety button
What we don't like
6. Pigeon Super 12044 3.2-Litre Air Fryer (Black)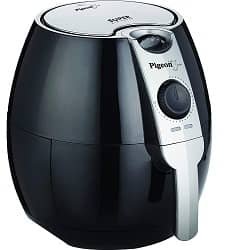 Next up we look into this one from Pigeon with its Super 12044 model. It comes with superior air frying feature and offers the best of features to you. It's the perfect combo for either baking, roasting, frying and even grilling all with just teaspoon of oil. It offers great economical cooking and gives healthy and safe output.
It comes with a 3.2 liter capacity and has a powerful air distribution basis that allows for the easy and quick cooking of the food without any extra of the oil so that you can enjoy your food. It comes with a quick preheating feature and also has timer control option. You can set the timer up to 30 mins for frying into these. It also features an auto switch off option that adds the bit of safety option.
It has a power running capacity of 1500 watts and offers a 1 year warranty on it. The package comes with air fryer and the user manual.
What we liked
Powerful air distribution
Auto switch off option
Quick preheating option
What we don't like
7. Havells Prolife Plus 4-Litre 1230-Watt Air Fryer (Black)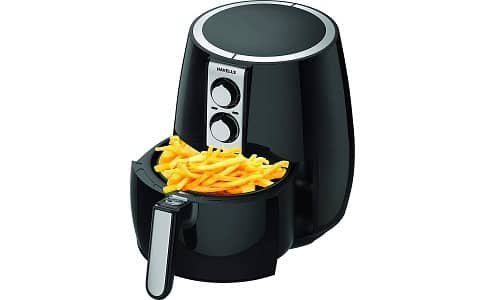 Who said that Havells are only limited to the electric appliances? Havells are more than a name in the kitchen based electric appliance and have made a name for themselves everywhere they have entered. Their products stands truly as one of the best of the lot and this air fryer does justice to it.
This one is a fantastic air fryer offered by Havells and comes with an unique rapid air technology which helps you to do multiple chores like fry, bake, toast, grill, and additionally reheat the foods too. It comes with a air fry mechanism which uses 85% less oil than the traditional deep oil frying method. It has a large cooking capacity with 4 liters of space and comes with auto off timer and a temperature control system. It has a food grade based aluminum non-stick coating layer that helps prepare the food. It has a cool touch handle and has a basket release button with it too.
Havells air fryer is completely safe to use for as it comes with an power-off feature on the basket removal. It also features customized Indian cooking items and menus for you.
What we liked
Rapid air fryer technology
Large cooking capacity
Auto switch off option
Cool touch handle
What we don't like
Price is a bit on the high side
8. Glen 3044 Stainless Steel Air Fryer(2.8L, Black)
Staking its claim at eight number in our list is the one from Glen with their recent air fryer offering. It is one of the most selling ones of the lot and comes along with a long list of features that are worth looking for. It helps along to go for a healthy life and prepare oil less and fat less food without compromising on the quality of it.
It comes with a rapid heating adhering to its stainless steel coil and features a large cooking capacity of over 2.8 liters. It features adjustable time and temperature control option and has a perfectly slotted plate along with a disc plate. It come with an easy to clean feature and also offers quick and rapid heating. It also uses vapor steam that allows for crispier frying.
It has a 30 minute timer and comes with a temperature setting between 80-200 degree Celsius. It runs on a power of 1350 watts.
What we liked
Rapid heating
Stainless steel coil
Use of vapor steam
Temperature and time adjustment
What we don't like
9. Hilton 3.5L Air Fryer, Black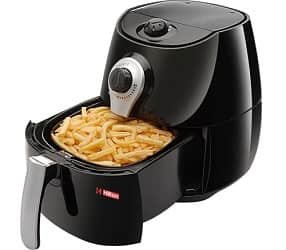 Placed at ninth in our list is the one from Hilton, a well known brand all over the globe. It comes with an impressive set of skills and features. This one is truly something that Hilton has ranked multiple numbers in sales. It comes with an impressive 3.5 liter capacity and has rapid air fryer technique which allows the food to be fried with no fuss. It works on different features like frying, baking, roasting and more with just a mere brush of the oil taking in at only 15% of the normal traditional oil frying.
It has a pretty smart and innovative design which helps cast a delicious and tasty food with all the convenience. It also cooks the foods pretty smart way so that you can have a healthier option to the fried items that you crave for. It has a pretty easy design to work with and can be handled with ease. It can also be cleaned off and maintained for easily. Furthermore, there's a timer and temperature control in this one.
What we liked
Rapid air frying
Innovative design
Temperature and time adjustment
What we don't like
10. Prestige PAF 2.0 1400-Watt Air Fryer (Black)
Rounding up our list at the tenth entry is again another product from the house of Prestige. This one is a high performance yielding air fryer with all the benefits of quick and healthy air frying that will help you to eat the fried foods with way less oil. With this you can now enjoy the delicacy without thinking about the part of traditional deep oil frying.
It comes with a high performance design and has an option for frying, grilling, roasting, baking and more with this design. It also features easy to handle and operate knobs that works as per your liking. It has a temperature and timer control option for adjustable type. It uses the rapid air technology and has powerful air distribution technology that allows for cooking. It has automatic shut off option which gives it a safety edge over others. It also has an additional safety button. Prestige has incorporated a specially designed frying basket with this one.
It comes with a capacity of 2 liters and has an easy to clean basket. It also has a smoke and oil filter and is quite durable. It works on a power of 1400 watts.
What we liked
Rapid air frying
Smart design
Specially designed frying basket
Safety button
What we don't like
Things To Look While Purchasing an Air Fryer
There are quite a few things that you need to take care of before buying an air fryer so that you get the best of the feature and something that would add more value to your project. Here's a list of few things that you should look for.
Most of the air fryer comes with a sound that seems like a bit loud. It's often as if there's a constant hum where you listen to something like a busy highway. It's almost like the high powered fans at the gas range of your restaurant. Look for the one where the sound seems manageable and low.
Since air fryer uses the rapid air distribution to fry the foods, there's bound to be hot air inside which is let out by the smoke outlet. During the process, it's inevitable that the exhaust on this one showcases the hot air constantly. Look for the one where the smokes are at the low. You wouldn't have to have a smoky air fryer in your kitchen, do you?
Air fryer generally come with the temperature control adjustable knob or setting. It's vital to have this feature as that will help you to keep the food frying range to the settings you'd want. Most often the foods are fried at 400 degree Celsius and the air fryer can go further up to 425-450 for a short time to add the crispy factor to it.
What about this one? Well, since the air fryer runs on a high heat, it is sure that you'd want to get a constant look onto the food to see when it cooks. But that doesn't normally happen with air fryer and instead you have to take it out and see it and the put the basket back on.
Having an air fryer doesn't mean that you leave out the oil completely. It still uses a bit of oil but in lower proportions than the deep fried technique of the traditional cooking. Look for the air fryer and see its oil consumption. Normally the air fryer uses around 15% – 20% of the oil so see what the consumption levels are.
Whether it works with batter or not?
If you're thinking of doing the batter with the air fryer, then that should be one of the last agenda of yours. An air fryer doesn't allow you to do the batter based recipe and instead requires something like the use of coating with panko or even breadcrumbs.
Air fryers come with a non-stick coating in the food basket. These are food grade safe to use for and allows your food to cook without the need for sticking into the food basket. But as is the case with the non-stick coating, it does tend to wear down with usage down the line and may get easily scratched with even metal forks or tongs. So look into something that has durable non-stick coating.
How Does an Air Fryer Work?
Looking over, it often seem magic that you get to enjoy the fried foods without having to indulge in the deep fried oil cooking. How can even that be possible for? Air fryer do tend to do the magic and there's an actual reasoning to it. It works on a simple basis which we'd look to present down below for you.
Air fryers work on a simple basis and is more like the countertop convection oven where you have a heating element that gets attached to the small electric appliance and comes with a fan which lets the air flow and transfer inside the cooking chamber. In the air fryer what it does is that it lets the hot air to transfer very quickly around in a circular motion. That way the heat waves reach the food uniformly and cooks the food with ease. It also allows for cooking and adding that crispiness on the top of it.
It has a perforated basket that helps keep the food in contact with the hot air that's moving around. This way you food gets cooked and fried quicker and more healthier. It does require the food to be brushed with oil and uses around only 15% of the oil that is required for the traditional deep oil frying. The intense heat inside the chamber cooks the food pretty well.
Air fryer Do's and Don'ts – You Should Know
DO's
Always prefer using inserts, inserts maximize the cooking efficiency. Check the market and you can find different baskets for different types of food.
Air fryer functions are not limited to frying only; you can bake bread in it. Most of the people think air fryer function is just limited to roasting and frying, but, in fact, air fryer is a device that can function as a high-power oven, which can bake bread and buns with ease.
Air fryer is the best alternative for microwave ovens, as you know the effect of microwave-cooked food is a subject still in debate today; an air fryer can be a best alternative to a microwave oven.
An air fryer can fry anything without oil, it's a myth, to get the exact odor and taste, do rub some oil on the food before cooking
If you plan on frying or roasting vegetables, make sure the vegetables are cut into small pieces.
Don'ts
An air fryer cannot work efficiently if the fryer basket is over-crowded. As the name itself suggests, an air fryer works on the basis of hot air circulation, if you overcrowd the basket, the air cannot circulate and the food will not be fried or cooked
Using non-stick spray is recommended, however, do not spray it over the air fryer basket, most of the people use aerosol non-stick spray while cooking food in an air fryer, this is not recommended. It is best recommended that you use your own favorite oil like olive, sunflower or avocado oil instead.
The concept of air frying is very different from frying in oil, it is very important that you do not put a wet batter in an air fryer.
Air fryer is best recommended for frying and roasting if you need to cook food that has to absorb lots of liquid, air fryer is not recommended.
FAQ
Here's a few frequently asked questions that come with the air fryer as we look to answer them all for you.
1. What can you cook in an Air fryer?
Air fryer works similarly to the normal frying technique and allows you to cook all sorts of foods. Just add a bit of oil and brush it on the top of the food and you can enjoy the fried food. You can cook all type of chicken, frozen foods, vegetables, samosa, chips and more.
2. Is air fried food healthy?
They certainly are the healthier option than the traditional deep oil frying. In an air fryer, only about 15% -20% of the oil is used and thus gives the healthy outlook. Furthermore, since it uses the heat waves to cook, and less of the oil, you can totally indulge in the fried foods without thinking for the health disturbance.
3. Are air fryers healthier than deep fryers?
Air fryers certainly are the healthier option than the deep fryers. We also mentioned the same in the above one and going by the oil usage, air fryer uses way less of the oil than the deep fryers. Air fryers only needs a bit of oil spray or a brush of the oil on the top and it'd be good to go.
4. Can you put oil in an air fryer?
Air fryer works on the heat waves basis where the rapid air technology moves the hot air quickly and fries the foods. It doesn't require oils at all. You should only use a bit of oil with this one as excess oil will drip on the pan placed on it. Do not put the oil in the air fryer.
5. Can I use aluminum foil in the Airfryer?
You can certainly use the aluminum foil in the air fryer. But be careful not to cover the basket bottom on the complete basis so that the heat waves pass constantly.
6. Why do air fryers smoke so much?
Air fryers runs up to the temperature of 400 degree Celsius which makes it a pretty hot item whilst cooking food. And since it works on rapid air technology where the hot air is constantly blown inside the chamber, there needs to be an outlet for the exit Air fryers tend to generate the smokes because of the hot air constantly blowing inside.
Air fryers are one of the most essential and healthy outlook for our modern life. With the use of air fryers, we can simply make all the fried food items that we crave for so much without the need to have to deep oil fry the items. That way you can get the healthier alternative and have a healthy life.
They come in different variety and types and are offered by all the top brands in the market. We here looked into the best of the lot for you. We hope this one helped you.