The choice of biking has modified. It should be either a heavy duty sports bike for those who love gear bikes, or the two wheelers should be too sleek like the conventional scooter/scooty. In fact people staying mostly in cities have seen to prefer the scooters for many reasons. In a jam packed city traffic, changing gear is one of the most hectic thing. In addition, these scooters are comparatively a lot cost effective as well as house ladies, working women and college girls also prefer it for their daily uses.
On this context, we present the compilation of some excellent scooters those can be bagged under 50K budget.
10. Mahindra Duro DZ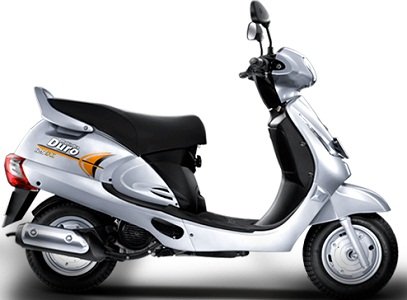 If you are looking for a fuel efficient scooter under 50 k budget, then the Mahindra Duro DZ can be a better option. This two-wheeler gets powered by a 124.6 cc 4 stroke engine generating power of 8 bhp at 00 rpm, and a torque of 9 nm at 5500 rpm. Offering 57 kmpl mileages the scooter costs about Rs. 47 k in Indian markets, and is available in 7 colour options.
9. TVS Wego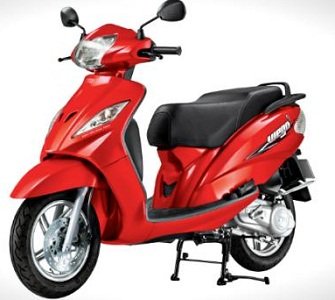 TVS Wego is known for its extra comfort. Its size is primarily suited for the boys as it may be little bigger for genuine females. This two-wheeler packing the 109.7 cc single cylinder engine can offer 109.7 cc displacement. It can generate 8 bhp at 7500 rpm and a torque of 8 nm at 500 rpm. Being available in Red, Black, Blue, and golden colour editions the scooter costs around 48 kin Indian markets.
8. Yamaha Ray Z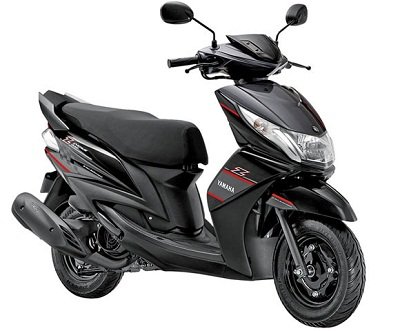 It looks adorable through the black, red combination. This stylish gets powered by a double valve 4 stroke SOHC engine that can generate power of 7 bhp @ 7500 rpm. It generates torque of 8.1 nm at 5500 rpm. Offering a decent mileage of about 55 kmpl the bike has 113 cc displacements.  It is available in only one variant and can be bagged at a price around Rs 50 k in India.
7. Suzuki Let's

This is absolutely a boy thing as they say. Powered by the 112 cc 4 stroke single cylinder OHC engine it generates 8.5 bhp at 7500 rpm with a torque of 9 nm @6500 rpm. You can expect the most reliable breaks through it. Offering mileage about 64 kmpl, the bike has dragged many attentions for its digital analog cluster. It costs around Rs. 50 k in Indian markets.
6. Mahindra Gusto 110 VX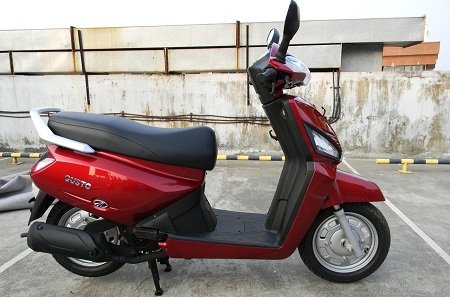 Here we come up with one f the funkiest two wheelers in the compilation. Packing the 109.6 cc four stroke air cool engines, the Mahindra Gusto is having the ability of generating 8 bhp power at 7500 rpm and a torque of 9 nm at 5500 rpm. If the accelerator doesn't fluctuate too much the bike can offer easily 63 kmpl mileage. You can buy one just at the expense of Rs 50k in India.
5. Honda Cliq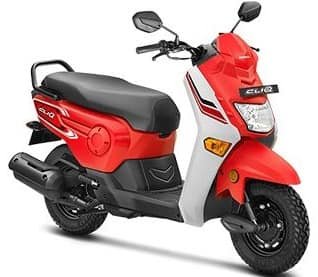 It won't be wrong if we say the scooters started a new innings through Honda Cliq. The Cliq is a revamped version being made market friendly. It's quite cost effective as well carrying a tag of Rs. 44k. Through the 109.19 cc 4 stroke engine the scooter generates 8 bhp clocked AT 7000 RPM. It generates torque of 8.94 at 5,500 rpm. It is available in four colour editions.
4. TVS Scooty Zest 110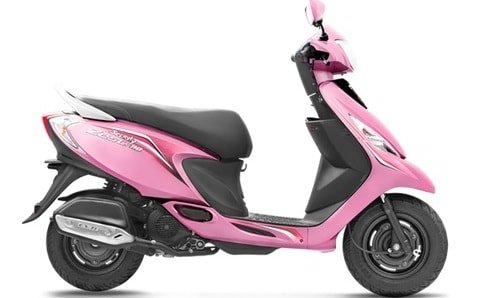 Looking at the increasing demand of scooters among women TVS designed the Zest. This two- wheeler has been provided with 110 cc one cylinder engine generating 7.90 bhp power clocked at 7500 rpm and producing 8.70 nm torques at 5500 rpm. It offers a decent mileage of 62 kmpl, and costs about Rs. 48.2K. It is available in different colour versions.
3. Honda Navi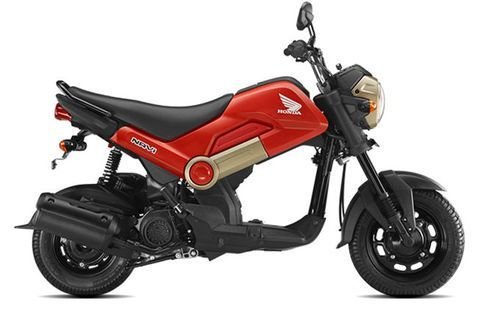 In scooter departments as well Honda has perfectly cemented its position. With its unique style in scooter market this is Powered by the 109.19cc engine that generates power of 7.72 bhp at 7000 rpm and a torque of 8.96 nm at 5500 rpm. This two-wheeler has the displacement of 109cc and the top speed is 81kmph. With many latest features the scooters will cost you about 43.2 k in India.
2. TVS Scooty Pep Plus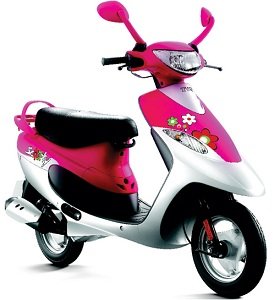 This is one of the favourite options for the girls and working women. Getting powered by an 88 cc 4 stroke engines, it has the displacement of 87.8 cc. The engine generates 5 bhp powers rotating at 6500 rpm and a torque of 6 nm rotating at 4000 rpm. It offers the best mileage of 65 kmpl and can run at a maximum speed of about 75 kmph. The scooter costs about 39.5k in Indian showrooms.
1. Hero MotoCorp Pleasure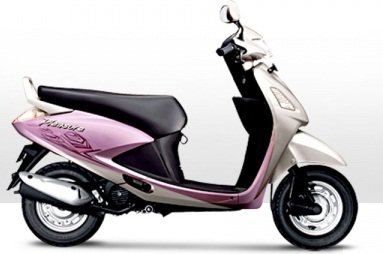 This has been the fun friend for the bubbly girls since inception. It packs quite interesting specs as well. There is the 102 cc 4 stroke single cylinder engine that can generate a maximum power of 5.03 KW rotating at 7000 rpm. Perfect arrangements of lights, headlight make it look a perfect eye candy. With the complete features the scooter for girls can be bagged around Rs. 49.7k.
*Price maybe different in your state. Please ask your nearest scooter dealer for on road price. The price mentioned in the above list according to New Delhi city.
Save
Save