Top 10 Best Mosquito Repellent Products in India
In the recent years the population growth of India has rapidly increasing and now we are the world's second most populated country right now. India has a particular season every year when mosquito borne diseases like dengue, malaria and chickengunya become widespread all over the country. As a result, the sale of mosquito repellent products shoots up during this season.
Here is a list of top 10 best mosquito repellent in India:
10. Bug Off
Bug Off Mosquito Repellent is a highly effective product which is available in India. It is based on an ingredient called DEET and is totally safe for skin and highly effective too. It can be applied on skin or clothing for best results.
9. Kavach
The next name amongst the top 10 best mosquito repellent products in India is Kavach Mosquito Repellent Patch, a product by a reputed Chinese company called D M International. An entirely skin safe product, it is effective for outdoor use and can be applied on small children.
8. Hit Spray
Hit spray is a highly applauded product for doing away with mosquitoes as well as household pests like cockroaches, depending upon the variant chosen. This spray solution acts instantly for great results.
7. Good Knight Cream
Good Knight brand brings an array of options in such products and one of these is in the form of Good Knight Naturals Mosquito Repellent Cream. It is a skin safe product, with the goodness of natural ingredients such as lavender and tulsi, along with milk protein to hydrate the skin.
6. Fabindia
Fabindia is a renowned brand for offering a variety of eco friendly products, and one of these is Fabindia Mosquito Repellent Spray with Natural Oils. The spray variant contains natural products such as coconut, lemongrass essential oil and citronella.
5. Himalaya Herbal
Next amongst the best mosquito repellents in India is Himalaya Herbal Mosquito Guard, which is another natural and skin friendly product in the lotion form. A herb based product, this one is excellent for driving away mosquitoes and protecting from disease.
4. Mortein
Another appreciated mosquito repellant and insecticide is Mortein, which is a product of an Australian company and was later launched in India and has made a trusted name over the years. The brand contains some toxic chemicals which can be dangerous to human health when inhaled in high doses.
3. Odomos
Odomos is amongst the oldest mosquito repellent brands in the country and is available in cream form, which can be applied directly to the body. It is regarded as one of the most effective products to offer all round protection from dangerous mosquitoes day and night. The brand has been tested and certified for giving 12 hour long safe protection.
2. Good Knight Liquid
Featuring next on the list of top 10 best mosquito repellent products in India is Good Knight Mosquito Repellent Liquid, one of the oldest and most trusted brands in the market. It is trusted to drive away mosquitoes instantly and prevent a host disease caused by their bites.
1. All Out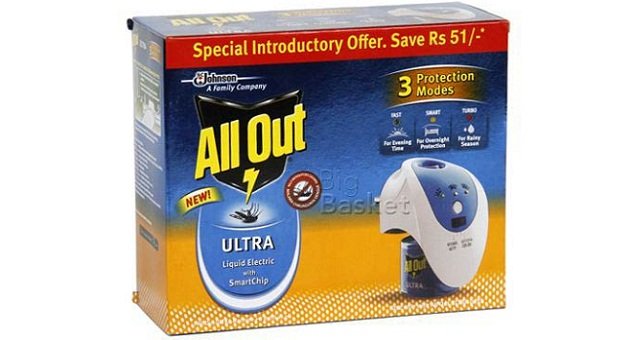 All Out Mosquito Repellent Liquid is one of the most trusted brands of insect repellants, which is also available in spray variant for faster and more reliable results. It promises to keep users comfortable and homes mosquito free during day and night and keeps the promise.
You can choose amongst all these powerful repellent products and keep safe from mosquitoes and diseases caused by them.