The immersion rods are used for heating liquids by directly placing them in the liquid and it consists of a heating coil. They are connected to the power socket for power supply. It is easy to use and takes only about 10 to 20 minutes to heat. It must be used with necessary precautions to prevent you from shock and burning. If you use a poor quality of immersion rod then there is great possibility of getting mild electric shock. If you switch it on when the device is not in the liquid then the coil gets burned and the immersion rod will be useless.
The top 10 best immersion rod brands in India with Price are listed below:
10. Bright Flame Immersion Rods
Bright Flame Company is a recently established in the year 2011. They provide with quality products and are known for their attributes like design, fine finish and attractive look. They manufacture immersion rods with heating element which are 100 percent copper. Copper gives protection against rust formation. There is no thermostat in this product, so the overheating of the coil can occur if you nor careful. It costs Rs. 449/-.
9. Khaitan Immersion Rods
Khaitan is international company which is famous for its fans but it diversified and started producing many products including immersion rods. Bakelite body provided prevents from the shock. It has maximum transmission of heat with a specially designed heating element. It is corrosion free because it is made up of pure copper. It costs Rs. 599/-.
8. Singer Immersion Rods
Singer Company Immersion Rods produce various heating products. The immersion rods produced by them have modern classic design to fit in your home.  They body of the immersion rods are both shock proofed and water proofed. The heating element is specially designed so as to heat the liquid within a minimum period of time. The product is provided with one year warranty and it covers only any manufacturing defects. It costs Rs. 555/-.
7. Maharaja Immersion Rods
It is one of the world's best small domestic equipment manufacturers and based in Lyon, France. The company is more ancient and currently operating in 150 countries. They are selling 200 million products every year. One among their domestic product is their immersion rod. Their immersion rods are ISI certified. They are shock free and are easy to use. They charge you with basic installation fee if you want any kind service for the product. It costs Rs. 359/-.
6. Sameer Immersion Rods
Sameer is the company that has 25 year experience and evolved during all those years to satisfy the needs of the customer. It has worldwide network. It gives you immersion rods with shock proof and water proof benefits. It has an elegant handle design. The product comes with manufacture warranty for one year. It is light weighted immersion rod. It comes in variety of ranges so that you can afford the one that is best suitable for you. It costs Rs. 399/-.
5. Inalsa Immersion Rods
Inalsa was established in 1967 and the headquarters of the Inalsa is located in Spain. It is popular for small home appliances. The immersion rods manufactured by them comes with non corrosive copper tube element rendering long life time by protecting against corrosion. The tubular element last long. Bakelite cover gives complete safety from electric shock and it is also provided with indicator light. It costs Rs. 440/-.
4. V-Guard Immersion Rods
The V-Guard company was originated in 1977. It is started as a small business and now it is the leading company in India manufacturing a range of quality products. The immersion rods have copper tube elements with nickel plating which increases the life time of the product. The handle is made up of plastic for protection. It is provided with handle hook for safe operation, power indicator and water level indicator. It costs Rs. 455/-.
3. Usha Immersion Rods
Usha Company is known for its fans but they also manufacture immersion rods. It comes with a nickel plated heating element and their immersion rods are provided with a thermostat to control the temperature of the water that is heated and switches itself off automatically when it is done. This brand does not provide installation service for this kind of products. It gives you one year manufacture warranty. Neon indicator is available to indicate the power on. It costs Rs. 488/-.
2. Crompton greaves Immersion Rods
Crompton greaves is a reputable company which is the pioneer in the management and application of electrical engineering which also sells immersion rod among the other merchandise. They are branched out in different countries. They are known for their quality and safety. It provides perfect economical solution if you cannot afford a water heater and it is also best for people who travel. It is coated with metal to avoid rusting. It does not cause any water pressure. All their immersion rods come with one year warranty. It costs Rs. 499/-.
1. Bajaj Immersion Rods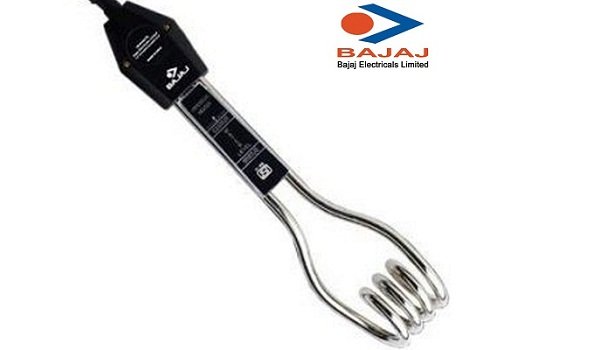 The Bajaj Company produces various products and one among them is immersion rod. They are one of the best immersion rods. They provide finest immersion rods with great quality at an affordable price. They come in handy in winter season. You can carry and use it anywhere, anytime. They have less power usage when compared and are more durable. They are made up of stainless steel so they are protected against corrosion. It costs Rs.429/-.
When you want quick and effective heating the immersion rod is used and it is compact, so you can take it with you when you travel and lot cheaper.
Save
Save