Cooking is made easier with a cooker.  The cooker is the most often used kitchen appliances, especially in India. At present the traditional cookers are giving way to electric cookers. The electric cookers are easy to use and they come with an auto cut off, which helps the women to save a lot of time and also gives freedom from the task of counting the number of whistles the pressure cooker gives off, before it can be switched off. Another important feature of electric rice cookers is that once the food is cooked it automatically shifts from the cooking mode to keep warm mode and keeps the food warm for a long time, using very little electricity.
Some of the well- known Electric Rice Cookers in India are as follows:
10. Usha Electric Rice Cooker
There are two models of electric rice cookers under this brand. One model called Usha MC 2865 comes with1.8 liters cooking capacity, white in color and is priced at 1,499 and the sales package consists of the cooker, non-stick inner pot, mains cord, measuring cup plastic steam tray, rice scoop and user manual. The other model 3250 is about 4 liters capacity and has variable food cooking options. It is silver in color, has a non- stick coated pan and is priced at 5,241 INR.
9. Havells Electric Rice Cookers
There are, basically, four models, HavellsRiso, Havells Riso 2 bowl, Havells Max Cook and Havells Max cook Plus. There are also cookers with varying cooking capacities within these basic model types. The price of Havells Riso 2.2l cooker is 3,090, while that of 1.8l 2 bowl Riso which comes with two bowls is 2,477. The price of max cook with 1.8 l capacity is 2,899, while that of 1.8 l Max Cook Plus is 2,789.
8. Butterfly Electric Rice Cookers
There are 3 models, Butterfly Raga, Butterfly cylindrical 700 watt rice cooker, Butterfly Deluxe 900 watt electric cooker, all with 1.8l cooking capacity. They vary in design and shape. The prices start from 1,699, 2,379 and 2000 INR respectively.
7. Preethi Electric Rice Cookers
There are three models of rice cookers. The basic model is called Preethi Rangoli and it comes in three variable cooking capacities such as 1l, 1.8l and 2.2 l. The price for the most sought after 1.8 l electric cookers starts from 2,197 INR. Preethi Primo P18 Flora rice cooker with 1.8 l capacity is priced at 2,500 INR.  The other model called the Preethi Touch EPC004 is loaded with many features and cooking options and comes with a cooking capacity of 5l and is priced around 6,575 INR.
6. Premier Electric Rice Cookers
The Premier ERC 18E rice cooker has a cooking capacity of 1.8l and it consumes just 650 watts. There is only one model and it has all the features that are available in the basic models. It is priced around 2,595 INR.
5. Philips Electric Rice Cookers
Philips has rice cookers of different cooking capacities ranging between 1l, 1.8l, 2.2l and 4.2 l. But, the cookers with anodized aluminium cooking pan have the model code HL, While those with non- stick cooking pan have a model code HD. The 1.8l HD model costs 3,099 INR, while the HL model costs around 2,895 INR.
4. Pigeon Electric Rice Cookers
The cooker models under this brand include Pigeon Favourite Electric rice cooker with just 1l cooking capacity priced at 999 INR, Pigeon Joy DX and Pigeon Joy SDX Double with 1.8l capacity and red in color, priced between 1,799 and 1,850 INR. You also have Pigeon Glorious with the same 1.8l capacity, with water level indicator and dew collector. It is ergonomically designed and golden in color. The price is around 2,499 INR. One other model called the Pigeon 3D Electric rice cooker with the same 1.8l capacity and loaded with plastic lid comes in two colors and the price is about 2,550 INR.
3. Bajaj Electric Rice cookers
The rice cookers from Bajaj are named Bajaj Majesty RCX or just Bajaj RCX. The Bajaj Majesty RCX 3, which is a 1.5 L capacity Electric Rice Cooker is priced at Rs.1252 and Bajaj Majesty RCX 18, 1.8l cooker is priced at 1,439 INR, while Bajaj RCX 4 with 1.8 l capacity is priced at 1350 INR. There are also other cookers available with different cooking capacities in both these models. There is another set called Bajaj RCX plus series with additional features, with prices around 1,900 INR. One other 5l capacity cooker with the model name Bajaj EPX9 is loaded with features and priced around 3,600 INR.
2. Prestige Electric Rice Cookers
Prestige has come out with around 6 models of rice cookers with different capacities in each of the models. The model names include Prestige PRWO, PRWCS, PROO, PROCG, PRAO and Prestige Delight PRWO. Prestige PROCG of 1.8l costs Rs.2, 170, PRWCS series with non- stick cooking pan costs Rs. 2,399, PRWO 1.8 1L costs about Rs.1650 and PRAO1.8-2l costs just Rs.1,740.
1. Panasonic Electric Rice Cookers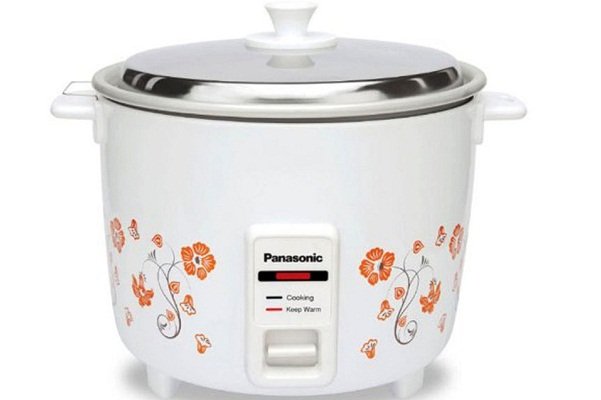 Panasonic rice cookers come in different models and capacities. Panasonic rice cookers are suitable for novice as well as advanced home chefs. Panasonic SRWA 18HK 1.8L Cooker is priced at Rs.1935, SRWA 22H 2.2l capacity at Rs.2,480 and Panasonic SR-Y22FHS5 with a4L capacity is priced at Rs.2,799.
The important features you need to study before you buy an electric rice cooker are your requirements based on the family size and the capacity of the cooker, energy efficiency, timer alarms, design, material used for the container, lid and steaming vessel, price and brand. You can compare and choose from the top brands selling electric cookers by using the net.
Save
Save