Looking presentable while making a way out of the home generally increases your confidence as per the psychological saying, the right way to manage wardrobe is the basic need to look more presentable and professional. Advancement in science leads the common men to not being reliant on others for your daily needs, washing machines and Electric based Irons stands as the biggest revolutionizing discovery to ease down the efforts for the finest neat and tidy clothes.
In recent time the complaint about not so regularized ironing of cotton clothes at home is being served as the new series of Iron comes with the steam function that helps to manage cotton clothes in the finest shape. Iron has become the new partner of every household in India as the electric based appliance is efficient for daily Ironing needs; it also let you live disciplined life with the ability to manage your clothes your way. The articles contain the best available Iron brands in India, seeing India a better market opportunity new global companies are making way to attract India's crowd. The listing and ranking of these Irons are based on their durability and affordable range as well as modern functions enabled in these irons.
List of Top Iron Brands in India
10. Singer Iron 
Singer is one of the leading Iron option available in India, the fine series of Iron launched by the company in India's market contains options as Dry, Steam and Travel Irons. All the irons offered by Singer are linked with heat regulating, durable body and sleek design. The Iron with the steam facility is installed with easy filling and emptying feature and light indicators. The online sites of Singer Irons have the price range amongst INR 900-1400.
9. Inalsa Iron 
Inalsa is leading global manufacturer of Iron that comes with great technology as safe for clothes, the non-sticky coating over the aluminum base helps the user to Iron delicate clothes with no risk of damaging. The Iron comes with steam, self-cleaning and spray feature that demonstrates the best Ironing of the clothes. The Iron with Inalsa tag is marked with ISI stamp and offer a minimum one year warranty.
Price Range: Rs. 400-700
8. Russell Hobbs Iron 
The general range of Iron comes with Russell Hobbs name are easy to be transported with you, these irons install special back body that can hold its wire and doesn't cause any damage to the chord. The choice of Iron under the brand offers many features as dual voltage control, fine spray, foldable handle and automatic steam setting. The body designs of these Irons are combinations of different colors and compact designing with lightweight.
Price Range: Rs. 1,900 onwards
7. Crompton Greaves Iron 
Crompton is the leading home-based appliances option available in India, the leading company is the best option if you want series of features as better grip, lightweight, and light indicator. For a more basic model, you can opt for Crompton Greaves ED Plus dry Irons. The best feature of the irons is extended two years warranty and swivel power cord that ensures no wear and tear, the Iron under Crompton Greaves tag offers 750Watt power. The range of the Iron under the segment starts with the price range of INR 493 and is available at leading online shopping portals as Amazon, Flipkart etc.
6. Maharaja Iron 
Maharaja is the leading name in the Home Appliances market under the electric based segment of products, most of the Iron in the range are offered with the basic facility as power light indicator and adjustable heating meter for different types clothes. The upgraded models of Iron are available with features as powerful crease removal, Nonsticky coating, and fancy looks.
Price Range: Rs. 399 Onwards
5. Orpat Iron 
The best available model of Orpat Irons in the market is Orpat OEI 187 dry Iron as it serves for the basic features as variable temperature controls with the option to select the mode for different fabrics. The 180-degree swivel cords help the user to conveniently stretch it to some extent for fine Ironing and the lightweight ensures easy transportation of the Iron. The Iron range of the Orpat has the starting range of INR 410 available at different online shopping portals.
4. Usha Iron 
Usha Iron is the leading Indian Iron brand in the market as the Dry models of the Iron have high demand in the market. The Usha Iron is available as different color options and also its sleek design and size helps the user to transport it to different places. The Iron has a shockproof body and offers choice to regulate temperature as per need, the functions ensure safety of user as well as the fabrics of clothes.
Price Range: Rs. 569 Onwards
3. Bajaj Iron 
Bajaj Irons are highly recommended by the daily users as the affordable price range and easy to use method leads the positioning of Bajaj Irons at the third spot in the list. The nonstick soleplate offers clothes security and prevents accidental damages.
Price Range: Rs. 625 Onwards
2. Morphy Richards Iron 

Morphy Richards offers best of technology products equipped with an affordable price range and modern designing. The non-stick soleplate prevents any damage to delicate and expensive clothes and the heat regulating dial helps to control temperature and leads convenient ironing.
Price Range: Rs. 499-999
1. Philips Iron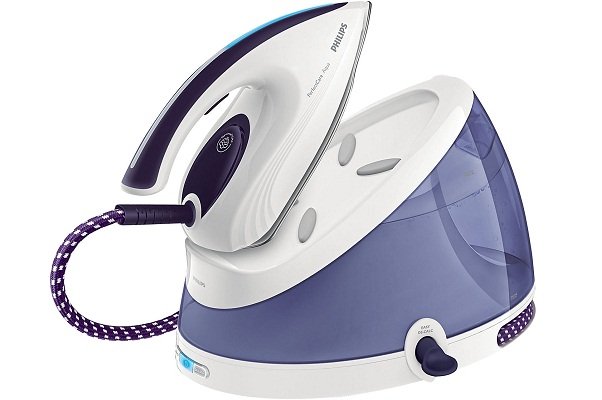 Philips is the leading and most popular brand that offers best of Japanese technology combined with an affordable price range and vast choice available. There are several variants available to buy as Steam Iron, Dry Iron etc.
Price Range: Rs. 1000-2000
Comparison Between Steam Iron and Dry Iron
Here is a table comparing steam iron and dry iron:
| | | |
| --- | --- | --- |
| Factor | Steam Iron | Dry Iron |
| Ironing speed | Faster due to the presence of steam. | Slower than steam iron as there is no steam. |
| Ease of Use | Requires water to produce steam, which can be inconvenient. However, it makes ironing easier by reducing the effort needed to remove wrinkles. | Easy to use, but requires more effort to remove wrinkles without the assistance of steam. |
| Ironing Quality | Provides better ironing quality as steam helps to penetrate fabrics better, removing wrinkles effectively. | Can be more challenging to remove stubborn wrinkles without steam, resulting in a less smooth finish. |
| Water capacity | Needs a water reservoir to hold water for steam production. The size of the reservoir determines how much steam can be produced before refilling. | No water capacity needed. |
| Price | Typically more expensive than dry irons due to the additional steam feature. | Generally less expensive than steam irons. |
| Maintenance | Requires regular cleaning and descaling to prevent clogging and build-up of mineral deposits from water. | Requires little to no maintenance. |
| Fabrics | Suitable for a wide range of fabrics, including delicate ones. | May not be suitable for all fabrics, especially delicate or synthetic ones that may melt or scorch. |
Overall, steam irons are generally faster, more efficient, and provide better ironing quality than dry irons. However, they require additional maintenance and can be more expensive. Dry irons are easier to use and have lower maintenance needs, but may not be suitable for all fabrics and require more effort to remove wrinkles. Ultimately, the choice between steam and dry iron depends on personal preferences, ironing needs, and budget.
How To Choose The Best Iron Brands in India
Choosing the best iron brand in India can be a daunting task, as there are many options available in the Indian market. Here are some factors to consider when selecting an iron brand:
1. Type of Iron: Decide on the type of iron you want. There are steam irons, dry irons, and steam generator irons. Steam irons use steam to help remove wrinkles, while dry irons don't. Steam generator irons produce more steam and are suitable for heavy-duty ironing.
2. Wattage: Look for irons with high wattage as they heat up faster and are more efficient. A wattage of around 1500-1800 watts is ideal for most household needs.
3. Soleplate: The soleplate is the bottom surface of the iron that comes into contact with the fabric. Look for irons with ceramic or stainless steel soleplates as they are more durable and heat up faster than other materials.
4. Steam Output: If you're looking for a steam iron, consider the steam output. Look for irons with adjustable steam settings, a steam burst option, and a vertical steam feature.
5. Cord Length: Make sure the cord length is long enough for your needs. A cord length of at least 2 meters is ideal.
6. Brand Reputation: Choose a brand that has a good reputation for quality and durability. Some popular iron brands in India are Philips, Morphy Richards, Bajaj, Havells, and Usha.
7. Price: Consider your budget when selecting an iron brand. The price of irons can vary widely, and more expensive does not always mean better quality. Look for a brand that offers a balance between quality and affordability.
8. Warranty: Look for irons with a warranty of at least 1-2 years. A warranty ensures that you are protected against any defects or malfunctions.
In summary, when choosing the best iron brand in India, consider the type of iron, wattage, soleplate, steam output, cord length, brand reputation, price, and warranty. By considering these factors, you can make an informed decision and choose an iron brand that best meets your needs and budget.
Cloth Iron Frequently Asked Questions
Q1. What are the different types of irons?
There are three main types of irons: steam irons, dry irons, and steam generator irons. Steam irons use steam to help remove wrinkles, while dry irons do not. Steam generator irons produce more steam and are suitable for heavy-duty ironing.
Q2. What is the ideal wattage for an iron?
The ideal wattage for an iron depends on the type of iron and the ironing needs. For most household needs, a wattage of around 1500-1800 watts is ideal.
Q3. What is the difference between a ceramic and stainless steel soleplate?
Ceramic soleplates are lightweight and provide a smooth glide over the fabric, while stainless steel soleplates are more durable and heat up faster than other materials.
Q4. How often should I clean my iron?
It is recommended to clean your iron after every use to prevent the build-up of mineral deposits from water. A simple cleaning solution of equal parts water and vinegar can be used to clean the soleplate.
Q5. Can I iron all types of fabric?
Not all fabrics can be ironed. Some delicate or synthetic fabrics may melt or scorch when exposed to high heat. Always check the care label on the fabric before ironing.
Q6. How do I prevent water marks on clothes while using a steam iron?
To prevent water marks, make sure the water tank is not overfilled and that the steam setting is not too high. Iron the garment at the appropriate temperature, and move the iron quickly over the fabric to prevent excess steam buildup.
Q7. How do I store my iron?
Always make sure the iron is cool before storing it. Store the iron in a cool, dry place and keep the cord wrapped neatly to prevent damage.
Q8. What should I do if my iron stops working?
If your iron stops working, check the power cord and the outlet to make sure they are working properly. If the problem persists, consult the manufacturer's instructions or contact customer service for further assistance.
Save
Save
Save