For any business, nothing could be more important than customers. As we all know, the customer is the King and can make or break a brand. Consequently, companies always try their best to provide their customers with outstanding products and support services.
Handling customer support queries has never been easy because experienced agents can handle angry or unhappy customers with patience and resolve queries without getting involved in a heated argument. However, the cost of customer support operations increases when you don't have cutting-edge technology to reduce response and resolution times.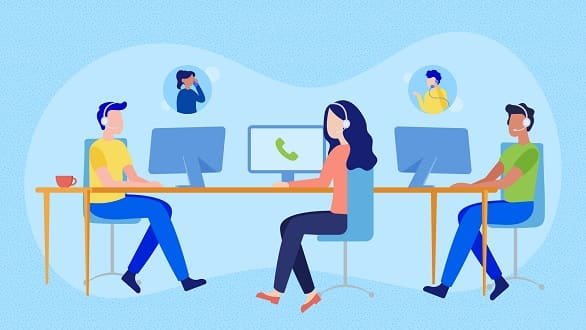 For the sake of providing a superb support experience to customers without investing a considerable amount of money in modern technology, most businesses outsource their call center operations to repeated vendors.
If you want to provide the best call center support for your clients, consider the following tips to achieve the desired outcome:
Whenever customers contact brands through telephone, live chat, email, or any other support medium, they expect the other person to understand their situation and offer a satisfactory resolution as soon as possible.
If you are into a business that offers call center support services, you must make sure that your customer support agents show empathy whenever an issue is reported. You should not take this lightly because reading responses written in a call script or triggering automated messages during live chat interaction will only fuel the fire. As a result, your customers will not only roast your support representative but also leave your client's brand forever.
Therefore, you should ask your support representative to put themselves in the customer's shoes to understand their concern and offer the best possible solution.
Collect customer feedback to make continuous improvements
All brands consider their offerings the best because nobody likes to find faults in their products or support services. But it is important to remember that nothing is perfect in this world because every product or support service has some loopholes to be fixed.
If you want to find out what's wrong with your products, it is crucial to collect customer feedback and tie up loose ends as soon as possible. Both positive and negative reviews help you make significant improvements because good reviews tell you what customers like about your brand so that you can optimize all positive factors for a long-lasting relationship with customers. On the other hand, negative reviews tell you about the hidden problems of your products, which you can fix to reduce the percentage of brand detractors.
Thus, it is advisable always to collect customer feedback to improve your strategies if you are willing to provide your clients with the best call center support.
Work upon your IVR system
Generally, companies go with the contact center services of third-party companies because they know that handling high call volume regularly is not a cakewalk. Customers start losing their patience after only two minutes on hold. While some people hang up the phone in frustration, others remain in a call queue, ready to blast the support representative away.
As you can understand, a high call abandonment rate and quarrels with customers can ruin your client's brand image in no time. Therefore, it is crucial to deploy the IVR system to let customers resolve generic issues on their own. It will boost the CSAT score and allow your support team to have some additional time when solving complicated problems.
Please note that deploying the IVR system is not going to be enough because you have to check whether your created menu is helping the customers or not. Furthermore, it would help if you periodically revised your IVR menu, which is simple to do because you only need to monitor your data to learn about the most frequently reported issues.
It is worth noting that the IVR menu should not be overly complicated because clients will become frustrated if they are stuck in a labyrinth of options. Therefore, you must keep it as simple as possible and provide a reliable alternative to reach your support agent so that customers who cannot resolve basic issues on their own can get timely help.
Wrapping Up
Running customer support operations takes a heavy toll physically and psychologically because meeting expectations every time is not possible. Still, you cannot use this as an excuse and compromise on the quality.
We have offered some valuable tips in this blog that will undoubtedly assist you in providing impeccable call center services to your clients' customers. Do let us know if you have any other trick under your sleeve in the comment box.