Many statues of Indian Gods have been made in India and some have been made so tall that they have made a certain history in the list of tallest statues in India. The people of India are devotional and they have a great amount of respect for all their Gods. From Delhi to Rajasthan, to Gujarat to Kerala, in nearly every place in India, one can find a statue. These statues have significant importance and they are protected by the Government. All the expenses in making of these statues are given by the Government so that people can always keep their beliefs high.
Some of the tallest statues of India are listed as under:
10. Adinath Dada Statue at Palitana temples
This is also an idol for the Jain and it is made in the state of Gujarat. This statue is made out of Shatrunjaya hills, which is considered to be sacred by the Svetambara Jains. There is a single temple on the hills and this statues on top of the temple. The height of the statue is 108 ft. and it is completely made up of marble carvings.
9. Statue of Ahimsa
This statue is located in Nasik, Maharashtra. This is the only Jain statue that has been built in India. The Jains consider the Mangi Tungi hills to be sacred and this statue has been carved out from the hills. It is 108 ft. tall, which also includes the pedestal. This statue has been carved out of a single stone and the Jains go to the hills every time that are in this place. Because of their belief in the statue, they keep coming to the hills and many smaller Jain temples have been made at the base of the hills.
8. Hanuman statue of Damandoji
There are many statutes of Hanuman in India and each is made in a different way and with the use of different things to make the statue. This statue of Hanuman is located in Damandoji state of Odisha and this comes under the list of tallest statues in India. It is 108.9 ft. in height and this statue is visible from any place in the city.  People moving in the highway get a glimpse of this statue and they feel blessed.
7. Adiyogi Shiva Statue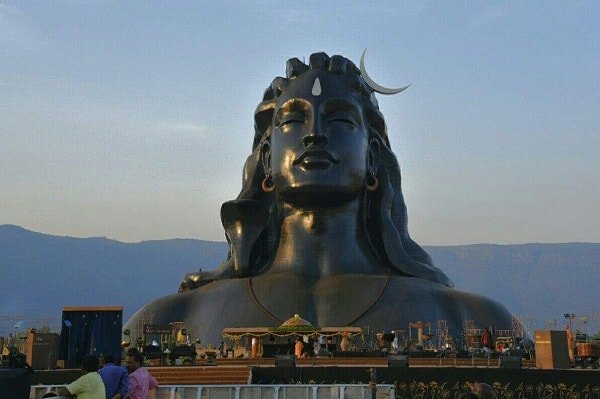 This is the most recent built statue by Prime Minister Narendra Modi. It is a 112 ft. tall statue, which is located in Coimbatore, Tamil Nadu. This statue was made because this place is for worship and to give prayers to Lord Shiva. This statue shows 112 ways to attain Moksha, which has a lot of importance in Hindu mythology. The entire statue is made in black and it is one of the most beautiful Shiva statue that has been built in India.
6. Lord Shiva of Murudeshwara
This statue is the second largest statue of Shiva in the world. This statue of Shiva is located in Karnataka in Murudeshwara town. This town is all known for its Murudeshwara temple and thousands of people go to this temple so that their wishes are heard by God. This statue is 121 ft. in height and the statue is painted in white with the serpent in Shiva's neck coloured in golden.
5. Statue of Padmasambhava
Padmasambhava is considered as the second Buddha as he was the biggest follower of Buddha and he made all his efforts to spread Buddhism in Tibet and Bhutan. This statue is the second largest one. It is situated in Himachal Pradesh and stands at 123 ft. The statue is a sitting structure of Guru Rinpoche and people preach him for his teachings.
4. Dyana Buddha Statue
This statue is located in the Guntur village of Andhra Pradesh and that village is a pilgrimage site. A giant Buddha statue is made in the village because many Buddhist people come to this place to worship. It is made in white and the Buddha is in a sitting position with his hands in the folded position in the statue. The height of this statue is 125 ft.
3. Tathagata Tsal
This statute is also known as Thatagata statue located in Sikkim district. Sikkim is the place of Buddhism, it has Buddhist temples, and anyone who wants to gather information on Buddhism comes to Sikkim. Another statue of Guru Rinpoche is located in the state of Sikkim. Sikkim is considered as the centre of pilgrimage for all Buddhists and they find peace and tranquillity in this place. This statue is 128 ft. tall.
2. Thiravalluvar Statue
This statue of Thiruvalluvar is located on an island in Kanyakumari. The stone structure is made on a pedestal with its height being 40mt. The height of the statue is 133 ft. tall. The view from the island is scenic and people go to this place just to get a glimpse of it.
1. Veera Abhaya Anjaneya Hanuman Swami
Hanuman is worshipped for power and strength, the Veera Abhaya Anjaneya Hanuman Swami is a statue of Lord Hanuman, and it is 41 m (135ft)in height. The statue depicts Hanuman in a standing position and with his hand as if he is giving blessings to his worshippers. The entire statue is made in white and it nearly touches the sky. This statue is located in Vijayawada, Andhra Pradesh.
These are some of the statues in India. They are all a place of attraction to tourists in India.