Super Singer Bengali is a famous Indian TV reality show, which is basically a singing competition. The show aimed to entertain the Bengali audience. It started airing on an Indian television channel named Star Jalsha from 2019.
The directors of this show are Sangeet Tiwari and Ranjit Roy, while its producer is Shubhankar Chattopadhyay. However, the complete season of the show is available on the OTT platform called Disney+ Hotstar. You can watch in real-time if you have missed the episodes.
Many talented singers have come from different parts of the country to participate in the competition to become the voice of Bengal. But, a few are shortlisted and move to the next stage, and in the end, only one contestant wins.
The show allows them to lend their voice to a song in the film. Due to being famous, some winners have also launched their albums.
This is the right path for those who dream of becoming a singer or super singer. The reality show revolves around something unique. Many singers have already won the title to start their singing career. Let us check out the list of winners of all seasons of Super Singer, along with the judging panel, runners-up, and hosts.
List of Super Singer Bengali Winners Till Date
 Seasons
 Winner List
 Judges
 Runners-up list
 Host
 Super Singer Bengali Season 1 (Junior)
 Sharmishtha Debnath, Pranjal Biswas

 Kaushiki Chakraborty, Kumar Sanu, Jeet Gannguli

 Second runner-up: Sourik

Third runner-up: Shreetama Saha

Ankita Mondal

Rooqma Ray
Super Singer Bengali Season 2
 Sanchari Sengupta

 Kumar Sanu, Jeet Gannguli, Kavita Krishnamurti

After Lockdown: Rupankar Bagchi, Abhijeet Bhattacharya, Lopmundra Mirtra, Shaan

Second runner up: Mayuri Saha

Third runner-up:

Deepmala Haldar

Jisshu Sengupta
Super Singer Bengali Season 3
 Shuchismita Chakraborty

Kumar Sanu, Kaushiki Chakraborty, Sonu Nigam
Second runner-up: Manasi Ghosh

Third runner-up: Kumar Gourab and Pranay Majumder

Jisshun Sengupta
Super Singer Bengali Season 4
TBA
Shaan, Monali Thakur, Rupam Islam
TBA
Jisshun Sengputa
1. Sharmishtha Debnath and Pranjal Biswas: Season 1 Winner
The first Season of Super Singer Bengali was started with juniors. It was a hit show at that time. It was aired as Super Singer Junior in 2019, 1st June. The show's host was Rooqma Ray, an Indian Bengali TV actress.
Sharmistha Debnath and Pranjal Biswas both lifted the trophy of Super Singer Junior. This is the first time two contestants have won the trophy of a reality show. The competition was really tough, but they had to compete with everyone and eventually declared the winner.
Apart from the trophy and other awards, they also received a cash amount of Rs 2.5 lakh individually. Pranjal was also awarded the "Popular Choice Award."
Sourik, who finished second as the runner-up, was seen getting Rs 1.5 lakh. Shreetama Saha and Ankita Mondal shared the third position. Both of them had received Rs 1 lakh/individually.
At the show's beginning, Nadia-based Pranjal succeeded in showing her singing skills by presenting Sufi-like songs. On the other side, Sharmistha, who hails from Kolkata, got famous for her melodious voice.
Singing breathlessly, the judging panel left mesmerized, especially Alka Yagnik. Season 1 (Junior) of Super Singer was judged by top singers from the industry like Kaushiki Chakraborty, Kumar Sanu, and Jeet Ganguly.
2. Sanchair Sengupta: Season 2 Winner
After getting an overwhelming response from Bengali viewers, the producers decided to bring Season 2 of the show. As a result, Season 2 of Super singer Bengali started airing on 2020 January 12.
This year, the previous season's host Rooqma Ray was replaced by Jisshu Ujjwal Sengupta, an Indian actor, TV presenter, and producer.
Before Lockdown, the show was judged by Kavita Krishnamurti, Kumar Sanu, and Jeet Ganguly, but later the judges were replaced by Rupankar Bagchi, Abhijeet Bhattacharya, Shaan, and Lopamudra Mitra.
Sanchari Sengupta from Kolkata was declared the winner of Season 2. Apart from bagging the winning title, she also received the Popular Choice Award.
Mayuri Saha bagged the second position, while the third winner was Deepmala Haldar. Like the previous season, this season also got immense popularity and TRP from Bengali viewers.
3. Shuchismita Chakraborty: Season 3 Winner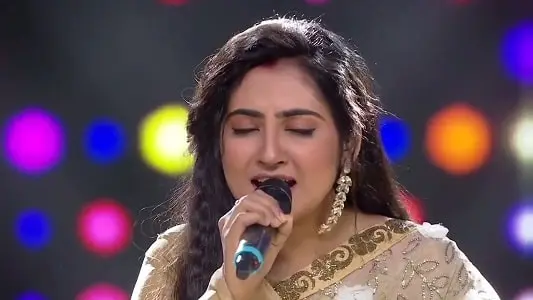 On August 28, 2021, Season 3 of Super Singer Bengali started airing on the same TV channel with the same concept: to shortlist singing candidates and encourage them to compete with each other. This season was judged by Sonu Nigam, Kaushiki Chakraborty, and Kumar Sanu.
Beginning with 32 participants, only seven contestants secured their place in the finale. These contestants were Soumi Ghoshi, Suchismita Chakraborty, Pranay Majumder, Deyasiri Roy, Manasi Ghosh, Kumar Gourab, and Shubhojit Chakraborty. All the contestants have been guided and mentored by Ayan Banerjee, Shovon Ganguly, Dipannita Chowdhury, Sujoy Bhowmik, and Rajib Das.
Again the show was hosted by Jisshu Sengupta, an Indian actor. After giving tough competition to other contestants, Shuchismita Chakraborty from Paschim Medinipur won the winning title along with Rs 6 lakhs cash prize and trophy. She also received an offer from movie star Jeet for his movie.
The second position was given to Manasi Ghosh, while the third position was filled with two contestants named Pranay Majumder and Kumar Gourab. Among these winners, Soumi Ghose also received the Popular Choice Award.
The second runner-up got Rs 3 lakh, along offer from Dev's Production House. Third runner-ups were awarded Rs 1.5 Lakh cash prize each, along with a trophy.
4. TBA/ Not Declared Yet: Season 4 Winner
Star Jalsha has brought Season 4 of Super Singer this year. It started on 7 Jan 2023 and was judged by Rupam Islam, Monali Thakur, and Shaan. Just like in the previous two seasons, Jisshu Sengupta hosted the show. The first episode was aired on Jan 7, 2023. Alongside TV channels, you can watch all the old and latest episodes on the online OTT platform Hotstar.
Final Words:
Super Singer Bengali is a hit show and a great way for singers who love to sing in the Bengali language. Candidates can step into the world of music through reality shows. Also, they get to learn more about music from eminent singers and mentors. Apart from being trained, they are made to represent themselves on stage.
So what are you waiting for? Are you interested in participating in a reality show? Yes, then apply for that.