Sudha Chandran Wiki, Age, Height, Biography, Husband, Net Worth
Sudha is a well-known Indian actress. She is also an amazing Bharatanatyam dancer and the most commendable fact about her is that she lost one of her legs because of a medical problem but she never gave up on her dancing or acting career.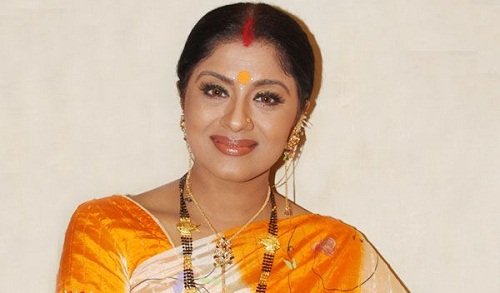 Net Worth
The net worth of Sudha Chandran is not known. 
Income Source
The major source of income for Sudha Chandran is the movies and TV shows that she works in. 
Real Name
The real name of this amazing actress is Sudha Chandran 
Date of Birth: 21st September 1965
Age: 53 years 
Height/Weight
Sudha Chandran has an average height of 5 feet and 7 inches. In addition to this, she weighs about 70 Kgs.
Marital Status
Sudha Chandran is presently married to Ravi Dang.
Personal Background
Sudha was born in Kannur in Kerala but her childhood was spent in Mumbai as her parents moved to Mumbai soon after her birth. She completed her education at Mithibai College in Mumbai and she received her degree in M.A in Economics from the college. As per the information available, the name of her father is K D Chandran and he was also a well-known actor. Sudha had been married to Ravi Dang who is an Assistant Director. She had been passionate about dance since she was 3 years old and that lead her to become a Bharatanatyam dancer. It is known that she met an accident when she was 17 years old and because of the accident, she developed a gangrene in her leg. The doctors had to amputate her leg and she had to opt for a prosthetic Jaipur foot. It took her about 3 years to recover completely but she never gave up on her life. Sudha is also the vice chairperson of National Association of Disabled Enterprises.
Career
As per the information available, Sudha started her career with a movie Mayuri. It was a Telugu movie and it is known that the movie was based on her own life. She worked in TV shows like Kaahin Kissi Roz, Naagin, and K Street Pali Hill. In addition to this, she also participated in Jhalak Dikhhla Jaa 2. Apart from these shows, she only worked in movies. As per the records, Sudha worked in over 48 movies and as mentioned earlier, she started with Mayuri in 1984 which was remade in Hindi as Naach Mayuri. She mostly worked in Tamil and Malayalam Movies till 1988 and other famous movies in which she worked are Insaaf Ki Devi, Smile Please, Malamaal Weekly, Shaadi Karke Phas Gaya Yaar, Alexander the Great and Babuji Ek Ticket Bambai. Sudha had also been honored with many awards. The first award she received was National Film Award in 1986 for her work in Mayuri. She later received Indian Television Academy Award, Vijay Television Award and Colors Golden Petal Award for her contribution n entertainment industry.
Properties and Cars
The details about Sudha's cars and properties are not listed.