Rattan Tata is a leading Indian businessman, who heads the prestigious business conglomerate Tata Group, which runs a large number of companies including Tata Steel, Tata Tea, Tata Motors, Tata Chemicals and Tata Teleservices.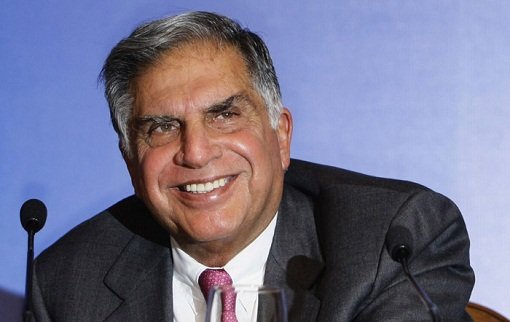 Net Worth: $ 1 billion
Income Sources: Ratan Tata was the Chairman and CEO of the Tata Group from 1991-2012. After stepping down from this post, he continues to be the Chairman of the charitable trusts of Tata Group.
Born: 28th December, 1937 (77 years old)
Full Name: Ratan Naval Tata
Height: 5'10" Feet
Marital Status: Single
Biography
Rattan Tata was born in Surat, British India and is the adoptive great grandson of Jamshedji Tata, the founder of Tata Group. His father, Naval Tata had been adopted into the Tata family by Navajbai Tata, after the death of her husband Ratanji Tata. His parents Naval and Sonoo Tata were divorced when he was just 10 years old, and he and his younger brother were raised by his grandmother. Rattan Tata went to the Campion School in Mumbai and Bishop Cotton School in Shimla and later to Cathedral and John Connon School. He graduated in architecture from Cornell University in 1962, followed by Advanced Management Program from Harvard Business School in 1975. He is also a member of Alpha Sigma Phi Fraternity.
He entered the business world in 1961 by joining the Tata Group, where he handled blast furnace. He took over as the Chairman of Tata Group in 1991, when J R D Tata stepped down. Later, he acquired companies like Tetley, Land Rover, Jacquar and Corus, besides playing a key role in the launch of the cheapest car in the world, Tata Nano. He has made glorious contribution in the field of business, for which he has been honored with a number of awards, including the Padma Bhushan, the Padma Vibhushan, the second highest civilian honor in the country and also the British Knighthood. Other honors include Honorary Economic Advisor 2004, Honorary Citizen of Singapore 2007 and Honorary Doctor of Laws 2010. Under his able leadership, Tata Group has become a global giant, with over 95 companies under it. Ratan Tata retired from the chairmanship of Tata Group on 28th December, 2012 on his 75th birthday and he was succeeded by Cyrus Mistry, the managing director of Shapoorji Pallonji Group. After his retirement, he has been a part of several philanthropic activities such as Melinda and Bill Gates Foundation. He has also recently invested in the well known e commerce site, Snapdeal. Despite being one of the richest men in the country, Ratan Tata leads a very simple lifestyle. He lives in a simple house in Mumbai and drives a Tata Sedan, and is fond of music rather than going to lavish parties. He is engaged in a number of humanitarian activities for improving the condition of underprivileged people of India. Because of a disturbed childhood because of separation of his parents, Ratan Tata decided not to get married and lead a single life. He is a member of Harvard Business School India Advisory Board since 2006.