Poonam Jhawar is an Indian Model, actress, singer and a film maker. She worked in a lot of Indian movies. She gained a lot of popularity after working in a hit movie called Mohra in 1994.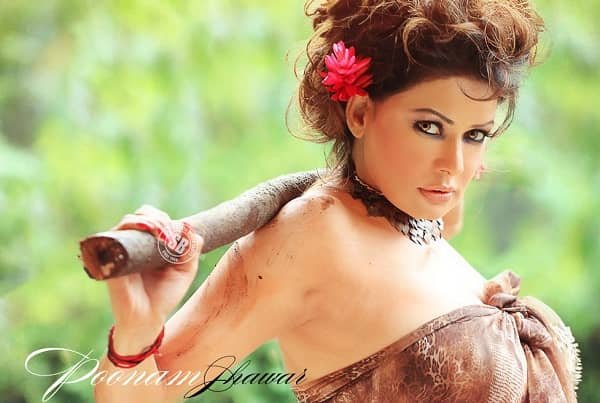 Net Worth
The net worth of Poonam Jhawar is Not Known.
Income Source
The major source of income for Poonam Jhawar is acting.  She works in a lot of movies and serials which help her in taking a lot of money home.
Real Name: Poonam Jhawar is the real name of this beautiful actress
Date of Birth: 4th August 1976
Age: 42 years
Height/Weight
Poonam Jhawar has a tall height. She is 5 feet and 7 inches tall. And her weight is 60kgs.
Marital Status
At present, Poonam Jhawar is unmarried and it is known that she is in a relationship with Rohit Verma.
Personal Background
Talking about the personal background of Poonam, she was born in business class family in Mumbai, Maharashtra. Most of her childhood was spent in Mumbai. Basically, her family belonged to Rajasthan. She completed her education from Mumbai. Her mother is a well-known hindi poet and has appeared in lot of Kavi Sammellan. She also has written many books. There is not much known about her family but it is known that they had been really supportive of her career choice and that is one of the reasons behind her success. At present, she is not married and she is quite secretive about her personal life. As per the information available, she was in a relationship with Rohit Verma, the current status of which is not known. She took part in a lot of theater shows while she was in Mumbai and that became her inspiration to join this glamorous industry
Career
Talking about the career of this stunning lady, she started her acting career with a Hindi Film called Mohra. She played the role of Priya Agnihotri in the movie and her work was applauded by critics. This movie has Akshay Kumar, Sunil Shetty and Raveena Tandon in lead roles. Poonam played the role of Sunil Shetty's wife in the movie. She has also acted in few hit movies of south India. She turned to producing films with the movie Aanch in 2003. This movie didn't do well in the cinemas. She started her singing career with this movie. Also her role in this movie was a major high point of this movie. She has over 9 music videos and a few music albums to her credit like "Poo4u", "Poo Kya Jalwa" and "Take me home baby". In 2012, Poonam Jhawer hit the back gear and landed up in Bollywood with the movie OMG: Oh My God. This movie featured stars like Akshay Kumar, Mithun Chakraborty, Paresh Rawal and Mahesh Majrekar. She recently supported Anna Hazare during his famous hunger strike against corruption and in the favor of Jan Lokpal Bill. She is also associated with a number of NGOs and Women empowerment groups.
Properties and Cars
The details about Poonam's cars and properties are unknown.