Pishachini is an Indian thriller, supernatural, and drama television show, which will air on Colors Indian TV channel. The story revolves around spiritual forces. A powerful evil spirit takes possession of the soul of an innocent girl who turns into a bloodthirsty witch. You can watch its promo on the YT channel and Colors TV channel. Produced by Neelima Bajpai, Shymashis Bhattacharya under Shakuntalam Telefilms and Distributed by Colors TV, the Pishachini serial will start on 8 August 2022. To know about Pishachini's Wiki, Story, Timing, and Cast Names, read the below-given article.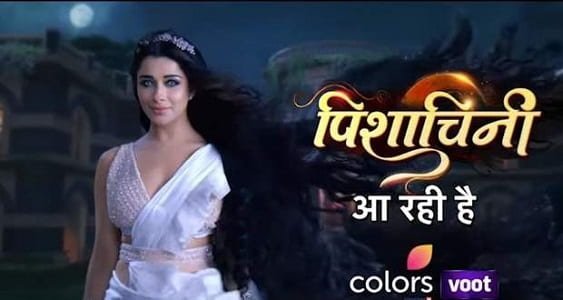 Wiki
Pavitra and Rocky are the lovebirds in the show. Meanwhile, Pishachini/Rani, the antagonist, overhears this and raises a stony voice in her inner voice. She wants to enter Rocky's room as she feels that his room is her real destination, so the rocky starts walking in illusion. Pavitra tries to stop home him after observing all this and eventually rocky stops and falls. Then Rani ties pavitra by using her long black hair. She then says Rani will take what she wants.
Story
Pishachini is a supernatural Indian TV drama show where Rani turns into Pishachini and Pavitra and Rocky are pure souls. Don't miss watching it to know what is the real motive and role of Rani in this show. The show will soon air on Color Channel.
Timing
Pishachini will start on 8th August 2022 from Monday to Friday only on Colors TV. Show timings are at 10:00, and will run for a maximum of 20 to 25 minutes. The trailer of this romance, the supernatural drama-based serial has been shown on the YouTube channel, Star Bharat, or the official Colors channel. If you are fond of watching drama, supernatural powers, and thrillers, don't miss any episode of this show.
Cast Names
Here is a complete list of cast names that will be shown in this TV serial:
Nyrra Banerji will play a lead role in this show. She will act as Rani Aka Pischachini, in a negative role. In recent times, she acts as Chakori Moong Singh in Rakshabandhan Rasal Apne Bhai Ki Dhal Serial, which airs on Dangal TV.
Another talented actress, Jiya Shankar will be the lead role or positive role in this serial. She plays the role of Pavithra, and she and Rocky love each other. Before this, she works as a host on Goodnight India, which is a Sony SAB's TV show.
Harsh Rajput as Rocky will be the hero or lead role of this serial.
Some other important casts of the show are Priyank Tataria, Saumya Saraswat, Sagar Rambhi, etc.