July is an exciting month this year, not just because the monsoon season is upon us, but because of special movie releases that your child (and you, we're sure) are looking forward to. Marvel's Thor: Love And Thunder and Minions: The Rise Of Gru hit the theatres on the 4th of July and 1st of July respectively, and the excitement is sky high! Children everywhere are rushing to get Marvel and Minions merchandise from these blockbusters, that's why we've got just the right solution for you!
Bedrooms are the most important rooms in a house, and with that comes a lot of responsibility. It is up to you to make the right choices so your kids will be happy spending their time in this room. That's where the SPACES collection of Marvel and Minions merchandise come in. You can find an amazing range of bed and bath linen products, which include marvel bedsheets, minions towels, bedsheets, and more. Here are some of the products that you can get for your child this month: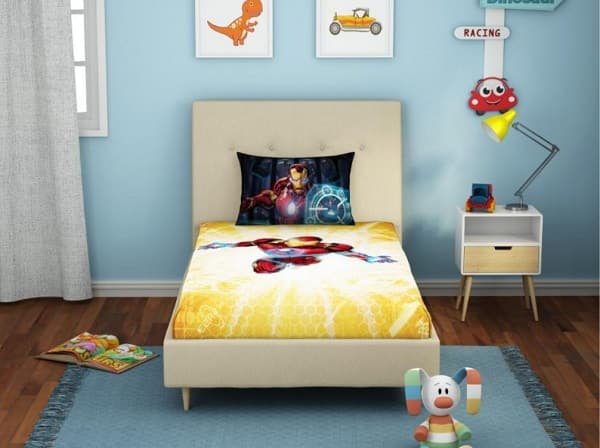 Marvel Inspired Bedding Sets
Marvel movies have been ruling the roost for the past decade and for good reason! And their latest movie featuring Thor is all set to get your children pumped up again. Bedding sets with Marvel characters are always a great choice for kids. Children will be excited to get into their new Marvel-themed bed, and you will also get a burst of creative stories for the experience. Get one of these Marvel-themed bedding sets for your child this month.
Iron Man Bedding Set – Iron Man has always been a favorite superhero of many, and now you can have Iron Man at home with this Iron Man Bedding Set. The bedding set features Iron Man's favorite colors—red, yellow, and blue. The bedding set includes a bed sheet and pillowcases.
Captain America Bedding Set – Captain America is another one of Iron Man's favorite superheroes. With this Captain America Bedding Set, your little one can have his favorite superhero at home in the form of a bedding set. The bedding set features the colors of Captain America—red, blue, and white in the form of a bedsheet and pillow covers.
Spider Man Bedding Set – The Spider Man bedding set is another great Marvel-inspired bedding set for your kid. The set is designed in blue, grey, and red colors with a spider web printed all over the bed sheet. Your child can get into the superhero mood every morning by getting into bed with their favorite Marvel characters.
Minion Movie Inspired Bed and Bath Sets
Kids love to have things themed around their favorite cartoon characters. When it comes to bedding sets, they are especially fond of having sets themed around the popular cartoon character Minions. This month, you can add to your kid's Minions love and get bedding sets featuring the as part of the theme. The Minions Bedding Set will have your kid feeling like a cute minion every single night when they go to sleep. The bedding set includes a bed sheet, pillowcase, and a comforter.
Kids also love to have towels themed around their favorite cartoon characters. The Minions Towel is a great towel to use when your child is playing outside during the summer, or when you need to make bathtime fun for them.
Conclusion
Getting your kids excited for bedtime or bath time can be a daunting task, but by catering to their interests, you can make this a fun experience. Celebrate these movies in style this year by bringing the characters your children love into the bedroom and bathroom. Bedding sets and towels are always a great choice for your child. These products are versatile and can be used for many years to come. They are also perfect for use in a guest room or for when your child stays over at a friend's house. Choose wisely and your child will feel like a kid again and be excited to come home to his own room.