Manoj Tiwari is a well known actor from the Bhojpuri cinema, who is also a popular singer, television presenter and music director. He has recently entered active politics by contesting the 2014 Lok Sabha elections as a member of Bharti Janta Party from the North East Delhi seat and has been successful in the election.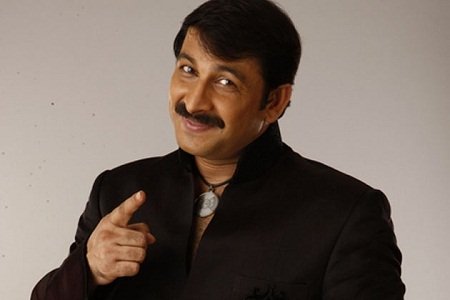 Net Worth: Rs 19 crore
Income Sources: Manoj Tiwari is a popular actor and singer in the Bhojpuri industry. Additionally, he has hosted a number of television shows and also has contested in fourth season of the popular reality show "Bigg Boss".
Born: 1st February, 1971 (44 years old)
Height: 5'7″ Feet
Marital Status: Married Rani Tiwari in 1999 and got divorced in 2012. The couple has a daughter.
Personal Background
Manoj Tiwari might be one of the biggest names in the Bhojpuri film industry today, but he comes from a very humble background. He was born in a small village called Atarwalia in Bihar, in a family of six children. Manoj was interested in singing from his young days and this was how he began his career. His 11 year old marriage ended with a big controversy when his wife accused him of having an affair with Shweta Tiwari, his co star and fellow contestant in "Bigg Boss". His political career began in 2009 when he joined the Samajwadi Party but he was not able to win the elections that year. However, Manoj later became a member of BJP and bagged the North east Delhi seat in the 2014 elections. He has played an active role in social demonstrations like those of Baba Ramdev and Anna Hazare, where he has helped draw crowds by singing patriotic songs. He is an ardent cricketing follower too and even wanted to buy an IPL team. On one occasion, activists of Shiv Sena attacked his Mumbai home as he had made controversial remarks against Shiv Sena, though the singer actor denied anything like that.
Career Graph
Manoj Tiwari was a leading Bhojpuri singer for the first 10 years in the industry and his acting career started in 2003 with a film called "Sasura Bada Paise Wala", which was an incredible success and established him in the industry. With the success of films like "Daroga Babu I Love You" and "Bandhan Toote Na", Manoj is today regarded as one of the biggest stars of Bhojpuri cinema, along with Ravi Kishan. He has done music direction in many films and also sang in some Hindi movies including "Gangs of Wasseypur". Besides acting in films, Manoj performs in stage concerts as well as performs in music albums. He is a star of international repute.
House and Cars
Manoj Tiwari has amassed huge wealth in his career and owns eight houses, with three of them in Mumbai one in Thane and two each in Varanasi and Delhi. He also owns agricultural and non agricultural lands. He has an impressive fleet of cars too, which includes Innova, Audi Q7, Honda City, Mercedes Benz and Fortuner.