Kiran Bedi, the most famous woman IPS officer in India has fittingly earned the reputation of the Iron Lady of India. She has set an example for Indian women, who are exploited and treated as inferior to their male counterparts in the society. This firm and honest police officer has been honored with a number of awards during her career, besides becoming a personality of international fame.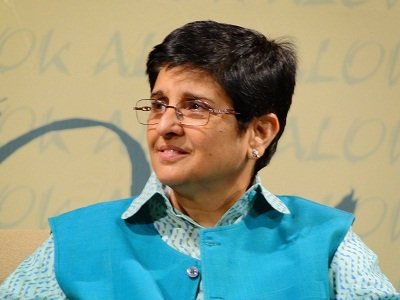 Net Worth: Rs 11.6 crore
Born: 9th June, 1949 (65 years old)
Marital Status: Kiran Bedi is married to Brij Bedi since 1972. She has a daughter called Saina.
Personal Background
Kiran Bedi was born as Kiran Peshawaria in Amritsar, Punjab. Her father Prakash Lal Peshawaria was a textile businessman while her mother was a housewife. Her parents wanted good education for all their four daughters and enrolled them in a Catholic convent school, Sacred Heart High School, Amritsar, much against the wishes of their grandfather. Kiran switched over to Cambridge College as she wanted to study science at matriculation level, which was not available at the former school. She pursued BA (Honors) in English at Government College for Women Amritsar followed by MA (Political Science) from Panjab University, Chandigarh. As a student, she won the NCC Cadet Officer Award and was a national level tennis player, becoming national junior champion in 1966. She took up the job of a lecturer in Khalsa College, Amritsar from 1970-72. She married her fellow player and textile engineer, Brij Bedi in 1972. She was awarded a Ph D in Drug Abuse and Domestic Violence by IIT Delhi in 1993.
Career Graph
Kiran Bedi joined police training in 1972, as the only woman officer in a batch of 80 men and went on to become the first woman IPS officer. Kiran served as the DSP of Chanakyapuri area in Delhi and was honored with President Police medal in 1979, as she played an instrumental role in reducing crime against women in the capital. Later, she carried out the important jobs in traffic department, overseeing Asian Games 1982 in Delhi and CHOGM Meet 1983 in Goa. Later, she initiated a social campaign against drug abuse as the DGP of North Delhi. Kiran Bedi has also served as the IG of Delhi Prisons, bringing about major reforms in the Tihar Jail, for which she was acclaimed with the prestigious Ramon Magasaysay Award in 1994. This amazing woman created history by becoming the first woman to become the UN civilian police advisor in 2003. She resigned from the IPS service in 2007 and took up a career in writing and social activism. Navjyoti India Foundation and India Vision Foundation are the NGOs established by this exemplary woman. Kiran came to the limelight when she joined the anti corruption movement headed by Anna Hazare in 2011. She became a member of BJP in January 2015, and is projected as the candidate for the post of Delhi Chief Minister on behalf of BJP. She is a woman of values and an excellent orator, who has the ability to draw crowds with her wit and leadership qualities.