Arvind Kejriwal is a young and dynamic Indian politician, whose political party called Aam Aadmi Party (AAP) has created a sensation in the political scenario of the country, starting as a party with a few hundred members to becoming a movement comprising of lakhs of people. This simple looking man has literally put big Indian political leaders in the back seat.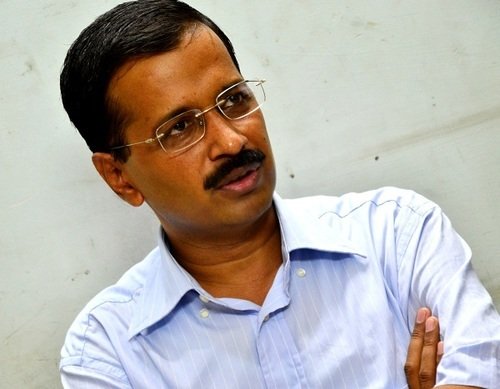 Net Worth: Rs 2.1 crore
Born: 16th August, 1968 (46 years old)
Marital Status: Married to Sunita Kejriwal since 1995. They were batch matesin National Academy of Administration, Musssoorie and later in National Academy of Direct Taxes, Nagpur. They have two children.
Height/Weight: 5 feet 5 inches, 58 kg
Personal Background
Arvind Kejriwal comes from a very modest family background. He was born in a village called Siwani in Bhiwani district of Haryana. His father, Gobind Ram Kejriwal was an electrical engineer. He was raised in small towns across Haryana, as his father was transferred from one station to another on his job. arvind dis his schooling from Hisar and Sonepat. He completed his graduation in mechanical engineering from IIT Kharagpur and got a job in Tata Steel in Jamshedpur in 1989. However, he wanted to join civil services and quit his job in 1992 to pursue his dream. Kejriwal owns ancestral property in Siwani, though he currently resides in Ghaziabad, UP. His wife owns a flat in Gurgaon, which is worth nearly Rs 1 crore.
Career Graph
Arvind cleared the Civil Services Examination and joined IRS in 1995. He served as the Joint Commissioner of Income Tax in New Delhi, where he was disturbed by the corruption prevalent in the department. He started an NGO called Parivartan with Manish Sisodia, with the aim to bring transparency in the functioning of the Department. He pursued active social service to curb corruption and bribery in the country, in association with leading social activists like Anna Hazare, Kiran Bedi and Aruna Singh. He was honored with the prestigious Ramon Magasasay Award in 2006, for Emergent Leadership, on account of his work with Parivartan regarding the RTI litigation. That year, he resigned from the IRS and donated the award money for setting up an NGO called Public Cause Research Foundation. Later in 2010, Kejriwal raised his voice against the Commonwealth scam and corruption and went on to join hands with Anna Hazare and Kiran Bedi to form India Against Corruption group, which campaigned for the enactment of Jan Lokpal Bill. Kejriwal created a major political turmoil by forming the Aam Aadmi party in 2012 and defeating the long time Delhi CM in the elections of 2013, which came as a major shock for the Congress. However, he was criticized for taking the support of the same party and forming the Delhi government to become the CM of Delhi. Kejriwal held the position for merely 49 days, resigning on the grounds of not being able to pass the anti corruption legislation on account of lack of support. He apologized for not living up to the expectations of Delhi public, but came back again as the AAP contender for the CM post in Delhi elections in early 2015. He has often been in controversy about not adhering tie what he says, as he said that he would not contest in Lok Sabha elections 2014, but stood opposite PM Narendra Modi from the Varanasi seat, which he lost by huge margin.
Save