Keerthy Suresh is a very talented Indian actress .She started her career as a child in her first debut role in the early 2000s and by continuing studies in fashion designing she comes out to play the lead roles in a number of films. As a first lead role, she appeared in Geetanjali which is a Malayalam film and also signed for the films in Tamil and Telugu also.
As she started her career, she grows to become a famous personality as like her parents. Her father is a producer and mother is an actress.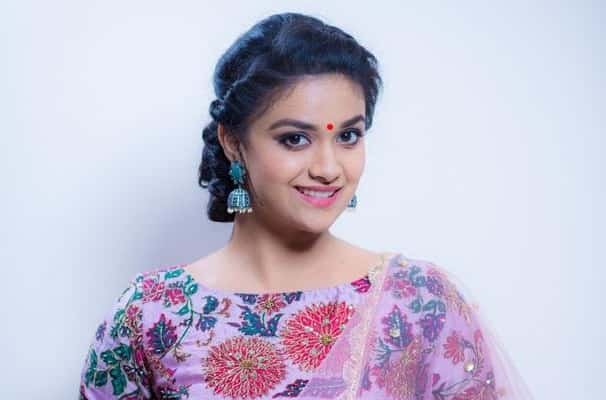 Net Worth
Her net worth is reported to be around $2 million.
Income Source
She earns money by her acting talent. She used this talent as a source to earn money in her life.
Real Name: Keerthy Suresh
Date of Birth: 17 October 1992
Age: 24 Years
Nick Name: Keerthana
Height: 5 feet 4 inch
Weight: 54 kg
Marital Status: unmarried
Personal Background
Keerthy Suresh was born in Kerala at the house of Malayalam film producer and director Suresh Kumar. actually, she belongs to a Tamil family. Other than her father, her mother Menaka is also an actress and her elder sister worked for the Shahrukh Khan's production red chilies.
Keerthy completed her schooling at Kendriya Vidyalaya, Patton, and Thiruvananthapuram in Chennai, Tamil Nadu. She graduated from a designing college. Other than acting she also considered designing as serious in her life.
Career
She started her first step as a career in her childhood. As her father is a producer, so he gave her chance to show her talent .She worked with her father as in pilots in 2000, achaneyanenikkishtim in 2001 and Mubarak in 2002. Other than these, she also appeared in daily soaps. But as an adult, she played the first lead role of her career in horror film Geethanjali. After that her second release was ring master which was directed by Rafi mecarti. This film was her step to success as it termed as superhit.
Personal life
She is a daughter of an actress Menaka and director-producer Suresh. Her elder sister works as a VFX specialist .She completed her schooling from Kendriya Vidyalaya.
More information
Other than working in the Malayalam language she used to work also for other languages as well. She also signed the Tamil films and her first Tamil release was Idhu Enna Maayam which was the film of A.L. Vijay. After that she was signed for a number of films in different languages such as she worked for the two bigger projects at the same time.