When talking about sports, one name that cannot be disregarded is Virat Kohli. This 26-year-old old sportsman is a professional cricket player who is current Indian Test cricket captain. He was born on November 5, 1988 in Delhi, India. His role in the team is a batsman. In the Indian Premiere League, he is playing as the Royal Challengers Bangalore's team captain.
Aside from these bits of information, there are surely a lot more things that you and other people don't know about him. Hence, here are 10 interesting and unknown facts regarding Virat Kohli that you will love to know: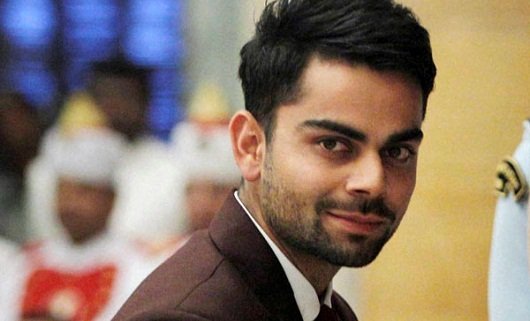 #1. Just like any other ordinary man out there. Virat Kohli also has his crushes who are making his heart beat faster. However, there is one beautiful woman who happens to be his first crush. This is none other than Karishma Kapoor, a successful and famous Bollywood actress.
#2. He is among those people who love tattoos. In fact, he has 4 different tattoos on his body. However, the favorite tattoo that he has is that Samurai Warrior tattoo.
#3. Virat is proven to be a marketable athlete. This can be confirmed by his higher rank in a survey conducted by SportsPro, which talks about the most marketable athletes the world has to offer. According to the survey, he is on the 13th rank.
#4. When he and the rest of the members under his cricket team are in the dressing room, he is fondly called by his pet name, which is "Chikku". Hence, if you are with his cricket team, please do not be surprised if he is called in such name.
#5. One other international record that Virat is very proud to have is the fact that he is amongst those top 10 well-dressed international men. He was included in the 2012 list.
#6. Virat is a true-born leader. Such fact can be confirmed by his and his cricket team winning moments in the Under-19 World Cup way back in the year 2008, which was held in the beautiful and progressive country of Malaysia.
#7. Among his four tattoos on his body, there is one tattoo that signifies for good luck. This is his Golden Dragon tattoo that can be seen on his left forearm.
#8. On the same death day of Virat Kohli's father, he played a cricket match against the cricket team from Karnataka. In this particular cricket match, he gave his team a crucial score of 90. Such match happened way back in the year 2006.
#9. Hitting 20 ODI centuries, Virat Kohli is considered to be the fastest cricketer. He only made 133 innings in order to acquire such great recognition. He has overtaken Sachin Tendulkar who had 197 innings before.
#10. In the history of ODI cricket, Virat Kohli captured the 4th ranking regarding the cricketers who scored 1000 runs or more than that. He is the one next to Sachin, Sourav, and MS Dhoni. This is enough evidence how excellent he is when it comes to cricket playing.
These are just some of the least known but interesting facts regarding Virat Kohli. Without a doubt, he is amongst those Indian sportsmen who made India as one of the best countries as far as cricket is concerned.