When talking about Telugu cinema and Bollywood, one shining star that really captures the attention of many is Poonam Pandey. This 24-year-old Indian actress and model was born on March 11, 1991 in Delhi, India. But before she got the chance to enter the Indian filming industry, she has first involved in the demanding world of modeling. In fact, she has graced the cover of the India's fashion magazine Gladrags. Furthermore, such actress is known to be very controversial because of her nude pictures and sex-related videos.
Even though she's already a popular individual in India nowadays, a lot of people still don't know many things about her. In this regard, here are 10 interesting facts about her that will surely uncover the life story of Poonam Pandey: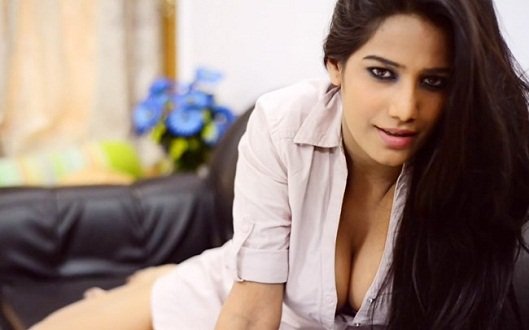 #1. Poonam Pandey was once involved in a sex video scandal that circulated on the web. This was the thing that greatly surprised the entertainment and filming industry of India before her film Nasha was being released.
#2. She made a promise that she will strip off her clothes if the national team of India will win the 2011 World Cup. Since the Indian team won, Poonam found herself greatly owed by her promise. Even so, she didn't get the chance to live up her promise since the BCCI didn't allow her so.
#3. Before her Nasha movie was released, Poonam was had this initiative to promote her movie in public by initiating a contest in the social media site, Twitter. She called such contest as "Grab Nasha Bikini".
#4. Big Boss 7 movie project was supposed to be hers, but she refused the offer of Rs. 2-2.5 crore. She only accepts Rs. 3 crore worth of movie projects. One other reason was she didn't like the idea of being co-starred with the Indian actor Suraj Pancholi.
#5. Poonam Pandey experienced a very controversial war of words in Twitter because of her particular tweet. What's very interesting about is was the fact that her opponent wasn't just an ordinary individual. It was against another Indian actress Chitrangada Singh. But in the end, it was found out that Chitrangada Singh's Twitter account was fake.
#6. In the year 2011, Poonam became very popular in YouTube since her stripping video was being watched by great numbers of YouTube watchers.
#7. Poonam Pandey is a model who loves to work in photoshoots where she gets naked. This is one thing that made her an extremely controversial actress, but this is something that she still does even up to now. And mind you, she is gaining a considerable amount of money from it.
#8. One big controversy she was involved with that seriously alarmed several sectors in India was the one that morphed naked pictures of her spread all over. Adding great intensity to the controversy was the morphed pictures of Sachin next to her.
#9. After the release of her controversial movie Nasha, she launched another contest on Twitter. This contest was all about the addiction of the people, which they were proud to admit. The prize for such contest was to meet her in person.
#10. In accordance with the International Yoga Day, Poonam posted a sensual yoga video where she performs the different yoga poses. Such video is already watched by millions of viewers all over the world.
Even though she's a very controversial actress because of showing more skin on her videos, pictures, and films, please don't forget the fact that we don't have the right to judge her. She's still a creation of God, after all.