Top Ten Highest Waterfalls in India You Must See
Waterfalls are generally formed in the uppermost course of a river in vertical mountains and rushed down a vertical shelf. The water flows from the higher part of the land to fall down on rocks underneath to continue its passage. Generally the lower part of the waterfall is called a Gorge. The highest waterfall in the world is the Angel Falls in Venezuela – US, where the water falls from 979 meters.
If you are planning to take a trip somewhere, a waterfall is the best to go. It will not only provide you with infinite happiness but also contentment in your heart. Vacations and holidays near a waterfall can be a very rewarding experience. India is blessed with so many beautiful and stunning waterfalls and you can plan your next trip to any such place.
Mostly people consider waterfalls as very sacred and sanctified placed. The sound from these waterfalls seem like a roar and is very loud. Waterfalls are generally considered as one of the most beautiful creations of Mother Nature.
Below is the list compiled list of Top 10 Highest Waterfalls in India
10. Jog Falls
Also recognized as the Gersoppa Falls, Joga Falls or Jogada Gundi this beautiful waterfall is situated near Shimoga district's Sagara talukin the state of Karnataka. It is known as segmented waterfall which is reliant on rainy season, and then converts to a plunge waterfall. This is one of the major tourist attraction sites of India. It is formed by Sharavathi River falling 253 meters making Jog Falls the second-highest plunge waterfall of India. The features of this amazingly beautiful waterfall is that they fast flowing water inclines steeply, losing total contact with the surfacedue to parallelpush of the water before it drops. It is always known to start from a narrow stream.
9. Barkana Falls
Another beautiful waterfall near Shimoga district's Agumbe. It is the 9th highest waterfall of India. But it only operational in rainy season. It is a beautiful picturesque site wherein dropping from 500 feet this place is also enclosed by dense forest of Western Ghats. Total height of this waterfall is 259 meters and is formed by the watercourse of the Seetha River.
8. Thalaiyar Falls
It is also called as Rat Tail Falls and is situated in the Palani Hills of Dindigul District in Tamil Nadu State of Southern India. It is 297 meters tall and is the highest water cascade of Tamil Nadu. The eighth highest waterfall of India and is ranked at 267th in the highest waterfalls of the world. It provides the travelers with an amazing and thrilling hiking experience as there is as such no road connectivity to this place however it makes it dangerous as well. During the hike you can explore the mango orchards and a small temple of Goddess Kamakshi. The source of its water is Manjalar River.
7. Meenmutty Falls
Meenmutty is a blend of two Malayalam words Meen meaning fish and Mutty meaning blocked. These awesomely beautiful falls are located approximately 30 kilometers from Kalpetta in the Wayanad District of Kerala. This is also very dangerous as it is very active in rainy season and a number of people have also drowned and met with fatal accidents. At a height of 300 meters, this waterfall is falling in the category of 3 tiered waterfalls.
6. Kynrem Falls
Situated 12 kilometers away from Cherrapunji in Meghalaya's East Khasi Hills district in the Thangkharang Park is one of the highest waterfalls of India. Falling from 305 meters, this place is a home to exotic species of flora and fauna.Water drops in a sequence of distinct falls or steps and falls in the category of 3 tiered waterfalls. Heavy mist, fog and dense forests are encircling these beautiful falls the year around. It is a must see place in North Eastern part of India.
5. Dudhsagar Falls 
Height of this amazing and tallest waterfall of India is 320 meters and its water source is the river Mandovi. It is a four tiered waterfall situated on the border of Karnataka and Goa. It is enclosed by the dense deciduous vegetation with a gorgeous lavish biodiversity. Usually formed during the monsoon and rains, these waterfalls form a gigantic force of water. Also do not forget the Dudhsagar trek where you can explore the flora and fauna of this amazing water fall. This place can be easily accessed by tourists through road and nearest rail station is Castle Rock Station.
4. Nohsngithiang Falls
Very popularly known as Seven Sisters Waterfalls or Mawsmai Falls is a segmented waterfall located in the East Khasi Hills District's Mawsmai Village in the Indian State Meghalaya. The water cascades from the height of 315 meters making it the 4th tallest and highest waterfall of India. The average breadth of this waterfall is 70 meters. The water plunges generally during the rainy season and when it emerges in the sunlight it creates a rainbow kind of prismatic appearance making the atmosphere look refreshingly amazing. North East India is a home to many such luxurious waterfalls which are easily accessible. You can also reach there by trekking and enjoy the beautiful sights of nature enroute these falls.
3. Nohkalikai Falls 
The tallest plunge waterfall in India at the height of 340 meters,making it one of the 10 highest waterfalls of India. The waterfall is situated near Cherrapunji, which is one of the wettest spots on Earth. Nohkalikai Falls originate from the rainwater which is collected on the summit of moderately small plateau and reduces in force during the winter and dry season of December to February. You would find an unusually green colored water pool beneath the falls. The meaning of the name of this falls is "Jump of Ka Likai". There is a legend attached to these falls. It is said that a woman named Likai jumped off from the cliff near the falls. It was because her second husband killed her daughter from the first marriage and cooked her meat which Likai ate as she was unaware of what had happened while she was away at work. When she realized that it was her daughter's meat that she ate, she ran off the edge of the peak in anger and grief. So these falls are named after her.
2. Barehipani Falls
The two tiered waterfall in Odisha state of India situated in the Mayurbhanj's Simlipal National Park. It is the second highest waterfall of India at a height of 399 meters. It is also surrounded by beautiful jungles and forest areas.
1. Kunchikal Falls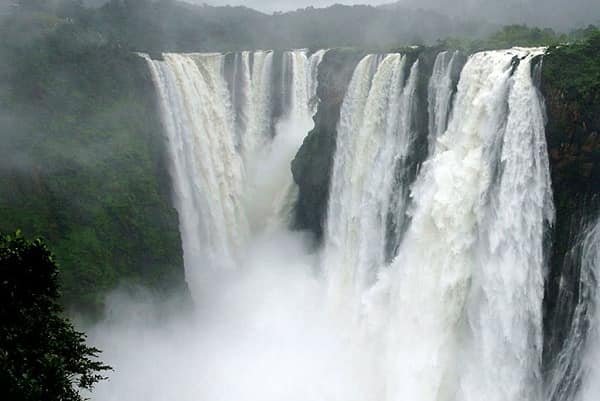 Standing at a height of 455 meters is the Kunchikal Falls of Shimoga district of Karnataka. It is situated in Nidagodu which is near Hulikal. The highest waterfall of India is the second highest in the Asia. This waterfall originates from the Varahi River. Best time to visit this place is during the monsoon season as these falls look elegant and really lavish during this time. This is accessible as well for the tourists. Though there is a restriction to visit in the waterfall as there is a hydroelectric power station build up with the Mani Dam.
Conclusion
These were the highest waterfalls of India. Apart from the scenic beauty they also provide a good picnic spot for one day tours with friends and family. Waterfalls must surely be visited by one and all and they depict the vastness of nature.