Top 10 Advanced Robotics Technology Countries in the World
A lot of countries these days are getting inclined towards the technological advancements. Undoubtedly, technology has made our lives easy and very convenient. We are all dependent on technology for something or the other. From last few decades, this technological advancement has been adapted by a lot of nations and has totally revolutionized our lifestyle. With the latest technology of robotics, many countries are now producing more output at a lesser cost. Robotics is an amalgamation of Science and Engineering and robots have a versatile usage. These hardware machines can be instructed to perform actions and they facilitate easy accomplishment of tasks and jobs.
Many countries are developing robotic technology as they are helpful from production till handling even the most complicated tasks.
Let us find out the Top 10 Advanced Robotics Technology Countries in the World
10. Taiwan
One of the chief suppliers of Industrialized Robots for consumer electronic equipment, computers and communication. Mostly Robotic sensors, Robotic Control motors and system integrators are manufactured and supplied by the organizations of Taiwan. Taiwan Intelligent Robotics Company or TIRC is the Robotics System Integrator Company and by making a humanoid robot, the repetitive work will be replaced. Also this robotic technology is used by various restaurants to improve the dining experience.
9. Finland
Robotic technology is now being very pervasively used. Finland has invested a great deal on industrialized and service robots as well as acquiring new and innovative learnings in the Robotic science. The major player in the robotic industry of Finland is Zenrobotics. The technology is robotic waste separation as industries have to employ excess people to separate the waste from the product which is like a waste of their time. So Industrial robots are helpful in this.
8. Spain
Spain has left many developed countries behind when it entered the league of top 10 advanced robotic technology countries of the world. There has been a substantial enhancement in the robotic performance and now they are also being used in the vehicle manufacturing industry because of their accuracy, resourcefulness and reliability. Companies like Robotnik, PAL-Robotics, Sadako Technologies are the main players in the market.
7. USA
One of the powerful and influential country of the world ranks at number 7 in the list. Robots are practically involved in all the domains of service industry. Robots are believed to assist all the industries irrespective of the size. iRobot, Touch Bionics, Rethink Robotics, Liquid Robotics are some of the key players in USA. These bots have proven to be helpful in Military operations, GPS and communication and also machinery intelligence.
6. Denmark
At number 6, we have Denmark which has given an entrance to the European countries to have more and more advanced development of their products and services by providing them trials and tests on the complicated processes. The robotics processes, applications and implementation of Robotic solutions is being provided by the Denmark's robotic industry to the world. ABB industrial robots is a brand name when it comes to robotics.
5. Sweden
Technology is the life and blood of any industry in any given country. Therefore, robotics is like life and blood for Sweden which has technologically advanced robotics industry. The majority of organizations in this country are in the robotic industry and offer software and components. ABB Robotics and IBC robotics are well-known names in Sweden and in the world. They provide for customized robots as well which is dependent on choice of customers.
4. Italy
Second largest industrial robot user country of Europe is Italy. Italy is no longer restricted to the Italian Cuisine, Romantic getaways and fast cars. In the times to come, Italy and Germany will be competing against each other neck to neck as Italy has emerged as a high tech leader of machinery and manufacturing. More and more leaders of this country are collaborating and making this country fully digitized and transformed.
3. Germany
Another powerful country at number 3 slot, provides for a great environment for innovative and unique technologies in Industrial Automation. Germany is undoubtedly Europe's largest versatile robotics market. KUKA robotics is a German brand specializing in manufacture of industrialized robots and is also known for its products throughout the world. Other brands of Germany are Eggshell Robotics, Siemens, Karcher and Bayer. Now Germany is entering into the Consumer robotics domain along with industrialized robots.
2. Japan
Maintaining the number 2 slot for a long time now, Japan is a market leader in terms of robotics. There are various types of bots like entertainment, Animal and humanoid robots, security robots and so on. These are also employed in many service sectors. Robots is an integral part of Japan's growth. In World War II, Japan was totally a devastated country and now it is becoming a super power with the world class technology. Tokyo Robotics Inc. is a leading brand name in Japan. Other well-known Japanese robot producers being Denso, Hitachi, Kawasaki Heavy Industries, Sony, Yamaha and Toshiba.
1. South Korea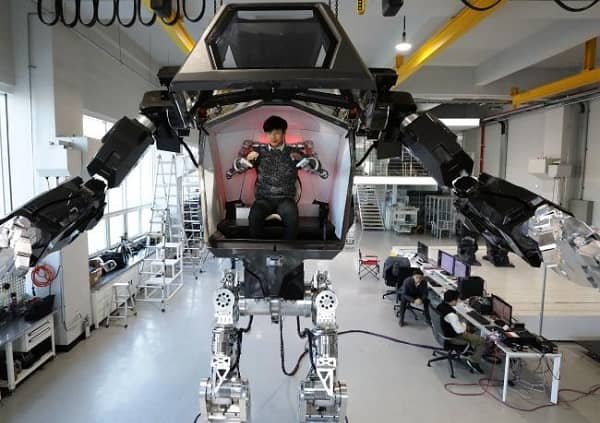 Since 2011, South Korea is unbeatably standing tall at number 1 slot in the Top 10 Advanced Robotics Technology Countries in the World. South Korea has been playing a pivotal role in the production of consumer as well as industrial technologies. With a realization of an economy where humans and robots can co-exist, South Korea has been creating robotic applications for making the society an efficient one. Robotis, Future Robot, Hanool Robotics, Yujin Robot, Minirobot Corporation are a few names of Robot manufacturers companies in South Korea.
Conclusion
Technology has impacted our lives from our wrist watches to our mobile phones and so much more. We are using technology to get in touch or to communicate, either through phones or emails or video conferencing. Many companies are now saving money by putting Robotic technology in use, wherein these robots help the people in manufacturing, service sectors, security and even health care domains. These technological advancements are surely for the enlistment of the society and it also contributes towards the revenue generation and more output of the country. It's all about technology these days.