Call it global warming, pollution, increasing ultraviolet rays or declining natural ecosystems, millions of Indians are at risk of inflammation and heat-related diseases today. Sizzling heat waves spinning off the nation are soaring in mercury year by year. In last four years alone, over 5000 people have turned to death at the direct glare of Sun.
Like last two years, in 2017 too, alarming statistics show that many of the cities are vulnerable to crossing the notches of 45°C. As reported by IMB, here are the top 10 cities most likely to be affected by heat waves in India. Some of these are already battling with soaring Sun. Read on.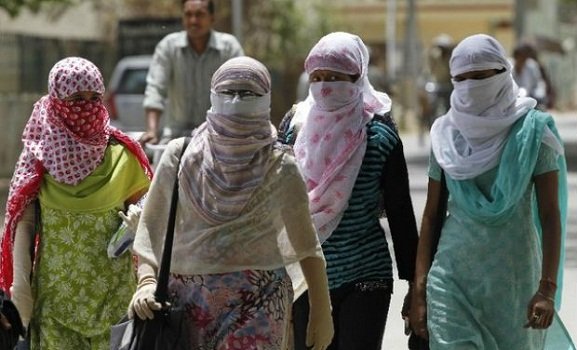 10. Haryana
Though the maximum temperature has been soaring between 39°C to 45°C, Haryana experienced continuous heat waves for last few weeks. While Narnaul remained the most affected city at 45.5°C, Hisar remained at 44°C. Other areas that witnessed above normal temperatures were Karnal and Ambala; with Ambala at 39.2°C and Karnal touching 40°C.
9. Uttar Pradesh
After 2015 heat wave in Uttar Pradesh took nearly 22 lives, the city is once again under the threat of strong heat waves in 2017, especially the southern regions of the state. On February 28, IMD announced 'above normal' temperatures in major parts of Uttar Pradesh. National Disaster Management Authority has recommended the state officials to plan out a heat wave rescue plan in advance.
8. Madhya Pradesh
In the coming days, roads of Madhya Pradesh seem to witness the outpour of showers of hot, screeching summer winds, quite unseasonal though. According to IMD, most of the areas in the state are grappled under the extreme heat wave. Even the normal average temperature that prevails over the state is 40°C. While regions like Khajuraho, Khargone, Ratlam, Damoh, Naugaun and Hoshangabad Rajgarh are soaring at a peak of over 43°C, almost all districts have crossed 40°C.
7. Rajasthan
Undoubtedly the Land of Kings remains one of hottest cities in India. This year too, Rajasthan is swept by scorching heat waves even before the onset of summers in March. Ganganagar even crossed several notches up to 46.8°C. Other state districts like Churu, Pilani, Kota, Jaipur and Jaisalmer also crossed 40°C. Even the more, the heat in Jaipur became so fierce that the district collector Siddharth Mahajan ordered to close the schools one week in advance of the start of summer vacations.
6. Telangana
Spells of dry, hot weather are said to prevail over the City of Pearls till the commencement of monsoon, most probably in May end. The Sun is said to pulsate from about 2 to 4 degrees above 40°C in Telangana. In its other districts including Kothagudem, Khammam, Jagitial, Wanaparty, Nalgonda and Nagarkurnool, the mercury is set to soar.
5. Jharkhand
The former city of Bihar, Jharkhand is at a high alert of heat wave, as reported by Indian Meteorological Department. With temperatures streaming above 40°C, there seems to be no relief from mercury boils. All the more, as if the rising mercury wasn't enough to cause trouble for the citygoers, Jharkhand's UV Index has also been reported to be above normal. Precisely at 11, the index indicates thinning of ozone layer around the city. Also, according to IMD Guide Book, if the UV Index further increases, it can cause severe harm to a person's skin in a matter of just a few minutes. Perhaps this is one of the alarms of global warming engulfing over the world.
4. Maharashtra
Quite unexpectedly, the weather conditions in Maharashtra only in the end of March were filled with heat. Since 2015, when Maharashtra used to be at relatively lower position in heat waves, this year the state is said to position high. This is the result of northwesterly winds passing through Central Maharashtra, particularly the Marathwada region. Of all the cities in this map area, Chandrapur, Bramhapuri, Nagpur and Wardha are at a mark of crossing 45°C.
3. Andhra Pradesh
When even the most protective of states got caught by this killer heat wave, there is no question why the coastal blocks of Andhra could be left. It isn't astonishing that the City of Destiny along with Telangana witnessed over 4200 deaths alone. Of course, most common reasons were dehydration and heat strokes. This year in Andhra, the whooping heat waves are set to roll out their carpets in Sullurpeta and Ballikuruva in Nellore and Prakasam districts respectively, at approximately 45.9°C.
2. Tamil Nadu
With northwestern and central parts of the country, south too is also on a heat wave alert in 2017. Tamil Nadu's Chief Secretary Girija Vaidyanathan has been keeping a check on the relief measures taken in the state. From special buses for schools to healthcare facilities for animals, every measure is being monitored in depth to keep Sun's burning effects at bay from the people out there. Capital city Chennai has also been enveloped in the dry westerly winds which are possibly due to the cyclonic circulation in Bay of Bengal.
1. Odisha
As per IMB's weather forecast, Odisha is expected to come under the clasp of strongest of heat waves in the country this summer. Blistering hot spells one after the other has turned the city literally into a boiling pot precisely at 45.5°C. Despite of the presence of sea breeze that prevented heat waves to rise, the heat this year is tremendously at the top spot here. Forced by this, the government of Odisha has announced to shut down the schools a week before the planned summer vacations.