Ghum Hai Kisikey Pyaar Mein is a serial on Star Plus Network, and it went on air on 5 October 2020. The show is a drama serial that has elements of romance, comedy and emotions in it. The show is aired during the slot that was earlier reserved for Kasauti Zindagi Ki, and the lead roles in the show are played by Nail Bhatt, Aishwarya Sharma& Ayesha Singh.
Wiki
Ghum Hai Kisikey Pyaar Mein is developed by LennaGangopadhyay, and the story has been written by Rajesh Chawla. The director of the show isJaydeep Sen and Ashwini Saraswat. This show is being produced under Cockcrow Entertainment Shaika Films. There are 126 episodes in the show. Ghum Hai Kisikey Pyaar Mein is a hindi remake of Bengali Series kusumDola.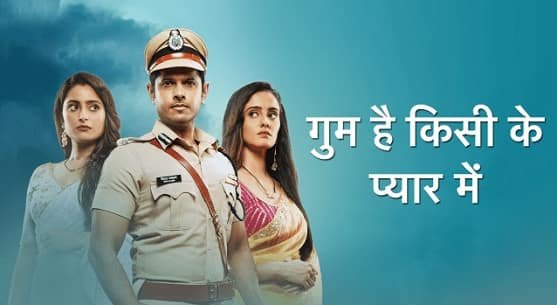 Story
Ghum Hai Kisikey Pyaar Mein is about a short-tempered yet kind-hearted girl who wishes to be a doctor. She is the daughter of Kamal Joshi, who is a police inspector. In the same district, another young officer is posted, whose name is Virat Chawan. The story revolves around the young police inspector and his romantic interest. You can watch this exciting series on Star Plus.
Timings
Ghum Hai Kisikey Pyaar Mein is aired on Star Plus from Monday to Friday at 8:00 PM. This slot was earlier taken by Kasauti Zindagi Ki,but now the slot has been allocated to Ghum Hai Kisikey Pyaar Mein. The repeat telecast time for this show is at 11:00 AM every day. You can also watch the show on Hotstar.
Cast Real Name
Neil Bhatt as ACP Virat Chavan
Aishwarya Sharma as PatralekhaMohite Patil (Pakhi)
Ayesha Singh as Sai Joshi
ShaileshDatar as NinadChavan
Bharati Patil as Ashwini NinadChavan
Adish Vaidya as Mohit Chavan
SnehaBhawsar as KarishmaChavan
KishoriShahane as Bhavani Chavan
Mridul Kumar Sinha as OmkarChavan
JitendraBohara as Sunny
SheetalMaulik as SonaliChavan
Mitali Nag as DevyaniChavan
Yamini Malhotra as ShivaniChavan
Vishavpreet Kaur as Vaishali Patil
Atul Mahajan as Nilesh Patil
Anjana Nathan as Usha
Yogendra Vikram Singh as SamratChavan
Sanjay Narvekar as Kamal Joshi
Yash Pandit as Akshay
KushagreDua as AmryGupte