10 Interesting Facts About Mcleodganj
A place in the suburb of Dharamsala, Located in the region of Himachal Pradesh, Mcleodganj is also known as "Little Lhasa" because of the wide population of Tibetan people in the region. From hiking to having some of the best Tibetan foods, Mcleodganj has it all. This place is always buzzing with interesting and different activities like bird watching in the famous Alpine forests, trekking and the like. Mcleodganj is considered as a very religious place because of the presence of wide sections of Buddhist people who are always in sync with their religion.
Some of the top interesting facts about Mcleodganj are listed as under: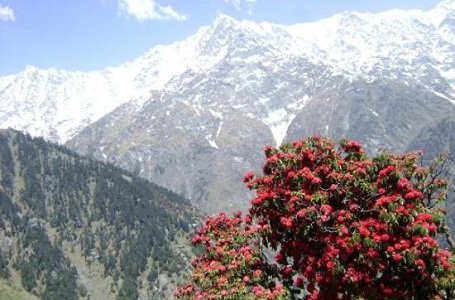 10. A soothing atmosphere and environment:
The amazing town of Mcleodganj is defined the best from other hill stations because of its lush greenery and the beautifying nature surrounding it that in stils in people a soothing and calm mind. The deodar trees and the chains of mountains of the Himalayas are perfectly visible from this region but the one fact interesting about this place is that though the Tibetan population are found in plenty, yet one part still helps to flourish the British colonial times and the reign of British is still fresh when you pay a visit here.
9. Kind hearted people
A wide follower of Buddhist religion, the people of this region are always associated with their prayers and worship and they are one of the most loyal and obedient host of people that you will ever meet. They are kind and loving by the origination of nature. They feel that they have to help people and be good to them according to their religion.
8. Silence echoing from the mountains and nature :
A quiet and lonely hill station located at a height, Mcleodganj has silent valleys and the breeze is fresh and cool. People come to this place to release all their tensions and anxieties. The best part is the Kagra valley which is full of dense forests and snow covered mountains which make it a mesmerising place to be in. Silence is always expected by the visitors and they are to find it in Mcleodganj.
7. A journey so exciting and adventurous
A place ideal for trekking and hiking, Mcleodganj in Dharamshala chosen by people to try on fun activities. The steep rocks, perennial water flowing in the rivers, or the coniferous trees, name it and you can have a view from the region. Mcleodganj is known for its famous "Paragliding". Up in the air and nature so bountiful, one cannot miss paragliding when in Mcleodganj. Rock cut temples, museums make it a famous tourist spot where thousands of people visit every year.
6. Tibetan new year and culture
The people in this region celebrate Losar Festival which is considered as the Tibetan new year. This region celebrates festivals in its own special ways and if you want to join them, then they would do it in the most amazing way. Losar festival is a festival celebrated by the Buddhists.
5. A religious city
People of Mcleodganj are so religious and they are very rooted and devoted to their culture and prayers. The greatest Dalai Lama was raised in Dharamshala which makes it even more peaceful. The followers of Buddha know how to preach and remain in their good deeds. This region is full of ancient temples, and it also hosts the largest Buddha temple apart from Tibet.
4. Know the Tibetan culture well:
People are always interested in knowing and learning a foreign language and what can be a better opportunity than be in Mcleodganj. Tibet is a part of China which is our neighbouring country and because of that, there is a good touch of the Tibetan culture in Mcleodganj. The Tibetan settlers are all doing well here and if you want to get a glimpse of Tibet, then coming to this region will give you all the detailing parts.
3. Delicious and exotic Tibetan cuisine:
Tibet is famous for its small sized noodles taken with some kind of manchurian or any kind of soupy dish. The noodles are long and very thin in size which are loved by people worldwide. Mcleodganj has many stalls and restaurants which offer the best of Tibetan cuisine which are mouth watering and delicious and you will want to come back for more. The real taste of Tibet can be easily found here.
2. Perfect and soothing to the eyes
Mcleodganj and in whole Dharamshala is a great place to visit during the summers as the weather is perfect with it not too hot nor too cold. During June or July time, the weather remains rainy which is not at all good for a trip and it can ruin it to the whole. The culture and environment of Mcleodganj can be seen more properly in the Summers. The place also witnesses snowfall during winters.
1. A historical place overall
Dharamshala is whole is a very historical place because of the Katoch Dynasty ruling over Kangra in the olden times. Because of which Mcleodganj is also considered as a historical place. The British rein is still kept in an improved way in the museums and people also get to see the British rule in a great manner.
These are the interesting things to watch out for in Mcleodganj! Do plan a trip to this glorious place!