Lord Ganesha is the most recognized Hindu deity across the globe. He is popularly called Elephant God of Hinduism. The son of Mahadev and Parvati. Mahadev known as Lord Shiva is a Hindu God of Destruction, therefore also called destroyer. Lord Ganesh has a brother named Lord Kartik.
Known for
Lord Ganesha is called "Vighanharta". It means he removes all the obstacles that are in between. This is the reason, whenever someone is doing any of the task or going to do a new work, Lord Ganesha is praised. So that there won't be any obstacles in the work and every challenge is completed successfully. This is done not only in India but in also other countries where Hindu people are living in.
The other thing Lord Ganesh is often represented as is Buddhi. Buddhi means knowledge. This is the reason Ganesha is called Lord of letters and learnings. However, for education and studies, Goddess Saraswati is worshiped.
Therefore, for all of these reasons, Lord Ganesh is more worshipped in many of the occasions as well as festivals.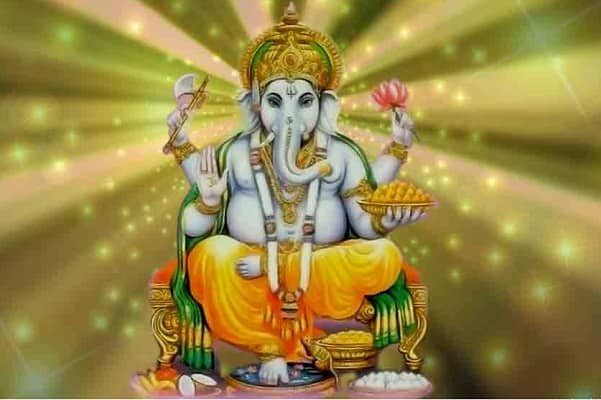 Ganesh Chaturthi
Ganesh Chaturthi is also known as Vinaaka Chavithi. It is festival celebrated for birth of Lord Ganesha. It usually comes in the month of August or September. It is usually celebrated by worshipped lord Ganesh on this day and also lot of modaks  are offered to Lord Ganesh. Along with this, many other sweets are also given along with modak. The festival ends on the 10th day of the start.
Family
You might be knowing about the family of Ganesh. If not here are the details you should know about the family members. Lord Ganesh family members are as follows.
The father of Lord Ganesh is Lord Shiva, known as the destroyer.
The mother of Lord Ganesh is Goddess Parvati, known as the Hindu Goddess of love and fertility
The brother of Lord Ganesh is Lord Kartik, known as the Hindu God of Victory and war.
The one sister of Lord Ganesh is Goddess Lakshmi, known as the goddess of wealth and money
The second sister of Lord Ganesh is Goddess Sarasvati, known as the Hindu goddess of knowledge.
Although, all of these gods and goddess are worshipped seprataly, n the occasion of Durja puja, all of these gods are worshipped together.
Other names
Lord Ganesh is also known by his one of many other names. People often call him by one of these names.
Vinayaka
Aanaimugha
Ganapathy
Ganesamoorthy
Gananatha
Vigneswara
Symbol
Every Hindu God has a symbol by which they are recognized. Same goes for the Lord Ganesha. The symbol for Ganesh is Om and Modak. Om is generally referred to Lord Shiva, father of Lord Ganesha. Modak is the favorite food of Lord Ganesha and therefore Modak is used to refer God Ganesha.
Mantras for Lord Ganesh
There are Mantras to worship different lord of Hindu. There are different mantras used to worship different lord. To worship Lord Ganesh, the following mantras are there.
Oṃ Shri Gaṇeśāya Namaḥ
Oṃ Gaṃ Gaṇapataye Namaḥ
Interesting facts about Ganesh
There are many interesting facts about Lord Ganesh that you probably didn't know. Below given are some of these facts that you should know.
All of these facts were taken from the ancient sayings or Puran.
1. Most probably Lord Ganesh is worhshipped on all the occasional alone. However, there is only one festival when Ganesh ji is worshipped along with his entire family. The family includes Lord Shiva (Mahadev), Goddess Parvati, his brother Lord Kartik, as well as Goddess Lakhsmi and Goddess Sarasvati. The occasion is Durga Pooja. This is for Goddess Durga, she is an incarnation of Goddess Parvati
2. Tulsi plant is considered as a holy in almost all the Hindi Rituals. Although, when Lord Ganesh is involved, Tulsi plant is never involved along with it. This is because of the curse of Tulsi to Lord Ganesh when Ganesh ji refused for marrying her.
3. All of the Hindu deity are attached with animals as vehicle. This vehicle 'vahana' is the main mode for transportation. Ganesha uses mouse and it represents that it is one's duty to control the ego and stay on the ground.
4. Lord Ganesh is worshipped before doing any work because when the elephant head was given to the lord, the Gods declared that all the prayers should be precede by his prayer.
5. It is believed that Lord Ganesha's stomach has the entire cosmos. Therefore, s anake is seen tied around the body of Ganesh. Snake is symbolizing as cosmos energy.
6. Ganesha is the original writer of  Sage Ved Vyasa has chosen Ganesha as scribe because no one else had enough amount of wisdom to take the entire monumental task of ancient wisdom.
7. The physical and the body color of the Holy god is green and red. This is shown in Shiva Maha Puran. This is the reason you can will see these colors when you check some of the photos of lord and you will also find the same in statue of Lord Ganesh.
8. It is a written in Ganesh Puran that the Muladhar chakra seen on human body is also called Ganesha.
9. When Mahadev was about to destroy Tripur. There was akashvani just happened which said until the Lord Ganesh is worshipped, Lord shiva won't be able to damage Tripur. That is when Mahadev called Bhadrakali and there was Gajanan Pooja held. Therefore, the battle was won by him
10. First Ganesh has human head instead of having an elephant head. When the head was cut from the body, a baby elephant's head was put on him to bring him back in the life. This shows why he has Elephant head.
These were some of the lesser known facts. Now, you will be knowing a lot more about one of the most worshipped god, Lord Ganesha. Make sure you remember all of these facts when you worship the lord when doing your next puja.