As the name suggests that Jantar Mantar means calculation instruments. It comprises of two separate words such as Jantar means instruments and Mantar means formulas. This Jaipur observatory is amongst all the five and listed as the UNESCO world heritage site. It attracts numerous visitors every day.  It contains fourteen major geometric machines, which were made of concrete. These devices were used in olden days for calculating the position of stars, moon, planets etc..
This astronomy observatory is rejuvenated and new devices are found so far.  Do you want to know more about this magnificent astronomy center? Just scroll down the article to know about history, architecture, timings and interesting facts about this ancient made astronomy observatory.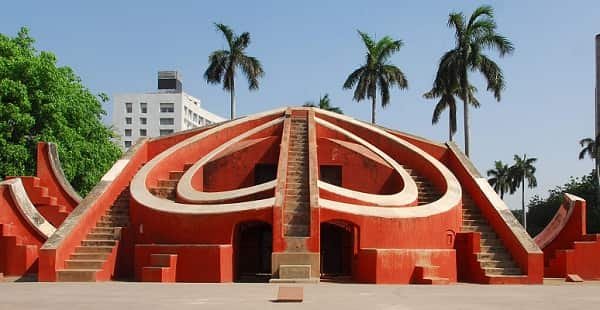 History
Jantar Mantar was constructed by the Maharaj Jai Singh of Jaipur in the year 1724. It was a small astronomical center once and it had small astronomical instruments which were difficult to take correct measurements. So, he built massive astronomy observatory which provides more accurate instruments.
Have you ever thought how ancient people had in-depth knowledge of the position of sun, moon, Amavasya, Poornima etc..? Despite no effective instruments were there, people were fully aware of this celestial event and the position of sun and moon with great accuracy.  The best example is the Jantar Mantar in India. It compromises of five major observatories built in Varanasi, Mathura, Ujjain, New Delhi, and Jaipur.
The history of this great Jantar Mantar traces the history of our traditional interest of India. It is an astronomical observatory in Delhi and is constructed by King Sawai Jai Singh II. Being located in the Sansad Marg, Jantar Mantar becomes the attractive tourist destination that attracts a lot of visitors across the country. The great king Sawai Jai Singh had a strong passion towards the astronomy related things and which is why he constructed this miraculous astronomical observatory in Delhi. Every day, Jantar Mantar is surrounded by a number of visitors and it contributes a lot to Tourism.
Location: located in Parliament Street in Connaught Place.
History:  Founded by Sawai Jai Singh II.
Architecture
The art and architecture simply reflect the scientific knowledge of our country. Not just Indians, this great astronomy observatory is being visited by the huge number of foreigners every day.
Nearest Shopping Venues: Connaught Place, Janpath, Palika Bazaar, Central Cottage Industries Emporium
Nearest Metro Station: Connaught Place
Nearest Airport: Indira Gandhi International Airport
Nearest Railway Station: New Delhi Railway Station
 Jantar Mantar stands as a good proof for the scientific knowledge in India.  It is also located in Varanasi, Ujjain, Mathura, etc. this center is built in response to the thirst and craves for the scientific knowledge of Indians. Tourists who visit Jantar Mantar also visit the nearby tourist's center of Jantar Mantar.
Interesting facts about Jantar Mantar
Although the Jantar Mantar boasts numerous devices, there are seven main devices out there that grab huge attention.
1. Samrat Yantra
it is the most prominent variation that kept inside this great observatory. It contains a triangular gnomon.
2. Jai Prakash Yantra
Next, to the Samrat Yantra, Jai Prakash Yantra is the most beautiful one. The mantra is used for calculation of sun's position along with several other heavenly bodies. This most beautiful yantra is the favorite device for most kids today. Jai Prakash Yantra was designed by Jain Singh. It is in hemisphere shape that attracts the mass.
3. Digamsa Yantra
Digamsa stands for Azimuth and therefore this yantra is also known by the name of Azimuth Yantra. The Digamsa yantra is less complex than the Rama Yantra and Jai Prakash yantra. It is used to measure the Azimuth of any type of celestial object. The design of this yantra is simple and was built to offer precise azimuthal readings in reference with Rama Yantra. The only and the main purpose to build Digamsa Yantra was to complement Rama Yantra.
4. Ram Yantra
Have you ever heard about the Ram Yantra? It is in a circular structure and boasts a tall pillar in the middle. Ram yantra is popularly used for calculating horizontal and vertical angles.
5. Misra Yantra
Misra Yantra is much popular yantra and is a combined instrument, which is located to the northwest of the Ram yantra. It contains many small instruments and it looks similar to the stylized namaste form that we India usually greet others. The Nita chakra of this Misra yantra indicates Zurich, Greenwich meridians.
6. Dakshinottarabhitti Yantra
Next to the Misra Yantra, Dakshinottarabhitti Yantra is the biggest instruments among others. Acquiring the meridian altitudes were difficult those times and thus it is specially designed with high-quality materials to obtain the meridian altitudes.  The appearance of this yantra symbolizes the entry of the sun in cancer constellation.
7. Agra Yantra
Is found to be the amazing instruments in the center. It is located on the west side of the building. Although the instruments seem to be big, we don't know for what purpose was it used.
8. Yantra Raj
It has a disc made of seven alloys. The size of this disc remains the same for all season. However, it is used to calculate the various planetary position. It is also used to determine the exact timings of solar and lunar eclipses.
Jantar Mantar Delhi Timings
Jantar Mantar is located at the parliament street near Connaught place. Visitors can reach the center between 9 am to 4.30 pm daily. It is the best tourist destination for kids and families. If you would be interested to observe the scientific facts behind these ancient made and outdated machinery, this Jantar Mantra is just for you. You can reach this place even during the summer seasons as this observatory is open for visitors of any country. It doesn't seek fees for its maintenance.