Top 10 Best White Wine in India with Price
Someone has said it absolutely right, without white wine life would be more or less, tea with no sugar. I am sure most of you reading this will relate to the above-said statement, isn't it? Well, the reason is simple, who doesn't like an escape from the cruel world by drinking a glass of rich white wine? Not just for the feeling of being drunk, but wine is actually good for health as well and it sure does add sophistication to you.
Given all these benefits how could you say no to a glass of best wine in the world? Well keep reading to discover top 10 white wines in India
10. Reveilo Late Harvest Chenin Blanc
The traditionally created Chenin Blanc made white wine is a little above divine for its heavenly taste. The winemaker explains how its making has changed not even a bit, but they have been adding newer botanical items to ensure its taste gets better with a gist of its traditional, signature flavor. This savory white wine is made of Chenin Blanc category of grapes which are first dried off and later fermented in American barrels which are responsible for its spiciness. Dry figs and honey add to the aroma of this white wine.
9. Fratelli Sangiovese Bianco
We Indians should be drinking this White Wine, for it is a proud reproduction of Indian and Italian flavors. The very name of Fratelli means- Brothers, which signifies that Indians and the Italians came together to cultivate this heavenly white wine. It is cultivated in India, Solapur of Pune where the vineyards of the Sangiovese grapes are grown. Its alcohol percentage is as high as 13.5% which ensures that you have a good time partying with your friends while staying sale.
8. Vallone VIN De Passerillage
If you believe in love at first sight, if not then it is time to start believing because I can guarantee that one need not taste this wine but only one look can make you fall in love with it. Its super classy and heavenly looking wine bottle has our hearts and eyes to it. As for the taste, it is like a holy water that looks perfect on the outside and tastes heaven on the inside. Its taste is that of a blend of lusciously sweet honey flavored white wine. It has a gust of vanilla in it, too which adds to the refreshing feeling in it. Its label says, Dessert Wine, and it is kind of true as well for it goes perfectly for an adventure seeking person.
7. KRSMA Sauvignon Blanc
The Sauvignon Blanc categories of grapes are rarely used grapes in India. The KRSMA is one of the rarest brands which manufacture white wine made of these Blanc grapes. It is only safe to say that the KRSMA White Wine is one of the finest that you will ever get a fortune to drink. This is a fruity white wine with a hint of cloves to add spiciness and flavor. Well, there is absolutely nothing about the KRSMA white wine that we wish to change. Thanks to the KRSMA estate in Hampi of Karnataka from bringing into existence this god gifted white wine. Any food will complement this white wine greatly, be it red meat or vegetable curry.
6. York Chenin Blanc
As the name might suggest, the York Chenin Blanc White Wine gives away the vibes of sophistication and perfection. Thanks to the York Chenin brand which is a one of a kind white wine brand in India in multiple ways. For starters, it has a barrel storage capacity of 6000 sq. meters which are the maximum that any wine production company has. The tank halls har scientifically built of different angles and heights in order to levitate the gravity flow automatically without the use of manual pumps. Given this information on the making of this white wine, its taste is as unique as its making. Its fruity flavor is amazingly balanced with the touch of spiciness of that of cloves and vanilla.
5. Charosa Viognier Reserve
If you are a true fan of white wines, you will know that unlike Red wine, the white wine usually has softer flavor and less stinginess in the throat. Having talked about the softness of a White wine, the Charosa Viognier Reserve white wine is the softest ever created white wine in India. Its bottle, on the other hand, has a black glossy look which gives away the feeling of strong flavor and bold textures. We love how balanced yet savory its flavor is. The Reserve white wine complements your regular snacks like Pasta or lasagna real well. It can add fun to your otherwise boring food.
4. Vijay Amritraj Viognier
This is a grape fermented white wine, which also happens to be the only French permitted grape cultivated White wine in the Rhode Valley. Just as the Vijay Amritraj wine is served to you, without even tasting its aroma reaching your nostrils will giveaway it's tales of refreshing flavor and unique texture. Its fruity aroma yet creamy texture will leave you spellbound and breathtaking. The creaminess in its texture has several variants like it gets greasy in the mid palette but almost dissolves away. The best thing about this classic Viognier is that it complements the Indian cuisine, veg or non-veg, perfectly.
3. Sula Riesling
If your best wine hasn't shown up yet, the Sula wine is your perfect match. It is as mysterious as yourself and as curious as you are for finding your perfect wine. The wine is almost magical for it has an acidic texture in spite of growing in the warm climates of Nashik. If you were to believe its fans, they actually drink it with soda and eat spicy tasting food with it.
2. Reveilo Chardonnay Reserve
If you were imagining something exotic on the runners-up position of our list then you were right. Backing up the second position is the Reveilo White Wine which, first of all, is the very few oak-barrel-aged white wines in India. The obvious heavenly aroma and velvety texture is a result of its aging. Given its level of finesse, hardly anyone can say no to the Chardonnay Reserve white wine. Drink it with gluten-free cakes or vegan food, even red meat or fish fingers; you will enjoy every single sip of it.
1. Fratelli Vitae Chardonnay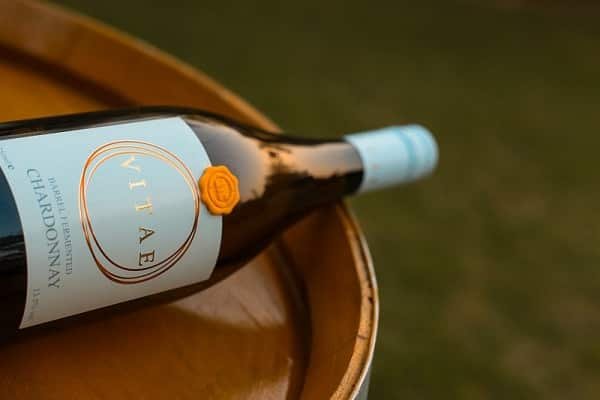 On the top of our list is this beautiful looking, medium bodied white wine which has the audacity to woo your mind and body with its mere aroma. The Fratelli white wine has a velvety texture that gives an intense palate. Its fruity yet toasty flavor will keep you captivated by its taste for the longest of the time. Its burgundy style is most loved by the consumers.