Top 10 Best Treadmill Brands In India
Health has become the priority for each and every personality now days but the problem is that now in the busy schedule people are not getting time to exercise and going to gym. But you don't worry now as you can prefer to have gym equipments at your place so that you can exercise regular. The best domestic equipment for workout is treadmill as a person can walk and do jogging on it which is good for health and helps in staying fit.
Let me introduce you with top 10 best treadmill brands in India with price 2017 so that you can grab the one that easily suits you:
10. Stayfit i3
Stayfit is present in the market from last 18 years and is serving the fitness good quality among the products. It is the motorised treadmill i3 which has 2.65 hp of continuous motor power which provides 1-13 KM/HR. It also has 13 preset programs in different model as it comes in 2 models and other has LCD display with soft cushion deck, easy foldable design and incline at 3 levels. Its market best price is 42,490.
9. Cosco (SX series)
Cosco is the sport gear firm which offers with wide range of treadmill. They offer with both the option of treadmill that is motorised and manual with premium quality. The company is present with SX series of treadmill which is very popular and is well equipped with the D.C. 2.0 hp. The motor is giving the speed of 1.0-16 KMS/hr with features like cushioned deck, LCD display and motor incline up to 15%. It has the capacity of caring the user weight is 120 KG. The best price of this that you will find in market is 63,000.
8. Sole fitness F63
It is the treadmill that is manufactured with best components and it has best fitness feature equipments. The treadmill has strong continuous motor duty of 3.0 hp which gives the speed of 12 mph. It is present with 6 preset programs with color LCD display, cooling fans and large stop watch. If you buy this treadmill then you will enjoy 5 years of warranty that is offered by the company. The best price of this that you will find in market is 92,699.
7. Kamachi Treadmill
Kamachi is the most popular sports brand as it manufactures with many sports equipments along with treadmill. The brand offers you with 4 in 1 manual treadmill which is well equipped with stepper, twister push up bars and running platform. You will also find different level of adjustments for incline. The electro treadmill meter displays with distance, time, speed and the burned calories. This equipment is easy to store and carry and it is light in weight. The best price of this that you will find in market is 12,866.
6. BH Fitness (Bt6441t 100)
It is the treadmill that comes in the run and plug technology. It has the exclusive controller triangle in shape with three levels of incline. You can also listen music while jogging on it has built in speakers when you are connected to line in connection you can listen. It also has many additional features like: footrest in anti slip side, cylinders for foot paddles, quick key controls, multi cushion and shape stand post. The best price of this that you will find in market is 46,000.
5. Afton M5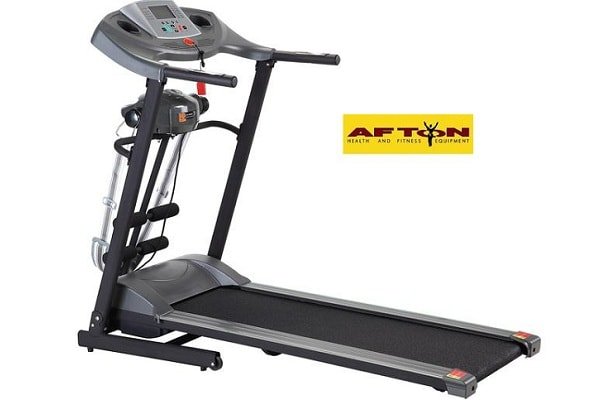 This is the treadmill which has 4 in 1 motor and is made with material high density and this equipment is durable and you can buy easily. This treadmill has many features which include 1.75 hp and also they it offers the speed 0.8 KM/HR. It has power incline and LCD display so that you can easily observe the workout and maintain your fitness routine. It also provides the preloaded 12 programs. This brand offers you the warranty of 1 year on the equipment. The best price of this that you will find in market is 37,999.
4. Aerofit Treadmill
This brand offers you the treadmill in wide range and this equipment is best rated as it is having motor of continuous duty of 3.0 hp. It has many features installed in it and it has LCD display in which you can notice workout speed, distance, pulse, calories, incline, time and along with it has 19 programs. This treadmill is made of high quality material and is easily available in the market with the best price 46,334.
3. Kobo Treadmill
Kobo is the fitness brand that is leading in equipments of fitness and brand also offers with treadmill which is motorised and comes with D.C. motor of 2 hp. It is also occupied with many features like: manual include up to level 3, rubber cushion and LCD display with many different programs of workout with safety lock system and grip pulse sensor. The excellent feature of this treadmill is that it is easy to carry as it is foldable cylindrically. The best price of this that you will find in market is 21,793.
2. Fit24 Fitness (3 HP Peak)
It is the treadmill that is occupied with features of high technology as it si the most popular and high class equipment. This equipment has many features installed in it like: speed, calories, distance, 3 user program setting, and time and pulse rate along with that. This is the equipment that is smart looking which is perfectly designed with fibre and iron material. The motor installed in it is noise free with the continuous power of 1.5 hp and it gives the perfect speed up to per hour of 0.8 to 14 KMS. The best price of this that you will find in market is 24,541.
1. Reebok (ZR11)
It is the leading brand in the fitness equipments and it manufactures with high quality treadmill which is well equipped with many great features which includes continuous duty motor, zigtech cushioning and incline level up to 16. It has many highlighted features with backlight LCD display, speakers input of MP3, cooling fan and control volume buttons. You can also track for calories, distance and heart rate and it has the motor 2.5 hp and it has the 18 kph top speed. The best price of this that you will find in market is 84,999.
So these above mentioned are the best treadmill brands in the country which can help you in staying fit and healthy throughout the year.