Top 10 Best Schools in Noida
Looking for the best school that might fulfill your child's need for the best learning environment?
Hoping to enroll your child in a distinctive school that ensures the best learning outcomes?
Then, you are to get through the following detailed list of the top ten best schools in Noida just to have a perfect, complete idea that could help you make the proper decision.
10. Kothari International School
Kothari International School was established in 2005. The school is located in NOIDA. It is a Private School managed by Sharda Mansukhlal Kothari Charitable Trust. Itintends to provide a dual curriculum based on international teaching standards. The most interesting characteristic is that the school integrates the curriculum of the Central Board of Secondary Education of India with the national Curriculum for England.Once you enroll your child in this school, you will feel you most satisfied.
Facilities: For education; Library, Laboratories, Art Rooms, Music Rooms, Dance Room, Computer Labs, Toy Room. For Sport (Indoor & Outdoor); Swimming Pool, Tennis Courts, Basketball Court, Cricket Ground, and more.
Address: Kothari International School, B-279, Sector 50, B Block, Sector 50, Noida, Uttar Pradesh-201301
Phone Number:0120-4082430, 9818548495
Website: http://www.kotharischool.edu.in/
9. Somerville School
Somerville School was established in 1987 by the Lott Carey Baptist Mission in India. Although it is an unaided Christian Minority school,it is available to children of all communities. The school persists in utilizing hi-tech devices integrated in its curricula, which makes it one of the most well-known schools in Noida. The medium of instruction is English.
Facilities: chemistry lab, physics lab, biology lab, computer lab, psychology lab, mathematics lab, fully air conditioned auditorium, spacious gymnasium, art rooms, library, and more.
Address of Main Branch: D-89, Sector- 22, NOIDA, Distt. Gautam Buddh Nagar, Uttar Pradesh – 201 301, India
Phone:+91 – 120-2415050, +91 – 120-4214595
Website: http://www.somervillenoida.in
8. The Khaitan School
The Khaitan School was established in 1995. Now it is extended over more than six acres of a lush green campus providing ideal learning environment which helps students enjoy their learning process the best. Moreover, its greenish surroundings in addition to its developed infrastructure provide a motivating atmosphere that helps development of your child. The school adopts the motto: Today's readers are tomorrow's leaders. Sports are an integrated part in the curriculum.
Facilities: laboratories, visual arts, performing arts, large library, auditorium and AV hall, gymnasium, and more.
Address:1A/A, Block – F, Sector 40,Noida – 201301, U.P.
Phone: +91-120-400-7575, +91-120-257-7093
Website:  http://thekhaitanschool.org
7. Ramagya School
Ramagya School is a Coeducational Day School with classes from Nursery to Class XII. Its teaching/learning medium is English.It is a private school fully equipped with particular activities that can rejuvenate your child's mind.The prescribed curricula are intended especially to enhance children's multiple intelligence.The school works to engage students intellectually, creatively, physically, spiritually and socially to bring a positive change in Indian society.
Facilities: spacious physics lab equipped with more than 70 devices which assist students to carry out their experiments in a state-of-the-art environment, biology lab, math lab, and more.
Address: E-7, Sector 50,Noida
Phone: +91-8010333555 /9540922689
Website: http://ramagyaschool.com
6. Bal Bharati Public School
Bal Bharati Public School's aim is to provides learning environment that helps students shine in their learning process, and develop intellectual abilities and skills that prepare them to serve their society properly. The school pays a great attention to harness its students with deep learning experiences that pave the way for them to be the future scientists who will do their best to develop their country. Therefore, it integrates both sports and new technology to educational curricula.
Facilities: chemistry lab, physics, biology lab, transport, well-equipped library, awimming pool, basketball court, tennis court, and more.
Address: Bal Bharati Public School, NoidaSector-21, Noida, U.P.
Phone Number:0120 – 2534064, 0120 – 2538533
School Website: http://bbpsnoida.balbharati.org/
5. Sarla Chopra DAV Public School
Sarla Chopra DAV Public School is one of the pioneers of Public School Education, established in 1985.It has been ranked as the Top Leader as per Times School survey-2017. The school aims tohelp the child pursuit knowledge. The school also aims at building integrated and wholesome personalities equipped with the 21st century skills..The motto of the school is to promote a well-balanced and holistic education based on "VEDIC CULTURE", which could enhance students' learning abilities, and achieve the required learning outcomes.
Facilities: music and dance room. art room, laboratories, media hall, library, activity hall, Disney Land, splash pool, canteen, smart classes, and more.
Address: A53A, Sector 56, Noida, Uttar Pradesh
Phone: +91 120 425 8052
Website: http://davnoida.org/
4. Delhi Public School
If you are looking for the best school for your kid, then Helhi Public School (DPS) in Noida is what your kid really deserves. The school's motto is "Service before Self". It tries hard to provide value-oriented Quality Education, focusing on National Integration. Hence, it could develop its students' personalities to be more scientific and knowledgeable. It emphasizes quality education that gives out the best learning outcomes. The school is committed to improving its quality management system.
Facilities:sprawling over 60 big has, with approximately 75% of open space, spacious airy classrooms, well-equipped science labs, library, ample facilities for sports and the like, dance and music rooms, and more.
Address: Sector-30, Noida, Uttar Pradesh 201303
Phone:+91 120 450 9100
Website: http://dpsnoida.in/
3. Apeejay School
Apeejay School was founded in 1981 by the great visionary Dr. Stya Paul. Although its beginning was fairly modest, it has recently become one of the best schools that has a large number of enrolled students. It could also develop itself with high academic standards. Its history has proven its glorious development and growth in a way that makes parents feel proud enrolling them in the school classes.
Facilities:situated in a sprawling 15-acre campus, in a lush green environment; laboratories, library, auditorium, swimming pool, science park, and more.
Address: Film City, Sector 16A, Noida-201301
Phone:  95120-2515141, 95120-2515143
Website:http://www.apeejay.edu/noida/
2. Lotus Valley International School
Lotus Valley International school is a real gift to your gifted kid. It is the second top best school in Noida. Its campus is designed particularly to provide an ideal learning environment for its students. It persists in recognizing every student's potential and equip them with opportunity to foster their exceptional abilities. The school also does its best to become a unique institution that can supply its students with a profound ground of attitudes, values, and skills.
Facilities: classrooms that stimulate students' minds, different laboratories, cafeteria, state-of-the-art amphitheater, and more.
Address: Sector-126, Expressway, Noida, Uttar Pradesh 201313
Phone: +91 99109 62228
Website: https://www.lotusvalley.com
1. AMITY International School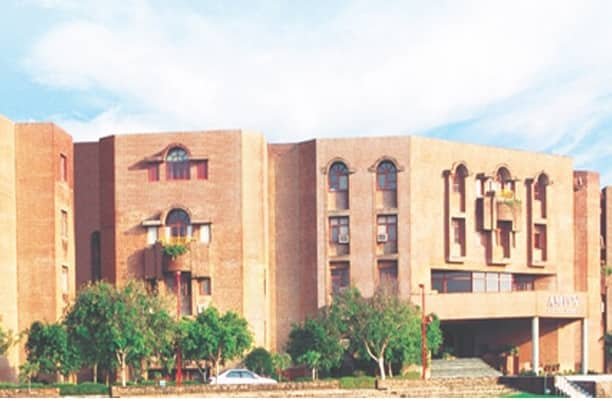 On top of all best schools in Noida comes AMITY International School.It was established in 1994.  It is a Private School managed by Ritnand Balved Education Foundation (RBEF).Amity is one of the top most progressive schools in India. It could make its brand via its fabulous achievements in academic niches. One of the aims of the school is to make India a super power by the year 2030. Nowadays, Amity has become a well known senior secondary school.
Facilities: science activities lab, physics lab, biology lab, chemistry lab, biotechnology lab, computer lab, digital language lab, maths activities lab, and more.
Address: Amity International School Sector-44, Noida-201303-Uttar Pradesh
Phone:(120) 4399000
Website: http://www.amity.edu/ais/noida/
India is full of high-end, advanced schools, but the above mentioned schools have a special reputation that makes them on top of almost all other schools particularly in Noida. Having a clear idea about these schools' facilities and methodologies, you can now choose the best one for your kid.