The best cities in one country are always marked by the best educational institutions. Bhopal is one of those cities that are still dazzling everyone with their institutions which are known for highly resourced classrooms and well-educated instructors and administrative staffs.
Therefore, if you are enthusiastic about looking for the best schools that permanently cling to the latest educational technology, the unique, well-equipped classrooms, the most compatible teaching/learning methodologies, and more, then do not hesitate getting throw this article.
You will be provided with the most important information for each school.
10. The Sanskaar Valley School
It is well known that The Sanskaar Valley School is a co-educational, day boarding- cum- residential school, a non-profit institution that provides inspiring and encouraging teaching/learning environment. It is established on a wide campus that can offer the best facilities that participate in enhancing learning outcomes. Its staffs do believe that learning is the most powerful weapon which students can use to change the world.
Facilities: the academic blocks, smart classrooms, sports fields, swimming pool, hobby centers, dining hall and kitchen, amphitheater, infirmary, science, computer, language and subject laboratories, library, indoor sports complex, staff residences and the guest-house, form functional clusters of care and safety.
Address:The Sanskaar Valley School Chandanpura, Bhopal- 462016
Phone:+91-8889533346, 8889533347, +91-8889533348, 8889533349
Website: http://www.sanskaarvalley.org
9. Billabong High International School
Billabong High International School is basically intended to enhance its students' high thinking skills through utilizing the latest technology and multi-media. It also works to recruit the most skillful teachers who work as aware facilitators for their students' learning in an interesting environment. They are keen on encouraging students to become confident, optimistic, and open-minded through harnessing them with global-related experiences. By learning at Billabong High International School, students will get prepared for facing life challenges consciously. Billabong is known for its unique methodology and exclusive results.
Facilities: well-equipped library to develop students' reading skills,vocational training programme at early levels in the school years, Modern Teaching Systems and Aids Unique assessment tools in the classrooms, Computer Lab with Internet facilities, well-equipped Physics, Chemistry and Biology labs, Cafeteria and more.
Address: Beyond Bhabdhada, Neelbad, Bhopal – 462044
Phone: +91-755-2696799/818-6457555/666
Website: billabonghighschool.com
8. Sagar Public Schools
Though almost newly established (in 2001), Sagar Public School (SPS) has taken wide strides ahead of many other schools. Moreover, due to its attitude towards providing high-skilled students who can fulfill all the market requirements, it now has an enrollment of over 5000 students, which makes it distinguished by being one of the largest schools particularly  in central India.
Facilities: Music room, carpentry room, computer lab, social science lab, library, hands on tools, latest computer systems and programmes are established just to support integrating the curriculum with technology. Tata Edge is another step.Self development programmes like yoga, exercises, sports, recreation and culture travel are utilized to maximize students' potential.
Address: Saket Nagar, Bhopal, Madhya Pradesh, India
Phone:0755 – 2489601, 2489602/ 0755-6543942,6450516/ 7771003569, 7697700300/ 0755-2896711, 9893490675
Website: http://www.spsbhopal.ac.in/
7. Gyan Ganga International Academy Bhopal
Gyan Ganga International Academy is one of the most well-known schools in Phobal. It utilizes unique methodologies that tend to prepare students to achieve personality development to become aware responsible citizens. The academy saves no effort to provide students with required virtues like self-discipline, sense of duty, enthusiasm and moral and spiritual attainments.The school curriculum is built up to help students explore and take advantage of new experiences.
Facilities: The campus is remarkably conspicuous. It is situated on a seven acre plot of land with open surroundings in a healthy, beautiful and congenial environment amidst lush green, which offers students a compatible learning environment.
Address: Mandideep Road, Ratanpur P.O. Misrod,Bhopal – 462026
Phone:91-755 4023900, 4077710, 4077720
Website: http://www.gyanganga.net/
6. The Bombay International School
The Bombay International school is a higher secondary school that upholds a high teacher-student ratio to guarantee distinctive learning environment. The school encourages students to take on responsibilities of  sharing in the organization of some specific school events, and links such events to extra curricula, which could participate in developing their personalities.
Facilities: The Bombay International School campus is spread over acres of land in Babulnath area of Mumbai , Maharashtra state. It is equipped with a good infrastructure to support the academic learning in classrooms. It has a lunchroom in the school, library, labs and computer rooms. It also includes facilities for indoor physical activities such as yoga, physical education, and gymnastic.
Address: Gilbert Building, Babulnath 2nd Cross Road, Mumbai 400007
Phone: 91-22-2364 8206/ 2368
Website: http://www.bisschool.com/
5. World Way International School
World Way International School was established in 2004. It is co-education English medium affiliated to CBSE, New Delhi. The school does its best to empower its children reach the required development through distinctive teaching/learning strategies.Its teaching and administrative staffs believe in personalizing the learning process by facilitating each child with congenial and nurturing environment.
Facilities:The school campus covers acres of lush green valley, free from noise and air pollution, which offers a better learning environment.
Address: E-8 Extension. Near Aakriti eco city, Rohit Nagar,
Phase 2,Bhopal-462039
Phone: 0755-4924342,0755-4276668
Website: http://www.worldwayschool.org/
4. Mount Carmel School
Mount Carmel School is renowned as one of the leading educational institutions in the country. Itsteaching and administrative staffs are working hard to enhance integrity, discipline, and superiority. Once your child join the school, you, as a parent, will discover that it is a great one. It focuses on integrating the latest technology in students' learning, which makes it more enjoyable.
Facilities: The school has English lab, computer lab, art and craft lab, music room, toy room, library, duck pond, and other facilities that make the children's learning a source for fun.
Address: Baghmugalia,Bhopal -462043 (MP)
Phone: 0755-2481118
Website: www.mountcarmelbpl.com
3. Maharishi Vidya Mandir
Maharishi Vidya Mandir in Bhopal is one of a group of schools recognized as the best schools in the country. It has been established to introduce Maharishi's Consciousness-based Education in the main stream of education for the holistic development of an individual's personality. It is famous for its distinguished utilization of the latest educational technology.
Facilities: Maharishi Vidya Mandir facilities ensure hygienic living conditions and modern amenities. The hostel has a well furnished study room where resident tutors closely supervise studies every day.
Address: Maharishi Vidya Mandir, Ratanpur, Hoshangabad Road, Bhopal, Madhya Pradesh – 462026
Phone: 0755 4000626 , 564704 0755
Website: www.bhopal1.maharishividyamandir.com
2. Delhi Public School
It is well known that Delhi Public School Bhopal has been awarded as "Best School of Madhya Pradesh" by Federation of Madhya Pradesh Chamber of Commerce and Industries, Bhopal. Moreover, due to its unique application of both new technology and teaching/learning strategies, it has even recently gained more popularity.
Facilities: The school has academic, sports, extra-curricular, medical, and transport facilities that make it on top of other schools that pay thorough attention to such domain.
Address: Delhi Public School,Near Neelbad Crossing, Bhadbhada Road
Bhopal (M.P)
Phone No.: 0755-3025200
Website: www.dpsbhopal.org
1. Campion School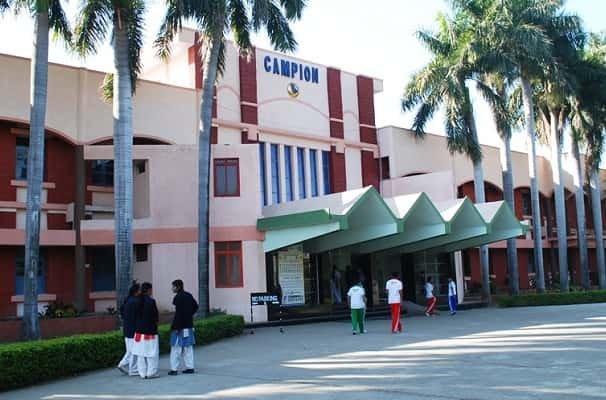 Campion School is recognized as the best popular school all over Bhopal. It was established in July 1965 by the members of the Society of Jesus commonly called the Jesuits.The Society of Jesus, a Roman Catholic Religious Order has been active in the field of education throughout the world since its foundation. It is providing quality educational service all over India reaching out to all age groups of the people.
Facilities:  swimming pool, gymnasium, educational tours, basketball and volleyball courts, soccer and hockey fields, music rooms,cafeteria, medical check-up facilities, and more.
Address: E/7, Arera Colony, P. B. No. 2 Bhopal (M.P.) 
Phone: (1) 2464426 (O)  (2) 2464404 (R) STD Code:  0755
Website: http://www.campionbhopal.com
Bhopal has multiple well-established schools, yet these top ten ones are the most distinctive, having various extra-curricular activities and more developed and modernized teaching/learning strategies and methodologies.