A cluster of over 2000 islands located in Indian Ocean which lies southwestern region of India and Sri Lanka is the famous holiday destination – Maldives. The South Asian Island Maldives is officially known as The Republic of Maldives.
It is the most preferred travel destination because of its beauty, sprawling beaches, exquisite sights and freshness it provides to the travellers. There is practically so much to experience and explore therefore it is not an ordinarily usual beach hideaway.
This entire archipelago can be seen scattered through the bluish-turquoise sea. The mind-blowing sights of gorgeous beaches of the northerly islands to the basic sea cottages and fishing communities of the southern atolls will simply make you fall in love with this exotic place.
Best time to visit Maldives is dry season between November and April.
Let's explore the places which you can plan to visit on your trip to Maldives.
10. Gan
Predominantly recognized for the second-largest airport in the whole Maldives, Gan was earlier a British airbase. It is now becoming a popular place for tourists because it is not explored as yet due to its connection with military. This place has awesome fish joints and small expanses of glittering sand which is not occupied by visitors. You can have a good lone time in this place.
9. The carnival beach
Also known as the "Artificial beach" and positioned in Northern island of Malé. It is the favorite hangoutplace for swimming fanatics. You can indulge in to water sports and peaceful walks across the beach. As per the native law, there are some constraints on attires and outfits. The sunsets here are musical. You can check out Manta Point, Kani Corner and Shark Point as these are the major attractions of this place.
8. Fihalhohi Island
A perfect getaway if you are planning your honeymoon. It is one of the most eye-catching and stunning places to spend your time with your loved one. It is exquisitely bounded with shadedpalm coconut saplings and immaculate coastlines. The clear waters give an illusion of floating in air. It is dreamy and peaceful. You can visit Rannalhi and Rihiveli beaches and Fihalhohi Island Resort.
7. Hulhumale Island
It is the chief doorway to most of these dreamy islands because of the Velana International Airport. It is located just across the capital city of Maldives, Male, it is known to be the abode of extensive metropolitan cities. You can visit the beaches and can also experience delicate blossoms all along. One of the major tourist attractions is the Hulhumale Mosque, which is situated on the border of the Island. It was built in 2006, very beautiful, intricately designed, and has a glass roof and a huge golden dome. It is very different from the other customary worship places of Muslims.
6. Veligandu Island
Located in the northern Ari Island, this island is rationally small but still has its own charm for the travellers. It is the home to Sparkling clear waters, romantic sunsets, amazing shoreline, gorgeous greenery and lavish bars to enjoy cocktails. It is one of the favored destinations for the newly-weds as there are a number of luxurious seaside suites and villas. You can also indulge in snorkeling, diving and other water activities. The food here is just awesome and you won't be able to resist the delicious sea food served here. You can visit Velingandu Island Resort and Spa, go for fishing, scuba diving and snorkeling and the tours of the fishing hamlets.
5. Alimatha Island
This place promises some famous Scuba diving places. Positioned on the east side of Maldives, it is known for its sapphire and clear waters where you can indulge in water sports like diving, boating or snorkeling. You would also find some beautiful coral coppices that are a rage among the travelers. Immaculate beaches and luxurious cabanas, bars and restaurants, an Ayurveda massage center makes it ideal for family vacation as well as honeymooners. This place is known for night diving options too as you can see some beautiful jackfish, eels and morays. You can visit Miyaru Kandu, Alimatha Aquatic resort, Fotte Kandu etc.
4. Sun Island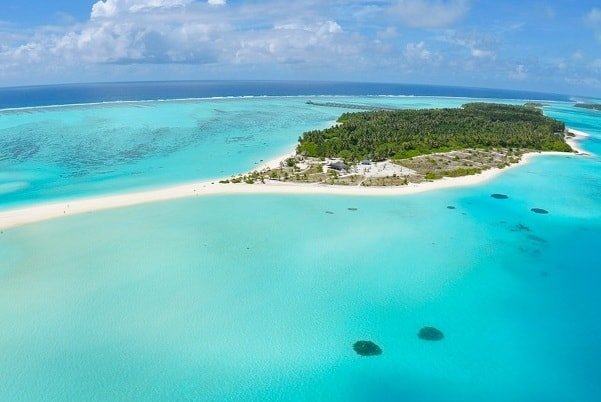 Sun Island in Southern Ari Island is also known as Nalaguraidhoo Island. It is an abode of spectacular shoreline, lavish and beautiful tropical greenery and plenty of travellers who just want to relax in the beauty of nature. It is a perfect getaway for honeymooners and newly-weds as it provides serenity and tranquility. The beautiful crystal clear sea shores and beaches and magnificent resorts promise the travellers a vacation that they can never forget. The best activities that you can do here are windsurfing, snorkeling, diving, Spa and Sauna.
3. Utheemu
It is the Northernmost Island of all the Maldivian island chains, resembling a little green jellyfish, positioned on the far northerlyspreads of the Haa AlifIslet;this beautiful place has a magnificent role in the olden times of this archipelago. Once upon a time, Utheemu was the abode of the well-regarded Sultan Mohamed Thakurufaanu. He was the leader who's recognizedas the one who drove the Portuguese invaders out from the islands by the end of 16th century.
But Of course, there are the sparkling silver sands and splashingwaves of Indian Ocean as typical to all Maldivian places;however there are a number of traditional sites like the Utheemu Ganduvaru, which is the stunning palace where the loved leader grew up. It is timber-built and has a beautiful tropical flora surrounding it.
Utheemu's size may be smaller than other islands but its historical significance is huge therefore making it one of the best places to visit in Maldives. The other places you can visit are Beach North Shore, Ancient Cemetery and New Mosque.  The best places where you can plan your stay are The Barefoot Eco Hotel, Amra Palace Laamu, JA Manafaru and J Resort Alidhoo.
2. Banana Reef
It is one of the preferred places for diving and one of the only places where you can put on a wet suit and Scuba Gear. It is globally known as the best diving sites of the world. The shape of this place resembles the banana hence its name. It is covered with beautiful many-hued corals and sea shores that lie between the islands of Northern Male. This place is known for the various species of unusual fish, caves, corals and cliffs. This is by far the best place for travelers who seek adventure as Banana Reef is a home for fish like Maldivian grubfish, squirrelfish, soldierfish, beautiful corals, exquisite cliffs and caves. Banana reef, as a matter is fact is the first diving spot for authorized diving and training. Best places that you can visit are Manta Point, Biyadhoo Island. You can do a number of underwater activities and Jet Skiing in the reef is a must-do thing in Banana Reef. You can plan your stay in Paradise Island Resort & Spa,Coco Bodhu Hithi and Adaaran Prestige Ocean Villas
1. Male
Capital city of Maldives, known for its markets stacked with spices and coconuts, people negotiating at the shops and a fanatic and wild aura.  It is seldom visited as most wanderers sidestep the city to be in their booked resorts. Though it has some beautiful and mindboggling sights. The places you can visit are the gold-tipped Islamic Centre, 17th-century Friday Mosque and most certainly the Spice-scented Male Market where you can test your bargaining skills.
Conclusion
The islands of Maldives are undoubtedly one of the best tropical places on the earth. It is up to you if you are looking indulging in the calm and serene places or crazy adventure sports.