A Limousine, popularly known as Limo, is a luxury sedan chauffeur driven car with a divider panel between the driver and the traveler compartment. It represent the heights of Luxury and is a wish of every person under the sun as it is a status symbol and of course this luxury car has outnumbered many other luxury vehicles. Passengers can sit back and enjoy the drive in this luxury sedan as you can add some of the finest features in this vehicle. When a limo drives by or pulls over or drives by, it is naturally understood that the person who owns and rides this sedan is filthy rich and rolling in heaps of money.
Limousines can be a very exorbitant investments. Their range typically starts from $100,000 to $300,000. However, they are such vehicles which can't be used on a daily basis. But still some people don't mind spending a much greater portion of cash in order to get it.
Let's check out World's top 10 most expensive Limousines models.
10. LAMBORGHINI AVENTADOR STRETCH LIMO (Price – Unknown)(Not valuated)
At number 10 we have this Limo Lamborghini Aventador Stretch which is most recent limousine. It was made in the year 2013 and has great capacity, power and range. Company offers Lamborghini's 6.5 liter V12 engine which means about 700 horsepower can be pushed. This is a limited edition model and has amazing features like Plasma TVs, iPod Hookups, Champagne bar and L Shaped Couch. On top of all this, it has not been released yet but surely its huge price tag will be another feature which makes it all the more attractive.
9. MERCEDES BENZ S-600 PULLMAN (Price – $1 Million)
Mercedes has always been a luxurious brand of automobiles in the world. The price of this luxurious sedan is high enough and its powerful engine, sophisticated design and huge size is showcased in a number of car shows in the world and all these features combine to make its price soar high. This was released in 2015 as the substitute of Maybach 62. Its price is set at $1 million.
8. THE MILLION EURO MINI (Price – $1.35 Million)
The Million Euro Mini is owned by prince Regina Abdurazakova of Kazakhstan. Itis most expensive Euro Mini and comes in Pink Color. This car has some amazing features and facilities as 70 TFT monitors, 20 parking cameras, 30 parking sensors and 47 inch TV. The most interesting feature is that this car is covered with 1 million Swarovski crystals, every wheel of this huge car has a big crystal of 8 centimeters and window films are prepared ofpure gold of about 50 grams. It definitely sounds like a Million dollar car.
7. MAYBACH LANDAULET (Price – $1.4 Million)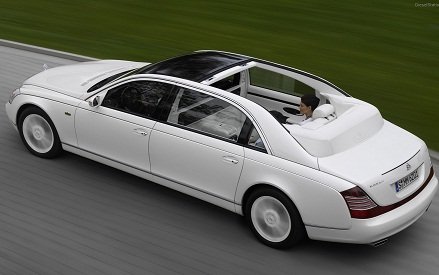 At number 7 we have Maybach Landaulet which is yet another best designed and most luxurious Mercedes Benz model. The features of thisvan includes white leather fittings with granite inlays sprinkled with Gold, 62S 612 horsepower bi-turbo V12 engine and folding roofs so that the passenger is able to immerse in the sun. The price of this vehicle is also about $1.4 million but its production ended in 2013.
6. THE MIDNIGHT RIDER (Price – $2.5 Million)
Designed about 30 years ago, Midnight rider is not a limousine in actual but it is the fastest van which is used to rent limousines.This is so expensive that an ordinary person cannot even dream of getting this luxurious van. It is made up of tractor's engine and can hold up to 40 passengers. This car features three distinct lounge areas furnished with 1,800 watt speaker systems, a full size bar and DJ. It has the record of being the heaviest limousine ever in the history of these luxury sedans therefore priced at about $2.5 million.
5. THE BEAST (Price – $3 Million)
The Beast may very well be known as the world's elegant and stylish looking Limo. It was used in 2009 to carry the President of the United States. Till date there are only fifteen of these Cadillac limos produced and three travel in convoys at all times. These Cadillac limos would cost somewhere around $3 Million but US Government got this Beast fitted with armor to endure a Rocket-propelled Grenade outbreak. Since this car is classified, its features and capabilities are unknown to the public however, it is known that it surely has the oxygen tanks, firefighting equipment, Oxygen masks, shotguns and tear gas.
4. ROLLS ROYCE PHANTOM LIMO (Price – $3.8 Million)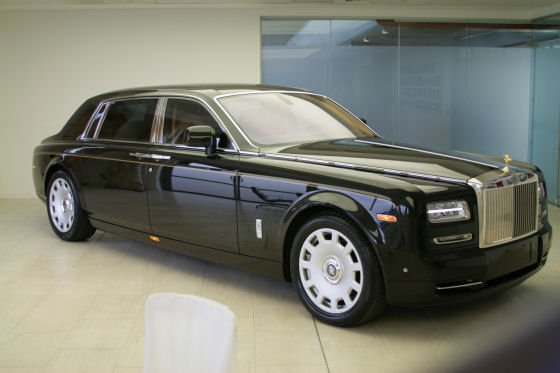 Roll Royce Phantom Limo is one of the most reliable car manufacturing Company in the world and why not. This is commissioned for use of presidents of many powerful and influential countries of the world and definitely that makes it all the more secure and priciest car of the world. This vehicle comes with all the luxury features like full sized office and is fitted with unassailable shields. Its 6.8 liter V12 engine is capable of pushing 432 horsepower. The price of this car is $3.8 million and as per the users of this limo it comes with astonishing features.
3. THE AMERICAN DREAM (Price – $4 Million)
At number 3 we have The American Dream. It is owned by Jay Ohrberg who happens to be a car collector and designer. It is known as the world's longest limo, elongating for 100 feet, has 26 wheels. Its features will leave you dazzled as they include, a helicopter landing pad, a sun deck, a heated Jacuzzi, king sized beds, a swimming pool. This is simply a mansion on wheels and is priced at $4 million.  It definitely is a dream car.
2. BATMOBILE LIMOUSINE (Price – $4.2 Million)
At number 2, Batmobile Limousine which is a limited designed car made in the year 2012 after the completion of Tim Burton's Batman movies. It is very exciting that this car has all the features and gadgets as are shown in Batman movie. Other striking features include rocket launcher, missile, ejection the back and front wheels. Furthermore, it is fitted with a V8 Corvette jet engine.It is pricedat $4.2 million.
1. THE SULTAN OF BRUNEI'S CUSTOM ROLLS ROYCE SILVER SPUR LIMO (Price – $14 Million)
Number 1 is always reserved for the King. He who spends his life like kings and King of Brunei is a live example of the same. He has large collection of exotic cars. As per the reports it is known that the King's family purchased most of the Roll Royce which were sold all over the world but then the company designed the Rolls Royce Silver Spur stretch limousine car which is 24 carat gold plated and is known as the most expensive Limousine priced at $14 million.
Conclusion
All the above mentioned Limos cost minimum $1 Million. Limousines is the wish of every person in this world but the only problem with these luxury vehicles is that these are pinnacle of the other luxury cars hence their  price tags are so huge that an average person cannot even think of affording it. It has separate compartments for drivers and passengers, these are much popular due to their huge size therefore only a professional and skilled drivers are able to drive these huge cars.These are top of the line models and are made only on demand. There are only two color models – white and black. This vehicle is the symbol of huge wealth and unlimited influence and power. Some people buy these expensive cars as they think of their status as greatest in society.