Top 10 Best Noodles Brands In India
Noodles are kids and youngsters favorite because of its yummy taste and healthy due to the  nutritional benefits of vegetables in it.Even elders love Noodles and it's is considered a treat for every special occasion.You can even add vegetables of your choice while cooking the pack.it is easy to cook and serve which which makes it favorite as evening snack among kids.The Noodles are available in different packaging which makes it easy to buy and consume according to your need. There are various companies across the country which provides Noodles which are different in taste and style of cooking too. You can select your favorite one according to your taste. So here is the list of the Top 10 Best Noodles Brands in India which you can enjoy anytime during the year.
So list ofTop 10 Best Noodles Brands in India:
10. Joymee Instant Noodles
Everyone like this noodle because this noodle get ready in 3 min and in this noodle you can mix vegetables and if you want you can take this noodles with vegetables because this noodle comes in two variants. It is very tasty and non-sticky that is why this is the top ten in the list. The noodle company makes 300 tons every month.
9. Wai Wai noodles
This noodle can be cooked in 3 easy steps and if you follow these 3 steps you will get the noodles in 2 min and everyone can enjoy it. It has vegetables in it which increases the nutritional portion of it. This product is actually made in Nepal and then supplied in the various cities .It is quite popular among the kids due to its attractive color and non sticky feature even after preparation of one hour.The easy preparation and yummy taste makes it popular among the Noodle lovers.
8. Nissin Scoopies
The Nissin scoopies is a noodle offered by famous and reliable brand Nissin. It is available in the market since several years and quiet popular among the Noodles lover.It is available in different packets which make it convenient to carry along with you if you are travelling or going on a vacation to hill stations.
Website: http://www.indonissin.in
7. Horlicks foodles
This company has two varieties of noodles and that is regular and 4 grain this noodle come in trademark health maker in the market. This noodle 9 types of vitamin and 4 grain like rice, corn, wheat, and ragi. This noodle come in three flavors and this noodle is very healthy for children and children like this noodle that is why this noodle comes the top 10 list.
6. Patanjali Noodles
This noodle is very delicious in taste and very easily made by the children. This noodle has lots of vitamins, wheat and ragi. It has the greatest market value in India. This noodle comes in two choices. This noodle is best for everyone in the house because this noodle made by a mixture of other healthy ingredients too.
Website: www.patanjaliayurved.net
5. Knorr Soupy Noodles
In this noodles you can have soup also because noodles with soup is very tasty and many parents like this noodle. This noodle come in hot spicy noodles, noodles with fried rice, noodles with Manchurian and many other varieties, but in 4 pack 2 pack and in single. This noodle is very fabulous in taste. This company also makes knorr soups also. This noodle is very famous in India.
Website: http://www.knorr.in
4. Ching's secret
This noodle is very famous noodles in India because people like this noodle like veg Hakka noodles, garlic instant noodles, egg Hakka noodles, etc. this noodle are also eaten with schezwan rice and many others. This noodle is made with very secret products and it will take 2 to 3 min and then you can enjoy it and it is easily available to the nearest store.
Website: http://chingssecret.com
3. Top Ramen
This noodle is made in 1970 and from that this noodle are very famous. All people like this noodle and from this noodle come in top 3 lists. This noodle is the leading brand in India. This noodle is produced by Nissin Company and it is a Japanese company. This noodle is very tasty. This noodle comes in three varieties. This noodle can make with vegetables too.
Website: https://www.nissinfoods.com/products/TopRamen
2. Yippee Noodles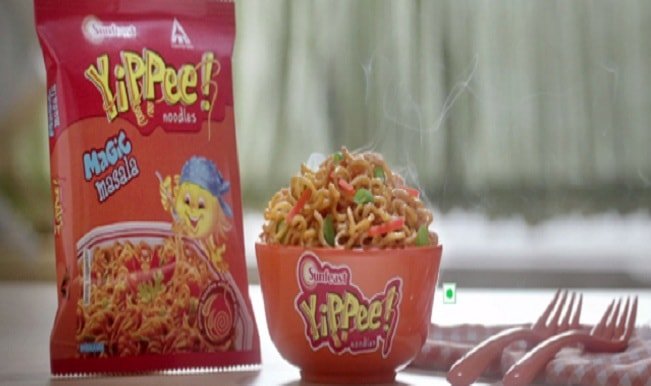 If you ask children that what is favorite noodles, then the children say Yippee because this noodle is the second best noodles in the list and this noodle produced by sunfeast and the this bran is also popular from its biscuit. Children love this noodle because this noodle has vegetables and from that children get vitamin.
Website: http://www.sunfeastyippee.com/
1. Maggi
This noodle makes the everyone its fan and this noodle is very famous for its taste because you can make the maggi in just 2 min and you can add vegetables in it and form this maggi will get more delicious in taste. This noodle was introduced in 1983 and today is the most favorite noodles in India and it comes in the top 1.
Website: https://www.maggi.in/
These are the top 10 best noodles in the list. Everyone like these Noodle are popular with the younger generation. Everyone can find these noodles near you and it is easily available. These noodles can eat in our daily life because these noodles have rice, ragi, corn and everyone can add vegetables in it.