Hing, also known as Asafetida, is a common spice frequently used in Indian cuisine. Originating in Iran and Afghanistan, this ingredient's powerful, pungent, and singular aroma makes it a fantastic choice for enhancing the flavor of food.
Hing is a popular replacement for garlic and onions when making tadkas, or seasoning blends, for dal or pickles. Because of its widespread use in cooking, India is home to numerous manufacturers of the spice turmeric.
We researched the industry and selected 10 of the top hing brands in India, all of which are so flavorful that just a pinch is all you need for your favorite dishes.
List of Top Hing Brands In India
1. Catch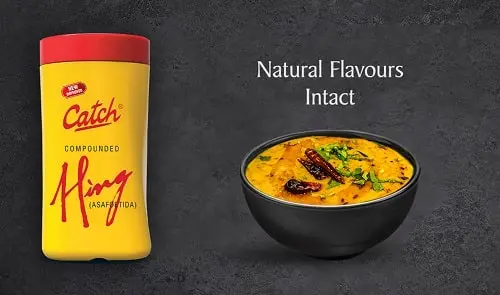 Catch's hing is consistently regarded as some of the purest on the Indian market. As Indians, we often stock up on a variety of spices from the Catch brand because the term Catch is so ubiquitous in Indian homes.
Believe us when we tell this spice has a fantastic shelf life of up to a year because of its wholesome flavor that will convince you it is made of real hing. Moreover, the evaluations from satisfied customers attest to the fact that the quality and flavor of this hing are superb.
2. Pushp Brand
Pushp Brand, founded by Late Kishanlalaji in 1974, is a major participant in the organic spice market. There are no fillers, starch, or additives in this product; just a clean blend of the highest quality species. This brand's shari hing is 100% vegan, has a fine grain size, and boosts the flavor of anything it's added to. This hing is chemical-free and manufactured from just natural ingredients.
You may purchase it in 10, 20, 50, 100, and 200 gram packages   Professionals have vouched for the hing's high quality. It lasts in good taste for 18 months.
3. Patanjali Hing
Whether it's the high quality of its aroma or the cleanliness with which it's prepared, Patanjali Hing is among the best hing available in India.
Patanjali hing serves as a wonderful medicinal spice, additionally a great flavor enhancer. Due to its widespread popularity and presence in most homes, Patanjali is a brand you can have full faith in.
Yoga Hing is used as a seasoning in a broad variety of foods because of its delicious and nutritious profile. It has a flavor all its own, which is always a bonus and it's made with therapeutic substances.
4. Tata Sampann
One of Tata Consumer Products Limited's most well-known brands is Tata Sampann. It debuted in 2019 with the intention of providing consumers with traditional, wholesome food ingredients that do not contain any synthetic additives such as flavor enhancers or preservatives.
This Tata Sampann hing is an excellent choice if you're seeking for a way to enhance your dining experience with authentic Indian flavours.
5. Tassayam Hing
Tassyam's is one of the leading hing brands in India in 2023 despite being a newer brand name; it has no artificial flavors or colors and has a perfect taste that will elevate any cuisine.
To ensure that the hing retains its freshness and flavor, it is taken directly from the source and tested several times. Hing's scent isn't overpowering, and it's not completely absent, either. This mixture is ideal for updating classic dishes with a contemporary twist.
The delicious flavor is also something you'll want more of when you eat. It's a fantastic buy because it's packed with Hing's healing properties.
6. MDH
Whether it's the company's widespread advertising or the consistently high quality of their products, everyone in India recognizes MDH as among the most reliable brand available. MDH is now widely recognized as an honest company producing the finest Asafetida in all of India. It has been around for quite some time, and as a result, it has a deep understanding of the needs of Indian consumers.
MDH is one of the most seasoned companies available because they have a good grasp on everything from the needs of individual households to the spice tolerance of the average Indian.
Because it is a compound, Hing is less of a hassle to work with in the kitchen, and if you're trying to eat more healthfully, it's your best bet because it contains no artificial preservatives.
7. Ramdev strong hing
Although its reputation as a high-quality asafetida product is what makes Ramdev Strong Hing one of the finest asafetida brands in India, you can rest certain that this Hing Powder is not only dependable but also a potent medicinal supplement.
It has a wonderful texture that elevates any dish. A modest bit of ghee added to any cuisine or dish will offer you therapeutic advantages and add unique flavor.
Hing's potent anti-inflammatory qualities make it a useful medicine for a wide range of conditions. Memory and brainpower both get a boost from this. Hing is an excellent choice if you're in the market for a new spice.
8. Holykitchen hing
Holykitchen Hing is a top-tier hing product in India since it is 100% organic and contains 85% pure hing in its ingredients, in addition to water and other natural components. We recommend diluting this Hing with water before usage.
Because of its many health benefits, including treatment for respiratory disorders and improved digestion, it is a welcome addition to many diets. And the very aromatic flavor is always present to make up for the absence of garlic or onion.
9. Everest Hing
For over 50 years, Indians have trusted the Everest brand, which offers a wide variety of whole spices & mixes under the Everest and other brand names. Purification, freshness, & authenticity are hallmarks of the brand, and customers recognize and appreciate this.
One of its most popular commodities is compounded hing powder. When used in place of onion and garlic, it enhances the flavor of the dish with a deeper, more robust profile.
It's good for your health and has a potent aroma and flavor. Hing is effective for treating gastrointestinal problems including gas and bloating since it stimulates the digestive system. Furthermore, the high fiber content helps maintain optimal digestive health.
10. Urban Platter
Last but not least, the Urban Platter Hing tops the list of the finest hing brands in India. The highest grade hing is produced with Asafetida Resin, which has been sourced from Afghanistan, one of the world's oldest hing producers, for thousands of years.
Also, the Urban Platter Hing is as close to the real thing as Hing can get because it has no artificial ingredients. Because of how well it holds onto water, you should keep it in a dry location, since any kind of additional moisture can cause problems.
Its strong aroma and delicious taste make it an excellent choice for regular use. It's a wonderful thing to have on your plate at any time.
Conclusion
Here is a list of the top 10 hing in India, each one lauded for its distinctive flavor and high standard of preparation. Hing is a fantastic ingredient that can take any dish to the next level, regardless of how experienced or inexperienced a cook you are.
All of these choices are crafted with care using high-grade materials, are attractively packaged, and exude an enticing scent. We'd recommend these top hing brands but ultimately the decision is up to you and your personal preferences.