How crackers made their way into India is still a topic of debate, but one thing is for sure, they are now a part of India's culture, sort of. Whether it is Diwali or any other special occasion, we Indians never miss a chance to fire up some crackers and celebrate the special moments. However, you must admit, some crackers are objectively better than others. Right? And believe it or not, there is a quality factor is also involved because some brands' crackers are superior to the generic ones.
Since there are literally dozens of fireworks or cracker brands in the country, it can be a little tricky to decide which brand you should trust. After all, you don't know if a cracker will work or not up until the point you fire it up. Correct? That's why we are here with a list of the top 10 best crackers brands in India that will never leave you disappointed. So let's get down to the list now. Shall we?
List of Top Crackers Brands In India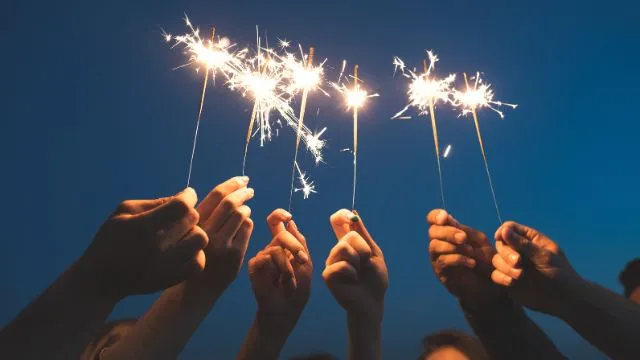 1. Ajanta Fireworks
In the last four to five years or so, the popularity of Ajanta Fireworks has increased significantly. Mostly due to the fair practices applied by the brands, and it is one of the very few brands that obeys all the rules and regulations imposed by the Indian government. This brand was started way back in 1974 in Sivakasi, which is the home to many fireworks companies in the country. After its establishment, Ajanta Fireworks soon became one of India's leading fireworks or crackers brands solely because of the quality, affordability, and variety of the crackers they were offering to the general public.
2. Sri Kaliswari Fireworks
Next up is the Sri Kaliswari Fireworks, the all-time famous fireworks or crackers brand in the country. It is certainly one of the oldest established fireworks companies in the Indian market. Established in 1923, it is the manufacturing company behind the "Cock" brand's fireworks or crackers like sparklers, ground wheels, flower pots, rockets, etc. However, in the very beginning, this company used to be known for safety match manufacturing but later started manufacturing crackers on a small scale. And that decision was made solely because the founders saw the potential of fireworks and crackers in India.
3. Standard Fireworks
When it comes to the most popular crackers brand in the country, we can't complete the list without Standard Fireworks. It is only in the name, but there is nothing standard about these fireworks or crackers, they are pretty much the most superior ones you'll find in the Indian market. This company was established back in 1942, again in Sivakasi, Tamil Nadu. Standard Fireworks isn't just a generic firecrackers brand, they also sell safety matches, and fireworks as well. And you'll be surprised to know that, in this segment of the market, Standard Fireworks holds almost 45% of the market share.
4. Asok Sparklers
Next up is Ashok Sparklers, a fireworks brand particularly famous in southern India. This brand is specifically known for sparklers and crackers, which are the most famous among young children. When this brand began its operations in 2004, the founder Mr. Ashok Kumar was already equipped with an extensive experience of 25 years in the fireworks industry. Which was one of the prime reasons why this brand became a successful one in this niche. Today, you may come across Ashok Sparklers firecrackers almost all across India.
5. Ayyan Firework
Sivakasi sure is the hometown of most of the biggest crackers brands in the country, and the case is no different for Ayyan Firework Private Limited. Similar to many other crackers or fireworks brands on our list today, Ayyan Fireworks also started out as a safety matches manufacturing facility in 1923. But it was actually in the year 1935 when Ayyan Fireworks actually began its operations in the fireworks industry. And all the credit for the success of Ayyan Firework Private Limited goes to the founder Late Sri. Ayyan Nadar.
6. Bala Ganapathy Fireworks
Bala Ganapathy Fireworks may not be that old of a brand in this niche, but still, it gained quite a lot of popularity in the last few years. This particular brand brought something new to the table which is to prioritize customer satisfaction, which most of the other brands didn't really focus on. Not just that, Bala Ganapathy Fireworks is also known as the best wholesaler of fireworks and crackers in the country. If you are looking forward to buying crackers or other fireworks wholesale, you may wanna visit their official website because there you'll find all the details along with the price details.
7. Sri Krishna Fireworks
There once was a time when Sri Krishna Fireworks ruled this segment of the market in India with a significant market share. However, it seems the popularity of this brand has faded away quite a bit, mainly due to the excessive competition in the niche. But still, this brand's fireworks and crackers are the most famous in the country, and that's mainly because of the affordability. Along with crackers, they also make a lot of other fireworks items, sparklers, safety matches, color matches, and whatnot. Due to these reasons, Sri Krishna Fireworks is still relatable in the Indian market.
8. N.M Fireworks
Gone are the days when typical fireworks used to excite people, now everyone wants something new, and that is what N.M. Fireworks is doing in this space. N.M Fireworks is experimenting with advanced lighting techniques, and other stuff to make the most unique kind of fireworks in the country. This is the brand that is pioneering advanced fireworks like laser fireworks, and fireworks that work not just in the air, but on water and ground as well. All in all, N.M. Fireworks aim to offer a combination of light, sounds, and joy to its customers.
9. Goodwill Fireworks
As the name suggests, Goodwill Fireworks is a company/brand that is known for its fair practices in this space. Where many generic fireworks brands outsource their products from third-party or don't have a decent manufacturing process in place, Goodwill Fireworks is certainly not like the others. It has been more than two decades now since the Goodwill Fireworks first started operating from Sivakasi, Tamil Nadu. The popularity of this brand is phenomenal, especially in the Southern parts of India.
10. Lakecity Fireworks
Last but certainly not least is the Lakcity Fireworks, a crackers brand hailing from Udaipur, Rajasthan. It is a brand that has been around since 1947, and they are now known for the best lighting crackers that can 1 lakh area shots in just 5 minutes or so. Isn't that something impressive? Along with that, one thing that Lakecity Fireworks is known for is the versatility of its fireworks. They offer all sorts of fireworks, from sparklers for kids to big fireworks for special occasions. In northern India, Lakecity Fireworks is the most popular crackers brand and that's only because the quality of their fireworks easily surpasses any other generic brand.
Conclusion
There you have it! Now you know which brands to check out when there is some special occasion or anything like that. With these brands, you'll know for sure that the crackers or fireworks you bought will never disappoint you, not in the slightest.