Car theft cases are increasing every year, and for a person who recently bought a brand new car, it would be pretty daunting if their car got stolen within the first few weeks of having it. There's a pattern in these theft cases, usually, these car thieves target popular and newly launched car models, which makes it easier for them to dismantle the car and sell the parts off. Car manufacturers offer many security features to prevent this, but sometimes it's not enough. Car thieves come prepared like they are taking classes for this or something. So it is crucial for you to do something to prevent this car theft thing from happening to you.
Gear locks are something worth looking at, they are like another strong layer on top of all the other security features of your car. Gear locks can lock your car's gears in the first or reverse position. No matter how easily a thief gets into your car when it comes to the gear lock, it'll take them so much time to get through the gear lock of your car. And it's true that most thieves just walk away after seeing that you've been using a gear lock for your car. But not just any gear lock will do; you must select the best, and to assist you, we have compiled a list of the best gear locks for cars in India.

How To Choose The Best Car Gear Lock in India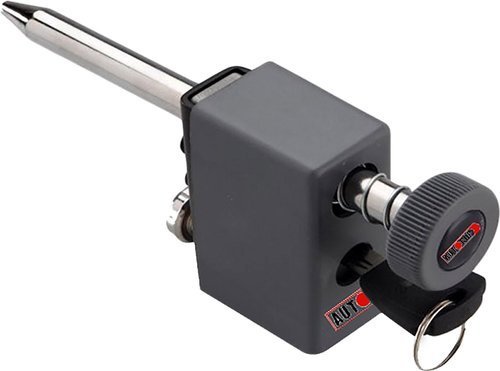 Now it's time to take a look at some things you should always consider when buying a gear lock for your car. It's important that you invest in a robust and the best gear lock, otherwise, there's no point in adding this extra layer of security.
Select The Right Type
There are basically two different types: the ones that come inbuilt and the other type that looks more like traditional locks. The inbuilt gear locks are much safer, but in some cases, thieves were able to unlock such locks quite easily. On the other hand, the traditional gear locks come in two parts; one is installed right behind or on the side of your car's gear, and the other part locks in place to keep the gear handle still. The second option, in our opinion, would be ideal because of its exceptional durability and low cost. And one more awesome thing about modern gear locks is that the keys are different from traditional keys, which makes it much harder for thieves to duplicate or mirror the original key.
Durability/Build Quality
This must be the most important factor to look at when buying a gear lock for your car. If it isn't durable enough, there's no point in installing it in your car and expecting that it'll keep your car safe. There are many cheap-quality gear locks available on the market, and people buy them because they cost way less than a branded option. But always keep in mind, when buying something for anti-theft, always go with trusted brand names, this is how you can ensure the safety of your vehicle. Anyways, in our opinion, it would be great for you to buy a gear lock that comes with a hard iron or stainless steel build. This way if someone tries to cut through it, it'll probably take them a long time, which will increase their chances of getting spotted.  One more thing to look at is that there should be no parts/components which may get lost after a while.
Installation
It is always better to get a gear lock installed by a professional. But if you think you can handle the installation part, then definitely go ahead. However, we don't recommend it for most car owners. Usually, the installation of such locks requires you to drill out holes and tightly fit the bolts, so it'll keep the locking mechanism in place, right behind or on the side of your car's gear.
Easy To Operate
It's always a good thing to add another layer of security to your car by using gear locks. But if a gear lock mechanism is not easy to operate for you, then it'll bother you too much. Therefore, we always recommend you go with an easy-to-use but pretty sturdy lock option.