Bihar, the eastern state of India, is fenced by Nepal, Uttar Pradesh, and West Bengal. Popularly called the Land of Buddha, Bihar is rich in art and religion. The local people of Bihar are influenced by the ancient traditions and various social groups living in the state.
The state is famous for its wall hangings, Madhubani paintings, stone pottery, decorations, fancy work, leather goods, and even traditional dresses. The traditional costume of locals includes saree for women and dhoti-kurta for women. Western culture also affects both urban and rural populations, while the salwar kameez has become popular among women in urban areas and trousers and shirts among urban and rural men. Let's take a closure look at the traditional dress of Bihar both men and women.
Traditional Dress for Men in Bihar
Bihar's men dressing style is as simple as they are. Some of the popular traditional attire of men are as follows:
1. Kurta and Pajama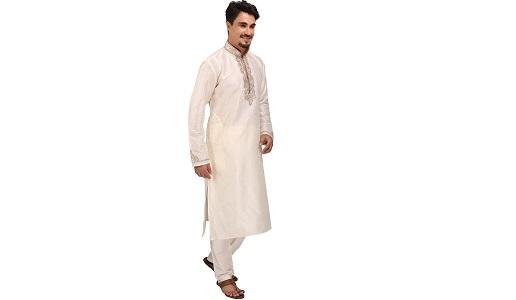 Men in Bihar wear Kurta and Pajama. This traditional dress provides a lot of comfort to the men. Being one of the most comfortable Indian wears, men in Bihar wear it regularly, while some wear them during special events and weddings. Kurta is a loose shirt with long sleeves. The length of Kurta is up to the knee. It is crafted from numerous materials such as silk, cotton, etc. While the fancy designs include heavy embroidery in the form of chikan motifs, the simple styles consist of simply embroidered motifs and borders at the whole Kurta. Men wear fancy Kurtas during religious occasions, weddings, and festivals.
Kurta is paired with Pajamas, and simple pants made from cotton. This attire gives a simple look and traditional Indian vibe to the men of Bihar. Due to the soothing pattern and lightweight fabric, most men in India prefer to wear them.
2. Dhoti Mirjai
Also called Kurta and Dhoti, Dhoti Mirjai is considered traditional wear. Elder men in Bihar usually wear Kurta and Dhoti, also worn by boys and mid-aged men. To make Dhoti comfortable for regular use, they are made of cotton. However, the fancy one is dressed for weddings and festive occasions. The cotton-made Dhoti is easy to wear and is very comfortable, while the fancy one is decorated with fancy work, heavy embroideries and flattering borders.
Dhoti, a kind of loose pants, is knotted at the waist and wrapped around the legs, giving men an Indian vibe. Wearing a dhoti takes more time and effort, unlike regular pyjamas or regular pants. But, in this western world, now readymade dhotis are also available. Additionally, these come in different colour combinations, colours, designs, and patterns.
3. Sherwani
Men in Bihar wear Sherwani during occasions, events or weddings. Sherwani comprises two outfits. The first is an embroidered jacket that goes down to the knees or calves, second is dhoti pants or pyjamas. Jackets come in a variety of designs, styles, colour contrasts, patterns, designs etc. To give it a fancy look, the designers embroidered them with complete and heavy work. It is best paired with dhoti pants, pyjamas, or churidar, tight-fitted pyjamas. The combination of these two gives a completely traditional look to the men in Bihar.
Traditional Dress for Women in Bihar
1. Saree
Women in Bihar mostly wear sarees in daily life. They are available in a plethora of fabrics, designs and colours. Being one of the famous traditional wear of India, sarees are worn in different styles. Bihar is famous for its Seedha Aanchal style. Saree's pallu in this style is affixed at the front, which covers the upper part of the body and goes over the left shoulder. Some women use this pallu to cover the head. On the other hand, some women adorn this look with different accessories, including a waist belt, toe ring maang tikka, necklace and earrings.
2. Lehengas
Popularly known as Ghagra Choli, Lehengas falls under the category of fancy costumes. Women in Bihar wear Lehengas on religious occasions, festive, or wedding ceremonies. This traditional outfit comes in a variety of colours, materials, patterns, and designs.
Conclusion:
The attires dressed by the people, festivals, language, songs, cuisine, and events highlight Bihar's traditions and culture.