If you are looking for a small-size handy glucometer then there is an alternative toBeatO CURV Glucometer. It provides you the advantage of measuring blood glucose levels at your convenient time. You can do your test everywhere you want. It performs without any seam and works on any Andriod phone. Free access to BetaO App helps to monitor better your diabetes level.
This glucometer helps you to choose your family, friends, and doctors on the same platform. The seamless network of this glucometer ensures that you are very conscious of your sugar level that helps to change your food habits and your lifestyle. Your results are stored in a log that can be accessed at anytime and anywhere. The best thing about this glucometer machine is that it is an Indian product.
Main features of this BeatO CURV Glucometer: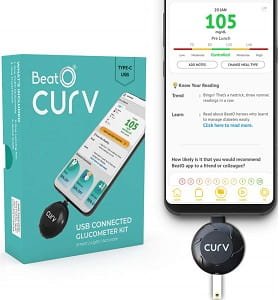 This table shows you a clear picture of this glucometer-
| | |
| --- | --- |
| Model Name | Curv Glucometer |
| Strips & Lancets | 50, 50 |
| Model Color | Black |
| Required blood sample | 0.6 mg/dl |
| Measuring Range | 20 -600 |
| Measuring time | 5 Sec. |
| Memory | Works on phone memory |
| Display type | Display on smartphone |
| Free expert supports | 3 months |
| Warranty type | Direct replacement within 1 year |
| No warranty on | Wear & Tear, Theft, Breakage |
| Alert system | Automatic |
The compact design makes BeatO CURV Glucometer very easy to carry.As this glucometer runs through the phone's connected USB 'Type-C' port it does not require any battery or charger. The BetaO App stores all readings automatically. With this BetaO App, you can all information with your friends or family members, or doctors as and when required.
How to use BeatO CURV Glucometer?
The user manual inside the kit helps you by providing about the direction of use. However, here are some points that will help you with how to use this glucometer-
The BeatO CURV Glucometer is very easy to use.
First of all download BetaO App from the play store.
Open this App.
Then insert CURV into your smartphone.
Prick the finger and then place the blood sample on the test strip.
Wait for 5 Secs, the result will display.
Pros:
The main benefits of this glucometer are-
Anybody can check his/her blood sugar at any place and at any time.
A small device that is easy to carry.
A battery-free glucometer.
Within a second, this device shows an accurate result.
Less painful prick.
Very effective lancet that requires a small amount of blood for test purposes.
USB connection facility.
Saves reading automatically.
Uses AI-based technology.
Cons:
Apart from the above-mentioned pros. The BeatO CURV Glucometer has several disadvantages too. What are they?-
Doubtful accuracy level. If you test your sugar level at a different time it shows a different result.
The glucometer does not maintain any privacy of one's health data.
Safety information:
Lastly, for your convenient use here are some information-
Before using this device, read the instruction very carefully.
Keep the glucometer away from children.
Keep the device in a cool, dry place and away from direct sunlight.