If you are a busy person with a diabetic issue and if you find it difficult to visit a doctor then here is the best solution to measure your glucose level at home. The Contour Plus One Glucometer helps you to measure your blood sugar level at home. You can do it by yourself with the help of little knowledge about how to operate the device.
This Contour Plus ONE Glucometer is designed to measure blood glucose levels in your body comfortably. This sugar checking machine helps you to manage diabetes and offers accurate results within seconds. The smart features indicate critical cases when your blood sugar level is high or low enough. One result of this glucometer helps you to take immediate decisions to control your diabetes level.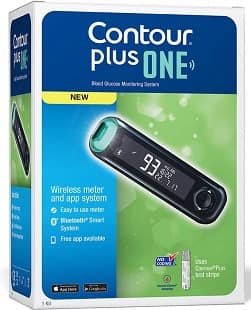 Key features of Contour Plus ONE Glucometer:
Contour Plus ONE Glucometer is a China-based product with lots of excellent features-
Manage diabetes effectively.
After taking the test of your sugar level, it shows its result within a second.
The smart light indicator helps to indicate the result in some critical cases.
This glucometer shows ISO 15197: 2013 accuracy criteria.
Within 60 seconds you can opt for a second chance of sampling i.e if you find the blood is insufficient for testing, you may reapply blood for accurate testing.
The highly effective 'Tip-In' sampling feature is also very effective and shows very effective results even in the second attempt.
No lancing is required for a second-time attempt and also stops the unnecessary wastage of strips.
With the help of Bluetooth, anyone can ensure a seamless connection with the Contour Plus One Glucometer Diabetes app that is available on any Andriod device.
Contour Plus One Glucometer Diabetes app monitors sugar level and properly regulate the sugar level.
Log book stores the history of previous test results done using this glucometer.
Quick and easy interpretation of glucose reading.
Contour Plus ONE Glucometer regulates and maintains blood sugar in your body.
The color indicator displays three different colors-

Yellow- When the glucose level is above the target level.
Green- When the glucose level is within the range.
Red- When the glucose level is below the target range.

Easy to read test results.
How to use this Contour Plus ONE Glucometer?
The use of this Contour Plus ONE Glucometer is very simple. Follow these steps to ensure a good result-
Insert the grey end of the Contour Plus Strip into the Contour meter and turn on the meter.
Apply Blood Screen will appear within a second and then put blood drops.
When you hear beep sounds, the meter will display test your result with a change color.
This Contour Plus ONE Glucometer shows an accurate result within 5 seconds.
Pros:
Contour Plus ONE Glucometer memory stores up to 800 results at a time.
More than one person may use this meter at a time.
Fast, accurate, and easy to understand results.
Different color indicators show a different result of your sugar level.
Easy to carry lightweight device.
The kit provides 10 strips.
Cons:
This glucometer does not have too many negative issues except-
Pretty expensive product.
Product reading differs at different times and can not presume which result is correct.
Final part:
This is a good product available in the market but needs some special care like-
Keep it away from the children.
Store it in a dark, cool place.
Avoid sunlight.